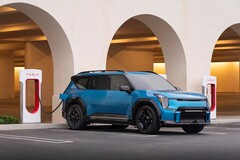 There may soon be more Kia EV9s charging at Tesla Superchargers. (Image source: Kia)
Tesla's biggest competitor in the US market, The Hyundai Motor Group, will be joining the Supercharger bandwagon in 2024, with NACS becoming the default plug for Hyundai and Kia in 2025. Genesis has yet to make an announcement, but one is likely imminent, given the shared vehicle platforms.
The North American EV industry's recent move to adopt Tesla's NACS en masse took a brief intermission before Hyundai and Kia — two out of three brands that make up the Hyundai Motor Group — announced that they would be adopting Tesla's NACS hardware and gaining access to the Supercharger network in Q4 2024. Genesis, Hyundai's and Kia's sister brand, was missing from the announcement, but it will likely follow suit soon enough, given that the brands often share vehicle platforms and tech.
In a previous statement, Hyundai had stated that the Tesla Supercharger network was inadequate for the 800 V platforms found in modern electric vehicles, but perhaps a versatile, if imperfect, solution was enough to persuade Hyundai and Kia to adopt Tesla's NACS hardware.
Having this kind of sprawling access to chargers will no doubt boost customer satisfaction, elevate the EV ownership experience, and enable drivers to reach more destinations across the continent on electricity. — Seungkyu (Sean) Yoon, president & CEO, Kia North America and Kia America
At the time of writing, Tesla's Supercharger network consists of over 12,000 chargers in North America. Starting in Q4 2024, both Hyundai and Kia will start adding NACS plugs to their electric vehicles, and NACS-to-CCS-1 adaptors "are expected to be made available through Kia dealers starting in Q1 2025." Owners will likely have to purchase an adaptor, though.
It's unclear whether The Hyundai Group will continue to pursue the rival charging network joint venture it started with the likes of BMW, GM, Honda, Mercedes-Benz, and Stellantis, but access to the well-established Tesla Supercharger network can only help sales for Hyundai and Kia. Further, since NACS is now an open standard, the charging joint venture should be able to make use of the same interface for any EV chargers, too.
Buy a Cable Shield Electric Vehicle Charging Cable Protector on Amazon.
Hyundai ???? @Tesla
In a continued effort to support our EV customers, Hyundai will officially adopt North American Charging Standard (NACS) ports starting in Q4 2024. All-new and refreshed Hyundai EVs will gain access to more than 12000 Tesla Superchargers across North America⚡️ pic.twitter.com/eLXWVmA7PV
— Hyundai USA (@Hyundai) October 5, 2023

Julian van der Merwe – Magazine & Specialist News Writer – 392 articles published on Notebookcheck since 2022
My interest in tech started in high school, rooting and flashing my Motorola Defy, but I really fell down the rabbit hole when I realised I could overclock the i7 930 in my Gigabyte pre-built PC. This tinkering addiction eventually lead me to study product design in university. I think tech should improve the lives of the people using it, no matter the field. I like to read and write about laptops, smartphones, software and trends in technology.
Julian van der Merwe, 2023-10- 5 (Update: 2023-10- 5)
>>> Read full article>>>
Copyright for syndicated content belongs to the linked Source : NotebookCheck – https://www.notebookcheck.net/Hyundai-and-Kia-get-Tesla-NACS-and-Supercharger-access-in-late-2024-after-announcing-rival-charging-network-mere-months-earlier.757706.0.html