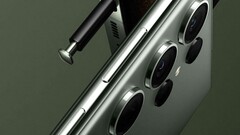 A leaker has hinted several times that Samsung wants to get rid of the 10x telephoto camera in the Galaxy S24 Ultra. (Image: Samsung, edited)
This might be a horror scenario for Samsung fans if it's true what a known leaker has already hinted at several times. According to this new rumor, the Galaxy S24 Ultra will lose quite the important camera-related unique selling point, especially when compared to those of its rivals. It is still unclear whether there will be an adequate replacement.
It is not yet certain whether this will actually really happen, but the controversial and often quite reliable leaker Ice Universe has already indicated several times that Samsung apparently wants to withhold a very important feature of the last three Galaxy S flagships from the Galaxy S24 Ultra: The 10x telephoto camera.
With its 10-megapixel 1/3.52 inch sensor, it only delivers really usable pictures in daylight, but it has been a unique selling point since the Galaxy S21 Ultra from 2021 and could possibly be completely abolished after the Galaxy S23 Ultra. The leaker first hinted at this on X (formerly Twitter) a few days ago, but then deleted his post again and announced that he wanted to get more reliable information first.
Now, however, a corresponding tweet (see below) has reappeared in the tipster's X timeline, which again emphasizes that the 10x zoom camera will apparently be missing in the Galaxy S24 Ultra. What Samsung plans to replace it with – if the information is correct at all – is not yet known. It is currently considered certain that the 3x telephoto cam will be changed to a more modern 50-megapixel sensor and will also serve well as a 5x zoom telephoto; 200-megapixel sensors are also increasingly on the table to simulate a bigger zoom range by means of cropping.

As a young tech enthusiast with a history involving assembling and overclocking projects, I ended up working as a projectionist with good old 35-mm films before I entered the computer world at a professional level. I assisted customers at an Austrian IT service provider called Iphos IT Solutions for seven years, working as a Windows client and server administrator as well as a project manager. As a freelancer who travels a lot, I have been able to write for Notebookcheck from all corners of the world since 2016. My articles cover brand-new mobile technologies in smartphones, laptops, and gadgets of all kinds.
Alexander Fagot, 2023-09-19 (Update: 2023-09-19)
>>> Read full article>>>
Copyright for syndicated content belongs to the linked Source : NotebookCheck – https://www.notebookcheck.net/Samsung-Galaxy-S24-Ultra-to-lose-important-unique-selling-point-according-to-leaker.752643.0.html