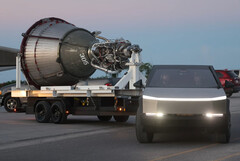 The Cybertruck's towing prowess has been previewed at the SpaceX Starbase in Texas. (Image source: Stargazer on YouTube)
The Tesla Cybertruck has been spotted towing a SpaceX Raptor Vacuum engine around Starbase in Texas. Estimates put the Raptor engine at 3,500 pounds (1,588 kg). The Cybertruck's rear-wheel steering seems to come in handy when making tight manoeuvres while towing.
When Tesla launched the Cybertruck, it claimed the electric vehicle would have a towing capacity of 14,000 lbs (6350 kg) — more than enough to tow even large caravans. The towing and hauling capabilities of the Cybertruck indicate that Tesla intended the vehicle to be a functional work truck. A recent video posted by Starship Gazer on YouTube reveals that SpaceX has started using the Cybertruck at its Starbase in Texas.
In the video, the Cybertruck is seen moving a SpaceX Raptor vacuum engine — an engine likely destined to power the company's Starship — around the base. The engine itself reportedly weighs in at around 3,500 lbs (1,588 kg), and the trailer it's on looks rather brawny, indicating that the Cybertruck certainly has enough muscle to move around some heavy goods.
There are still questions about how capable the Cybertruck will be of hauling large payloads across longer distances, though, since range always takes a nosedive when towing in an EV.
What's perhaps the most interesting part of the video, though, is how manoeuvrable the Cybertruck is thanks to its rear-wheel steering — especially when reversing with the large trailer attached. The large LED light bars on the front and rear of the Cybertruck are also visible in their full glory, revealing solid diffusion and high brightness for both.
Buy a Hot Wheels RC 1:64 Scale Tesla Cybertruck Rechargeable Radio-Controlled Racing Car on Amazon.

Julian van der Merwe – Magazine & Specialist News Writer – 385 articles published on Notebookcheck since 2022
My interest in tech started in high school, rooting and flashing my Motorola Defy, but I really fell down the rabbit hole when I realised I could overclock the i7 930 in my Gigabyte pre-built PC. This tinkering addiction eventually lead me to study product design in university. I think tech should improve the lives of the people using it, no matter the field. I like to read and write about laptops, smartphones, software and trends in technology.
Julian van der Merwe, 2023-10- 4 (Update: 2023-10- 4)
>>> Read full article>>>
Copyright for syndicated content belongs to the linked Source : NotebookCheck – https://www.notebookcheck.net/Tesla-Cybertruck-shows-off-towing-chops-hauling-SpaceX-rocket-engine-at-Starbase-TX.757285.0.html