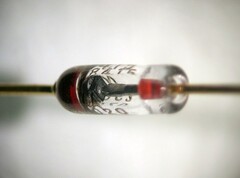 Silicone diode close-up (Source: Wikipedia)
On November 16, 1904, former Edison employee John Ambrose Fleming patented the first thermionic (vacuum-tube) diode in Britain. The US patent for the same invention was granted the following year. Today, these diodes are used in some high-power applications, audiophile devices, and musical instruments.
Although vacuum-tube (thermionic) and solid-state (semiconductor) diodes arrived in the early years of the previous century as radio receiver detectors, their development was based on Edison's research that took place in 1880. Back then, he observed what is now called the Edison effect (the unidirectional current flow between heated and unheated elements of a bulb) and got a patent that translated the theory into practice via a DC voltmeter.
Two decades later, Edison's former employee John Ambrose Fleming concluded that the aforementioned effect could be used as a radio detector. As a consequence, he quickly patented what is widely recognized as the world's first true thermionic diode, known as the Fleming valve. This event took place on November 16, 1904 in Britain. The US Patent 803,684 ("Demodulation of amplitude-modulated oscillations by means of non-linear two-pole elements of diodes") was issued one year later, on November 7.
The Fleming valve pushed the world into the realm of valve diode-driven radios, TV sets, sound systems, and various instruments. In the late 1940s, they were partially phased out due to the large-scale introduction of selenium rectifiers, followed by semiconductors in the 1960s. However, vacuum tube diodes are still being used as of mid-November 2023. The applications that find their reliability and ability to withstand transient voltages enough to make them a better choice than semiconductors involve high power, musical instruments, and gear for audiophiles.

Codrut Nistor – Senior Tech Writer – 6196 articles published on Notebookcheck since 2013
In my early school days, I hated writing and having to make up stories. A decade later, I started to enjoy it. Since then, I published a few offline articles and then I moved to the online space, where I contributed to major websites that are still present online as of 2021 such as Softpedia, Brothersoft, Download3000, but I also wrote for multiple blogs that have disappeared over the years. I've been riding with the Notebookcheck crew since 2013 and I am not planning to leave it anytime soon. In love with good mechanical keyboards, vinyl and tape sound, but also smartphones, streaming services, and digital art.
Codrut Nistor, 2023-11-17 (Update: 2023-11-17)
>>> Read full article>>>
Copyright for syndicated content belongs to the linked Source : NotebookCheck – https://www.notebookcheck.net/The-diode-celebrates-99th-anniversary.768868.0.html