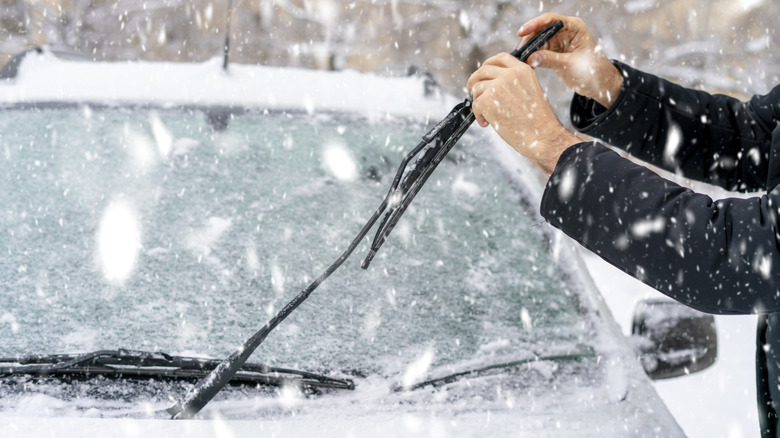 Михаил Руденко/Getty Images
We may receive a commission on purchases made from links.
It's critical not to wait for the onset of winter before winterizing and preparing any vehicle. Once the temperature falls below 15°F, switching to winter-rated tires (snow tires) that offer superior traction and grip on icy road conditions is a good idea. Meanwhile, checking or replacing the battery pays dividends in sub-zero weather, as do lubricating hinges, latches, door locks, window tracks, and door weather-stripping with silicone spray to prevent the items from freezing and trapping you inside (or outside) the car.
Meanwhile, driving in inclement weather takes a toll on the windshield wipers of your ride. Since the wiper blades are consumable and need frequent replacing, make sure to switch the wipers before winter begins. Streaking, chattering, and squeaking noises while the wipers are operating are signs of wiper blade degradation. Further neglect could lead to windshield scratches and poor visibility in rain or snow.
The good news is it's easy to replace your car's old wiper blades, and you can do it with minimal cost.
Winter wipers offer better visibility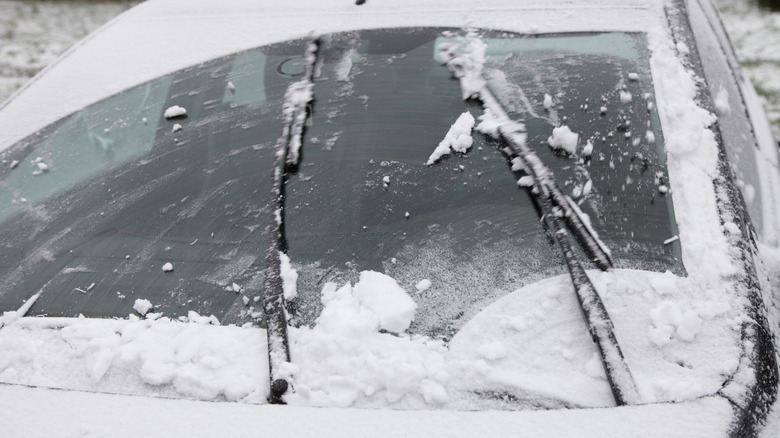 ilmarinfoto/Shutterstock
Like snow tires that offer surefooted traction in the snow, winter wiper blades could outlast the rigors of winter driving. The best windshield wiper blades, like the TRICO ICE wiper blade, have a more rugged one-piece, synthetic-blend construction. Wipers like these have armored and heavy-gauge rubber wiper blades to resist hardening, cracking, or tearing when exposed to sub-zero weather.
Meanwhile, other brands feature a durable rubber boot that wraps around the wiper blades to prevent snow and ice from sticking, packing, or freezing on the windshield glass. Winter wipers have sturdier rubber blades that remain flexible in chilly weather and resist hardening or cracking to wipe off ice, sleet, dirt, and snow from the windshield quickly and effortlessly.
If the wipers get frozen after an overnight snowstorm, try turning on the wiper defroster (if so equipped) and remove the chunks of ice or snow using a scraper. Better yet, grab a bottle of SPLASH Red Hot Windshield De-Icer and spray liberally to dissolve snow and ice without scraping. Forcing to operate frozen wipers could damage the motor and the windshield glass. Ensure the wipers are free (or thawed properly) before turning them on.
>>> Read full article>>>
Copyright for syndicated content belongs to the linked Source : SlashGear – https://www.slashgear.com/1392921/winter-windshield-wiper-change-car/