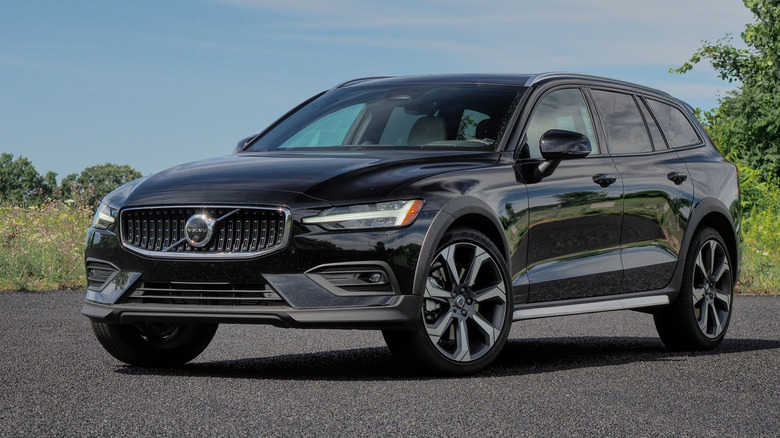 Chris Davies/SlashGear
Volvo's willingness to keep offering wagons to an American audience obstinately reluctant to purchase them is the best sort of stubborn. Just how long it'll continue remains to be seen, but for the moment it's variants like the 2023 V60 Cross Country which arguably burn the brightest torch in the U.S. Not least because that Cross Country badge means it straddles the wagon and SUV segments. Ironically, making it all-electric would only improve things, but it's not clear whether Volvo — or the driving public — has the appetite for that.
Aesthetically, it's hard not to be swayed by Volvo's design. The V60 may not have quite the lengthy proportions of the bigger V90, but details like the Thor's hammer headlamps, wide and chrome-toothed grille, and sculpted rear arches still look fresh. Volvo eschews the usual chrome detailing, giving the Cross Country's windows and other exterior elements gloss black trim instead.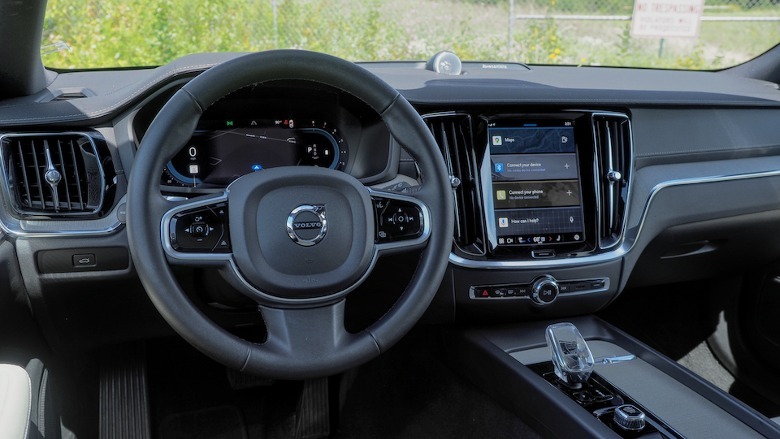 Chris Davies/SlashGear
The result is shark-like and elegant, made more youthful and elevated — quite literally — by the off-road-ready suspension, 18- or 19-inch wheels, and extra body cladding. Open your mind to the idea that an SUV or truck isn't the only option for either busy families or weekend adventurers, and there's a whole lot here to appeal. You just have to wonder how much longer it'll last.
Only the barest degree of electrification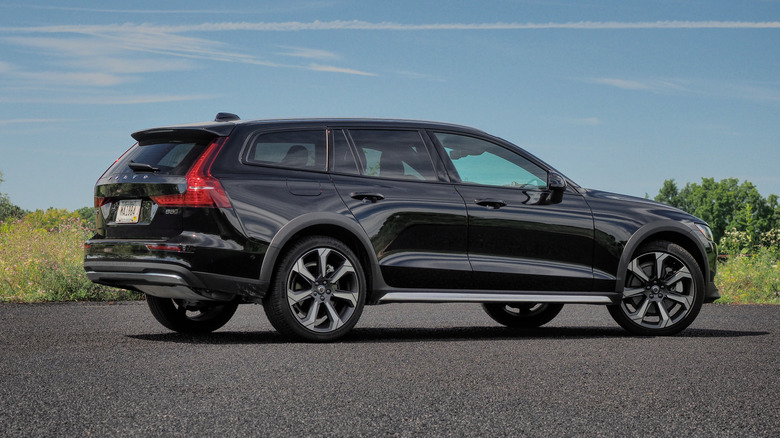 Chris Davies/SlashGear
2023 V60 Cross Country ownership starts at $49,950 (plus $1,095 destination) for the base Plus trim. Stepping up to the Ultimate trim brings that to $56,095 including destination; adding the 20-inch 7-spoke wheels with all-season tires you see here is another $3,200. Onyx Black metallic paint is a $695 option; it's nice to see Volvo has a red and a reasonably bright blue on its color chart, too.
Since 2019, every car Volvo has offered has been electrified. That said, not every electrified vehicle is created equal, and — unlike the regular V60, which comes as a Polestar Engineered plug-in hybrid — the V60 Cross Country is only offered with Volvo's B5 AWD drivetrain. That's a 2.0-liter turbocharged four-cylinder gas engine with a mild-hybrid system and an 8-speed automatic transmission. All-wheel drive is standard, and the EPA rates it at 23 mpg in the city, 30 mpg on the highway, and 26 mpg combined.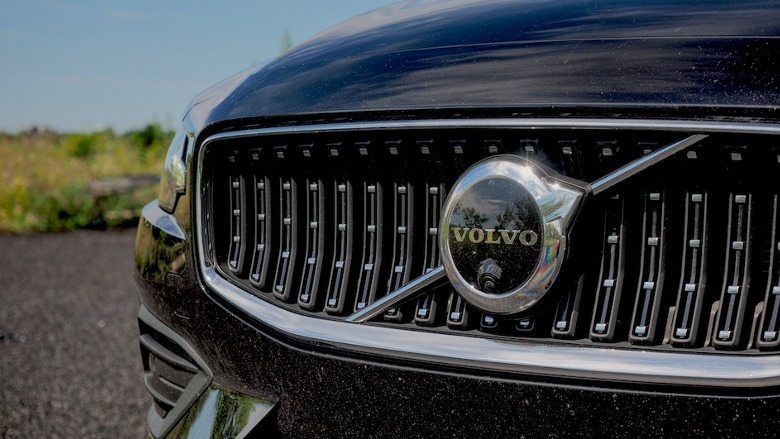 Chris Davies/SlashGear
Those are pretty accurate numbers, compared to real-world experience. There's 250 horsepower and 258 lb-ft of torque, and Volvo says 0-60 mph should arrive in 6.4 seconds. The V60 plug-in hybrid, in contrast, trims that 0-60 run down to just 4.3 seconds.
Simple pays dividends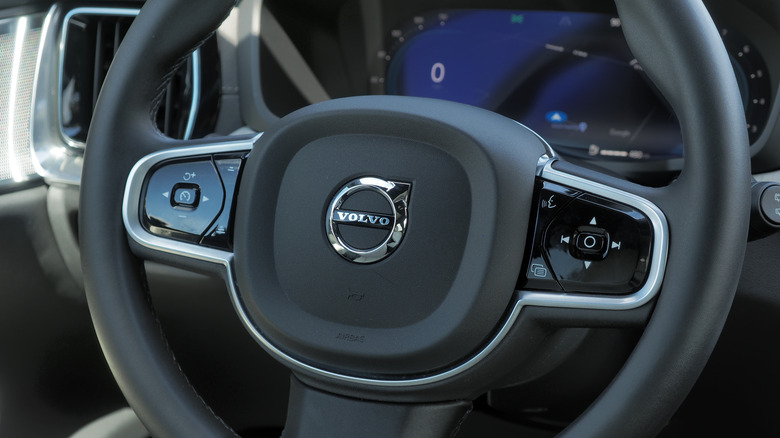 Chris Davies/SlashGear
Despite the on-paper difference, the V60 Cross Country doesn't feel slow. In fact, plant your right foot on the gas pedal and it surges forward with an unexpected eagerness, complete with a throaty growl from the engine. It's genuinely fun, and Volvo keeps things simple with drive modes and settings. There's an Off-Road mode you can switch to, but otherwise the V60 Cross Country pretty much comes in one, standard flavor.
You can flip the transmission into manual mode, tapping the Orrefors crystal shifter left and right, but there are no paddles on the steering wheel. Most of the time, the 8-speed auto was fine left to its own devices; only the occasional laggardly downshift when I wanted to take advantage of a gap for overtaking left me wishing I could snick a paddle myself.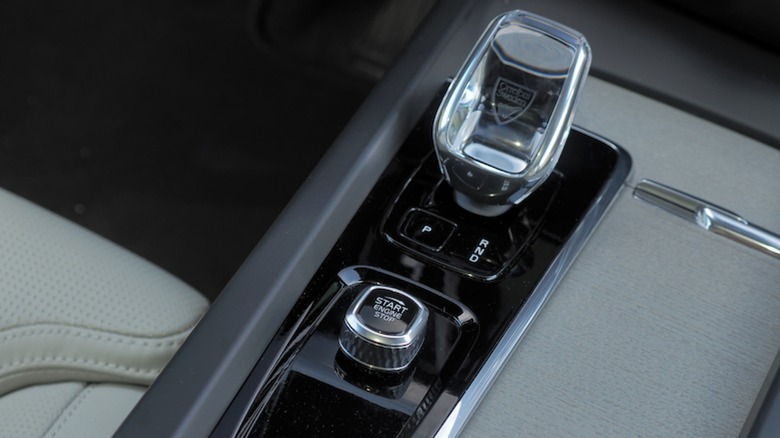 Chris Davies/SlashGear
Volvo's current EVs — like the C40 and XC40 Recharge — don't have gears to bother with, of course, and their plentiful torque arrives instantaneously. I also prefer the more aggressive regenerative braking they make available: the V60 Cross Country can't do one-pedal driving.
There's no air suspension or even adaptive dampers, either. Volvo's standard double-wishbone front and integral link rear suspension, though, strikes a good balance between compliance and riding flat. The fact that it's 6 inches lower than an XC60 probably helps deliver that cornering proficiency, though the V60 Cross Country's 8.3 inches of ground clearance is only two-tenths down on its SUV cousin when on steel springs. The XC60 with air suspension actually rides lower, at 8.2 inches. If you're genuinely going cross-country, the burlier version of the V60 makes a solid argument for being your first choice.
Practical and comfortable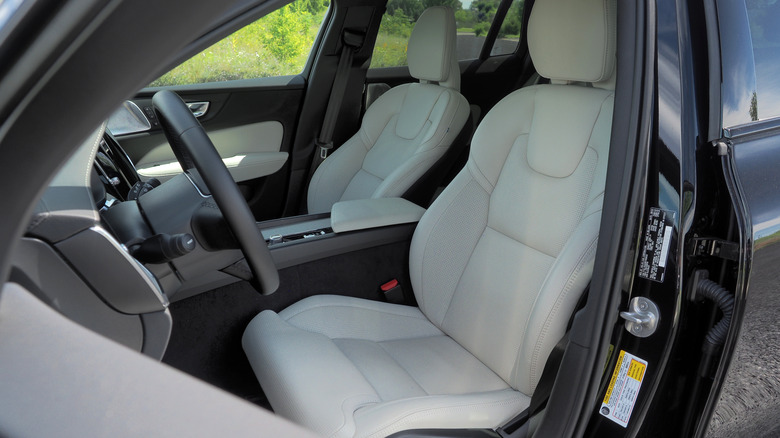 Chris Davies/SlashGear
That practicality carries over to the interior. Though the V60 Cross Country's narrower body trims shoulder room slightly, compared to an XC60, headroom in the front is only down six-tenths of an inch, and rear headroom is actually a tenth of an inch greater. Rear legroom is probably the biggest concern, though only if you have front-seat occupants insisting on pushing Volvo's perennially-cosseting chairs far back. All seats up, opening the tailgate ($200 if you want it powered) reveals an ample 22.5 cu-ft of trunk space; drop the rear bench, and that expands to 60.5 cu-ft. Ultimate trim has power-folding rear headrests, too, and all trims get an actual spare wheel rather than a foam kit.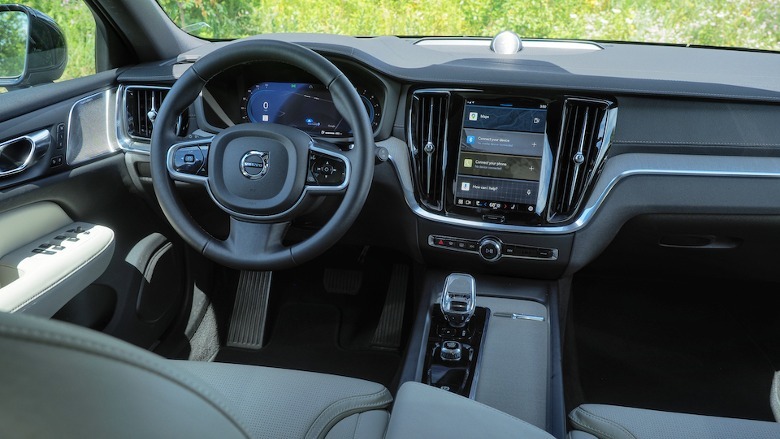 Chris Davies/SlashGear
Heated front seats are standard; a $750 Climate package adds heating to the steering wheel and rear seats, plus headlamp washers. Two-zone climate control and a panoramic moonroof with a power sunshade are standard, too, along with leather in a choice of three finishes. Ultimate trim gets nicer, Nappa leather, a head-up display, a 360-degree camera, and front, side, and rear parking sensors.
No shortage of tech or safety features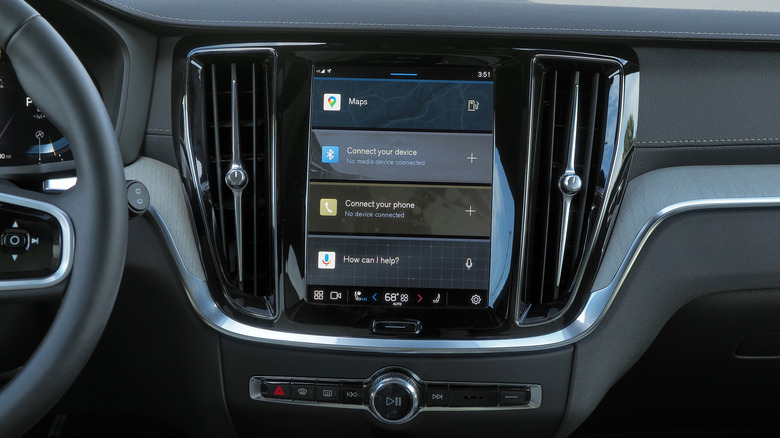 Chris Davies/SlashGear
Nestled into Volvo's handsome, sturdy dashboard — with its wood and metal trim — is a 9-inch touchscreen. While that's the same size as the infotainment display that debuted on the second-generation XC90 all the way back in 2015, the software running on it is now very different. Volvo's Google-powered system supports native Apple Maps and Google Assistant for voice control and has native apps for popular media services like Spotify (which can stream over the V60 Cross Country's embedded 4G LTE modem).
There's wired Apple CarPlay support, and in Ultimate form, you get an upgrade to the standard audio system with a Harman Kardon Premium version. What you really want, though, is the Bowers and Wilkins system, which sounds just peachy. Then again, at $3,200, it darn well should.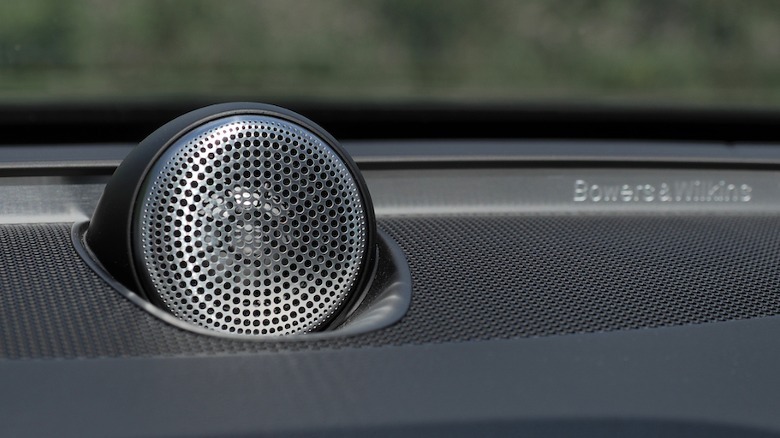 Chris Davies/SlashGear
All V60 Cross Country trims get blind spot warnings with steering assistance and rear cross-traffic alerts and auto-braking, front collision avoidance, lane-departure warnings and assistance, and oncoming crash mitigation. Pilot Assist — Volvo's adaptive cruise control with hands-on lane-centering — is also standard.
Does an odd wagon have an electric future?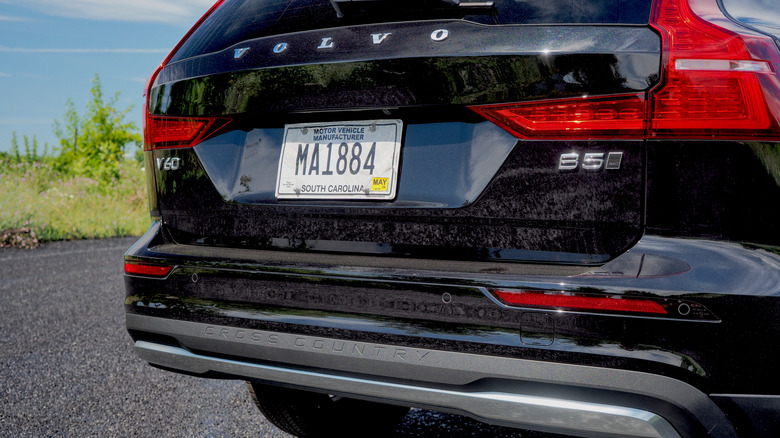 Chris Davies/SlashGear
Where, exactly, the V60 Cross Country — and all of Volvo's wagon, or wagon-adjacent, models for that matter — is left in the years ahead, as the automaker transitions to full electrification, isn't entirely clear. Volvo plans to be "a fully electric car company" by 2030, the EX90 and EX30 EV SUVs are the initial examples of the newest phase of that strategy. The problem is, with the appetite (and thus sales) of new cars so skewed toward SUVs and crossovers, the market demand for an electric off-road wagon is less obvious.
Frankly, a V60 Cross Country with a fully-electric drivetrain seems like it would be a glorious thing. The near-silent propulsion would give this shark-like predator the speedy stealth it deserves. It would probably be more aerodynamic — and thus potentially deliver more range — than an electric SUV, too. Yet the cold reality is that new car buyers aren't necessarily swayed by rational reasons such as those.
In the U.K., for example, Volvo just recently retired its sedans and wagons, leaving only SUVs on sale. While that may come as a blow to any long-time fan of the brand, you can't really argue with the sales numbers. In Q2 2023, Volvo sold around 35,000 sedans and wagons globally: that's less than a quarter of its total SUV and crossover sales in the same period.
What makes sense isn't always what sells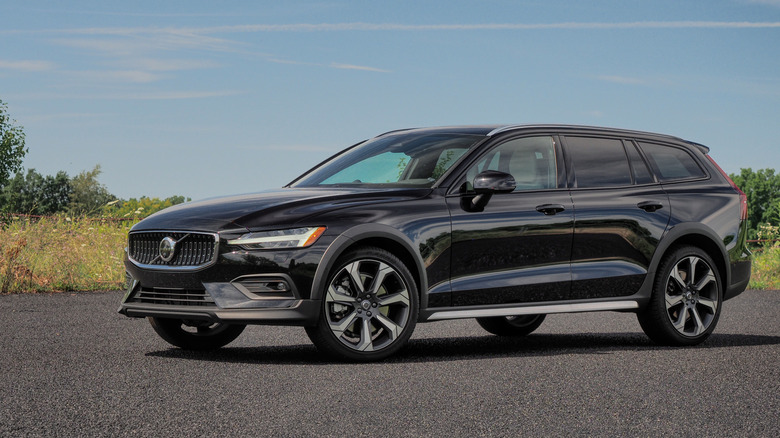 Chris Davies/SlashGear
Volvo, unsurprisingly, won't be drawn on future product plans, or what its intentions for the Cross Country range more broadly might be. It's possible, too, that its already-all-electric cousin, Polestar, will pick up the torch when it comes to atypical EVs. After all. Polestar already has a sedan on its roadmap, plus a sleek, lowered SUV that could — if you squint a little — look somewhat adjacent to a lifted wagon.
For now, though, the name of the game is enjoying what we still have. The V60 Cross Country may not be easy to categorize, but that oddness is undoubtedly part of its charm. Handsome, in a classic way; practical, but understated; and unexpectedly engaging to drive. Like with the V90, then, the obvious conclusion is to stop trying to understand the purchasing preferences of your fellow drivers, and instead simply revel in the V60 Cross Country's rarity. Here's hoping, though, that the auto industry's electric transition still finds some space for affordable oddballs: off-kilter halo cars, even if they're never going to be the biggest sellers.
>>> Read full article>>>
Copyright for syndicated content belongs to the linked Source : SlashGear – https://www.slashgear.com/1359502/volvo-v60-cross-country-would-make-perfect-ev/