The Windows 11 Photos app is testing a pair of key AI-powered features, continuing a surprising and welcome renaissance in Microsoft's multimedia apps.
Microsoft said Thursday that the Photos app is adding background blur, the "portrait mode" that's become common smartphones. Even better, the OneDrive app now has smarter search capabilities for photos, so that you'll be able to search by the content of the picture, such as a beach scene or "snow."
We criticized Microsoft earlier this year for the fact the old Photos app was better than the new one. And in some sense, it is: in Photos Legacy, you can search for content, such as the previously mentioned beach scenes. Provided that you've connected Photos to OneDrive (which you can do in the drop-down menu on the left-hand rail) you can now use the regular Photos app as a front door to OneDrive photo searches.
We should point out, too, that in May Microsoft re-introduced Spot Fix to Photos, which allows you to highlight a small area and use AI to filter out any anomalies. (Think specks of dust on a laptop.)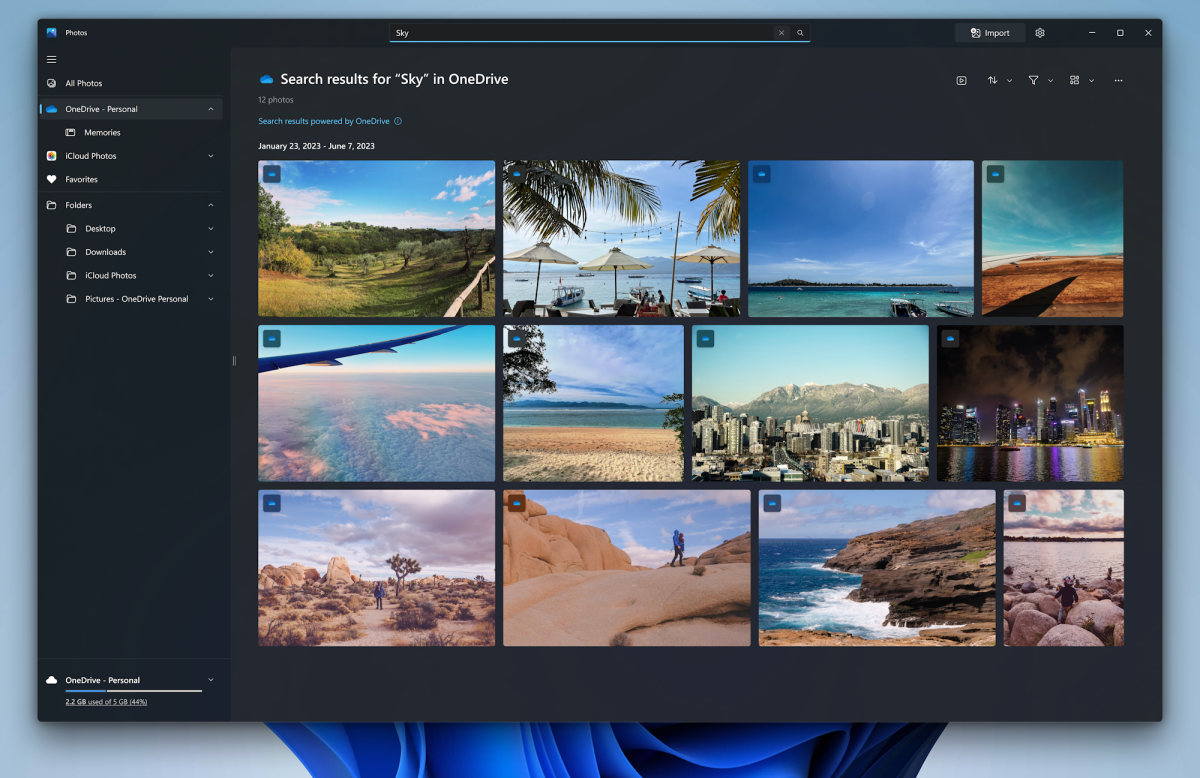 Ai-powered search within Photos, as connected to OneDrive.
Microsoft
Background blur, though, hints at another feature we recently lobbied for: Paint3D's Magic Select, which has now been added to Paint. Really, Background Blur and Magic Select perform the same task. They identify and separate the foreground subject from the background. Magic Select cuts it away; Background Blur simply applies an AI blur filter to the background.
There's one problem: the portrait mode/background blur feature that Microsoft has shown us before was pretty poor. That came courtesy of the Surface Duo 2, the dual-screen smartphone that apparently Microsoft has abandoned. In our photo of a statue, the Duo applied the background blur feature on only part of the scene. We'll have to see if Photos is any better. If nothing else, Background Blur is adjustable.
In this Surface Duo 2 photo, notice how background blur/portrait mode starts midway up the statue.
Mark Hachman / IDG
Microsoft is providing these new features in the Canary and Dev Channels of Microsoft Photos, so there's no guarantee that you'll eventually see it. There's a good chance, though, and it's great to see Photos gain some unexpected new improvements. Can Magic Select be next?
Author: Mark Hachman, Senior Editor
As PCWorld's senior editor, Mark focuses on Microsoft news and chip technology, among other beats. He has formerly written for PCMag, BYTE, Slashdot, eWEEK, and ReadWrite.
>>> Read full article>>>
Copyright for syndicated content belongs to the linked Source : PCWorld – https://www.pcworld.com/article/2069425/microsoft-photos-renaissance-continues-with-new-ai-features.html