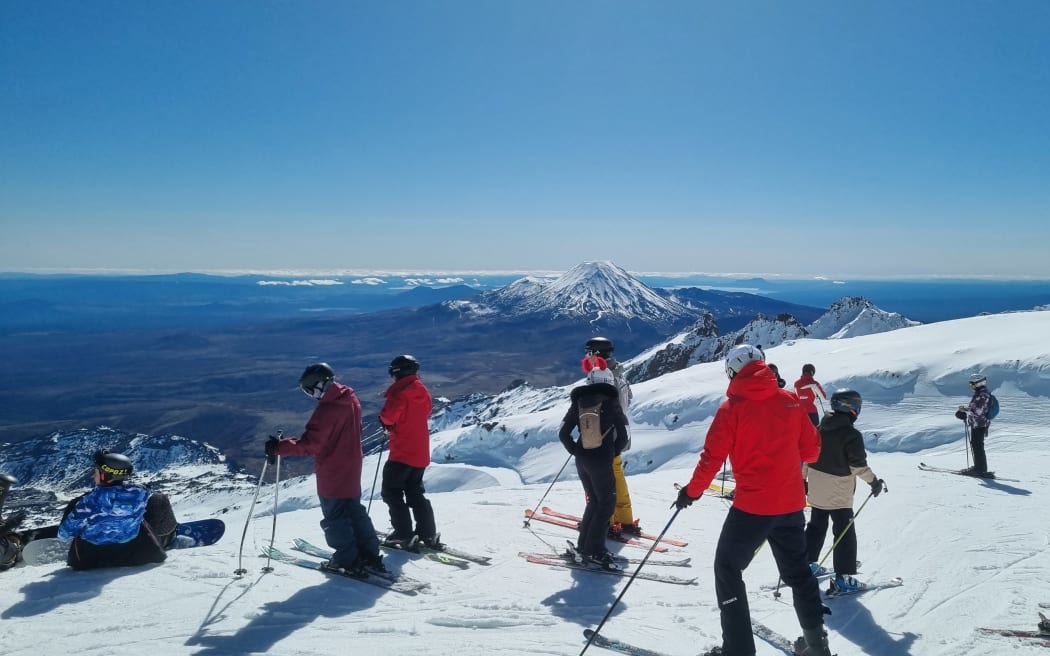 Skiers have flocked to the Whakapapa slopes.
Photo: RNZ / Tom Taylor
After a rocky start to the season, skiers and snowboarders have enjoyed some of the best snow at Ruapehu in years.
Ruapehu Alpine Lifts went into liquidation early this winter, and the liquidators only received a government lifeline of $5 million to keep the mountain running at the eleventh hour.
But the super snowfall has not necessarily translated into bumper business at the base of the slopes.
Ohakune travel agent Nigel Buck said the conditions at Tūroa this year had been second to none – and he had the stats to back it up.
"They've got more snow up there now than almost anywhere else in the world, so if you want to play in the snow and you want to go skiing or boarding, wow – what more could you ask for?"
In August, the southern Ruapehu ski field boasted some of the deepest base of snow in the world at 255 centimetres.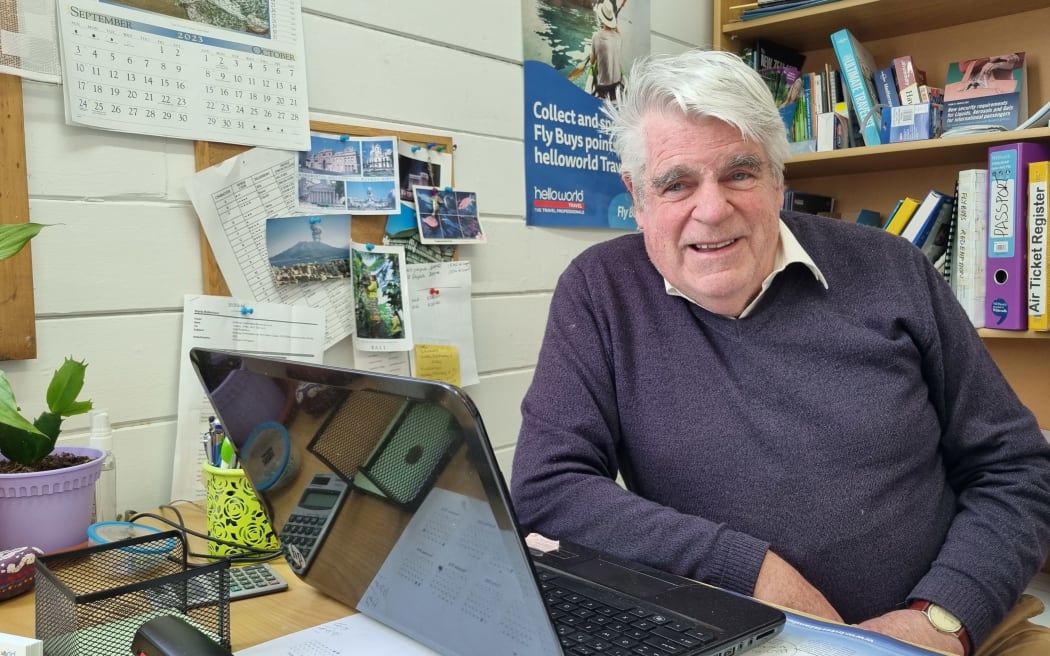 Ohakune travel agent Nigel Buck.
Photo: RNZ / Tom Taylor
Compare that to last year when La Niña weather systems produced some of the shoddiest snow in recent memory.
"Put it this way, it's much more cheerful around town this season than it has been for the last three," Buck said.
Still, it was not the Ohakune of old.
Accommodation providers said bookings were down on previous years and slower to come in, with people only deciding during the week whether to make the trek to the mountain in the weekend.
Ruapehu businesses are hoping for a lift from snow sports.
Photo: RNZ / Tom Taylor
Gear rentals from Off Piste Mountain Hire – even on the best bluebird days – were down about 30 percent on previous years' best days.
Owner Johnny Vod said it was better than being closed, but a far cry from normal.
"There's really good snow but it's not the traditional numbers I've seen in the past, and even people going up the mountain have commented how quiet it is compared to normal, for the quality of snow."
He blamed the high cost of living, with the price of fuel to get to the mountain now a big barrier.
And he said uncertainty at the start of the season did not help.
After the liquidation of Ruapehu Alpine Lifts, season pass sales were only open for a fortnight, and many who would ordinarily buy them held off.
Vod said the future of Mount Ruapehu was still up in the air, and that did not inspire local businesses with much confidence.
When Checkpoint met him, he was about to head out on his second job as a tradie.
"I do have backup. If you've got backup, you're certainly in a better position than people solely relying on the mountain, and I've been here long enough – including through the eruption years [most recently in 1995, 1996, and 2006] – to know that you need more than just reliance on the mountain."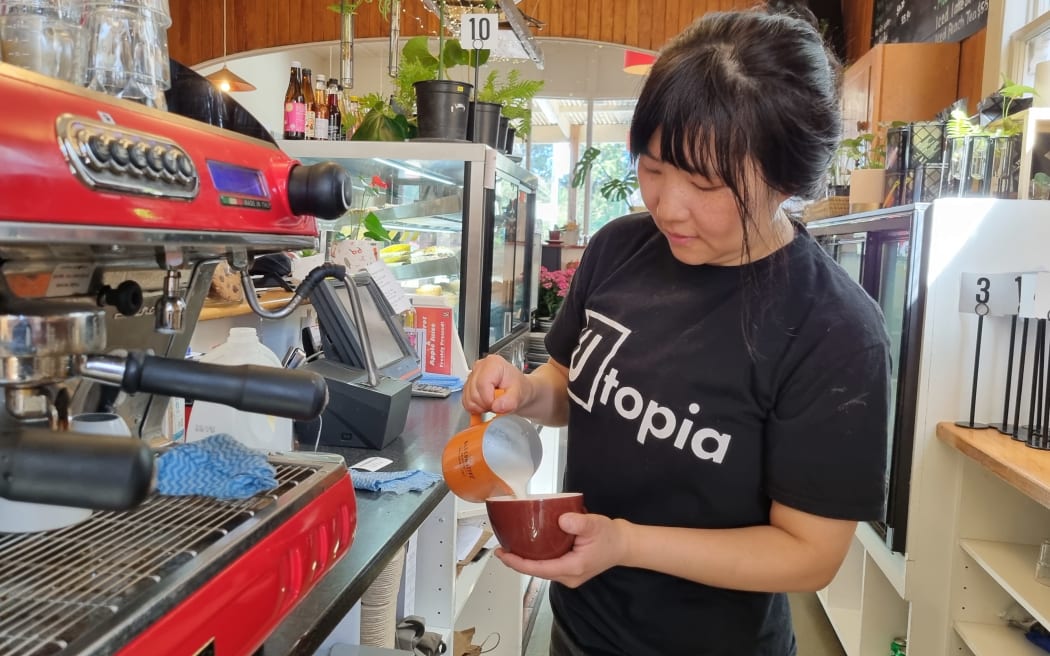 Ohakune's Utopia Cafe's Helen Xing says business is down despite the good snow.
Photo: RNZ / Tom Taylor
At Ohakune's Utopia Cafe, Helen Xing said despite the good snow, business was down about 15 percent on last year, when the snow was terrible.
"I think everybody's up the mountain this year; they probably spend the whole day on the mountain.
"As a cafe, we're open in the daytime, so we don't really get people during the daytime."
She said people spent a lot of money on the mountain, forking out $149 for an adult weekend day pass – not including ski hire.
On days off, people were tightening their belts.
"You spend on your ski pass, your accommodation here, and your dinner.
"People come and just grab a coffee and go, we definitely have less meals than previous years."
But just 25 minutes north in National Park Village, chairperson of the National Park Business Association and Visit Ruapehu board member Andrea Messenger said it was a different story.
Visit Ruapehu board member Andrea Messenger said the area is seeing many newcomers.
Photo: RNZ / Tom Taylor
"It's the total opposite," she said.
She said the town near Whakapapa ski field had experienced a boost in numbers – but not from where people might expect.
"[It's] people that are touching snow for the very first time; a lot of new New Zealanders are coming through.
"They will spend quite a bit of time in Happy Valley, either tobogganing or learning to ski, and people will definitely experience going up on the gondola."
The Sky Waka, which opened in 2019, had made all the difference, Messenger said.
She said about 60 percent of visitors now came to the mountain for sightseeing or playing in the snow at the top of this gondola, leaving the slopes wide open for skiers and snowboarders making up the other 40 percent.
And Messenger said local businesses were benefiting from the shift.
"For a lot of food and beverage outlets, normally on busy ski seasons Fridays are hit and miss, because the skiers come in quite late.
"This year, the Friday nights have been quite busy, because the snow-play people come through, check in at 2pm, [they're] quite keen to go up the mountain late in the afternoon, have dinner quite early, and then pop themselves back up there on a Saturday."
Tūroa – better known for its terrain parks – may not be such a hit for sightseers.
But locals said it often came into its own for spring skiing.
With both fields estimated to stay open past Labour Day, the businesses below will be hoping to turn the season's snowfall into a windfall.
>>> Read full article>>>
Copyright for syndicated content belongs to the linked Source : RNZ – https://www.rnz.co.nz/national/programmes/checkpoint/audio/2018906777/great-snow-at-ruapehu-not-translating-into-bumper-business