Lucy Edwards, a young woman from England, recently recounted her unique wedding experience where she adopted a distinct and meaningful approach. The bride urged not only her soon-to-be husband but also their close relatives and friends to partake in the experience of walking down the aisle in total darkness. This extraordinary moment was documented in an emotional video that went viral on TikTok.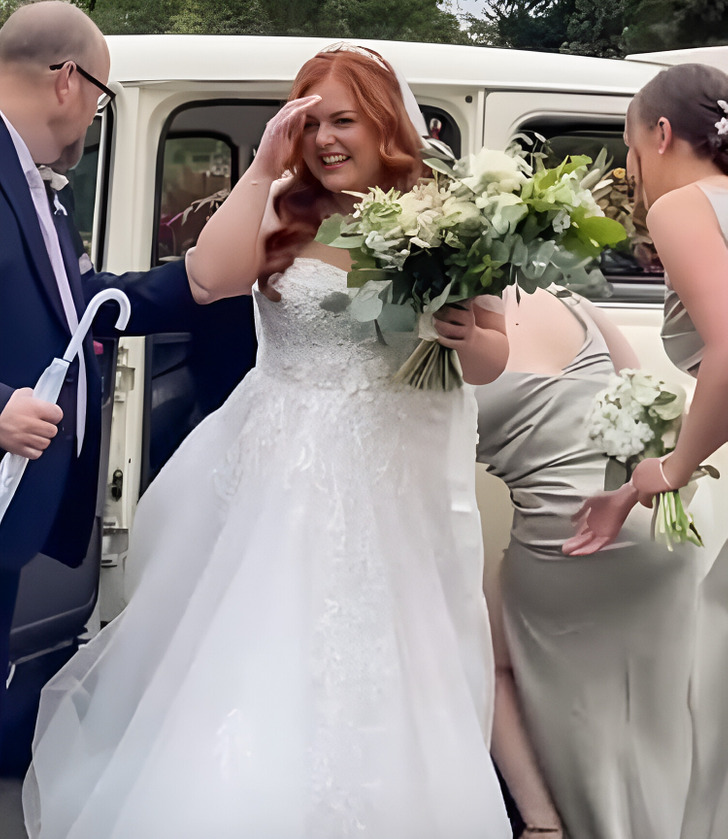 Lucy became visually impaired at the age of 17. Lucy's loss of vision occurred during her teenage years due to a rare genetic condition known as incontinentia pigmenti. The video beautifully captures the heartfelt encounter between her and her husband Ollie at the altar. Notably, every person present in the room, including the guests, wore black blindfolds, allowing them to briefly step into her world and understand her journey.
The 27-year-old bride celebrated her union with Ollie in a small, intimate wedding ceremony held at Kew Gardens in London. In the poignant video, Lucy is elegantly attired in a white wedding gown and veil, gracefully holding a bridal bouquet.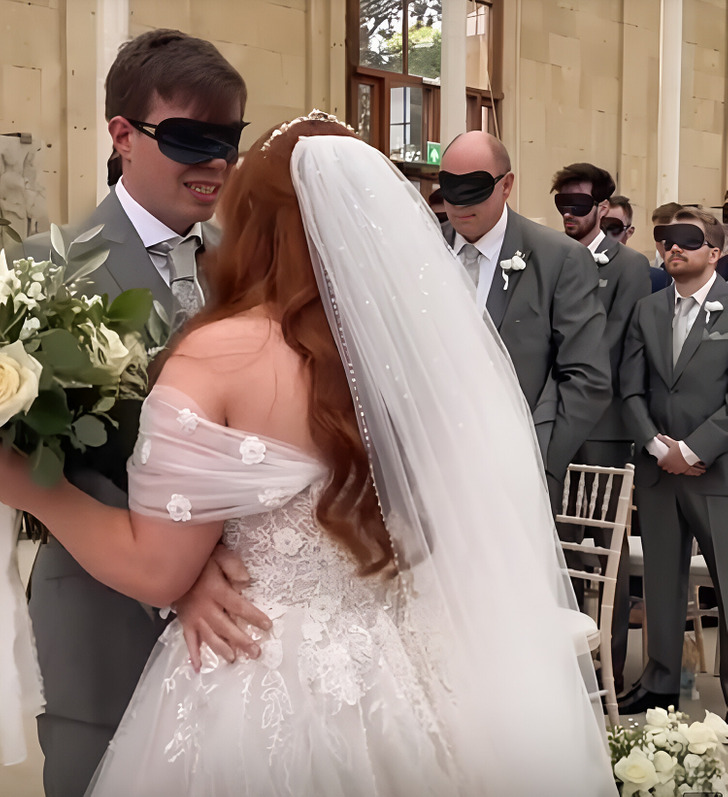 The video commences with the bride stepping out of a white taxi, accompanied by her family and bridesmaids who provide assistance as they make their way towards the ceremony where her soon-to-be husband, Ollie, eagerly awaits. As the group proceeds together, Lucy's faithful guide dog, Miss Molly, adorned with white flowers and a small white dress, faithfully remains by her side.
In the background, the melodious notes of a harp fill the air, while on-screen text delivers a poignant message: "I'm blind, and I blindfolded my sighted husband and guests when I walked down the aisle. This is their reaction when they lived a moment in my shoes."
The footage captures Miss Molly being guided down the aisle, with Lucy following closely behind, her father providing a gentle escort. Lucy's face radiates with joy as she advances towards Ollie, revealing rows of standing guests, each thoughtfully wearing black blindfolds. The moment of their reunion is profoundly moving, as emotions overwhelm Ollie, leading to a heartfelt and tearful encounter.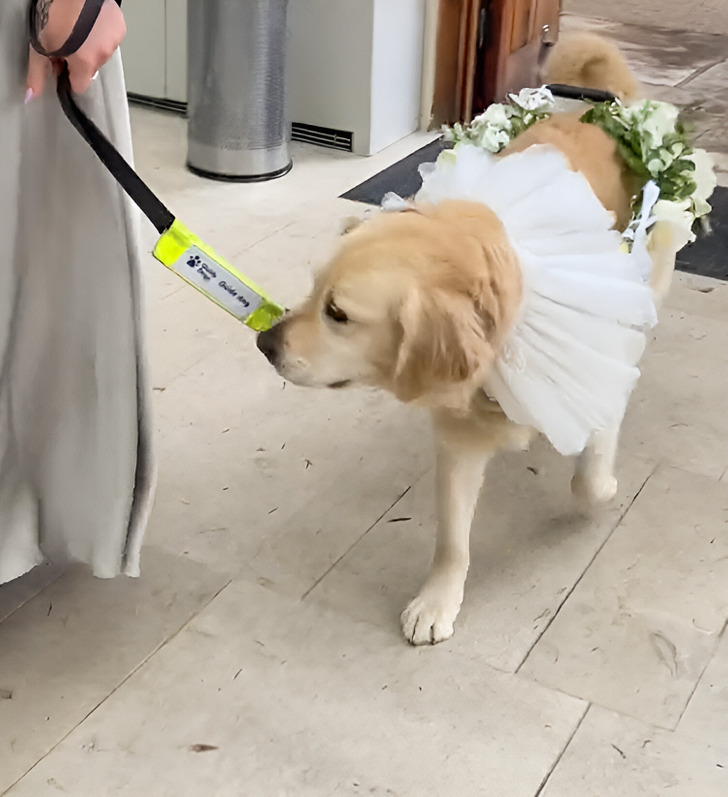 The couple exchange heartwarming smiles as they lovingly embrace, with Ollie using his hands to delicately explore Lucy's wedding dress—a gesture that allows him to perceive it in the same tactile manner as Lucy herself would have "seen" her own dress.
In a touching moment, the guests begin to remove their blindfolds, many of them sporting smiles of admiration as they witness this unique experience. However, Ollie chooses to keep his blindfold on, and tears stream down his face. The on-screen text provides insight: "Before Ollie took off his blindfold, we had a moment for him to feel my dress and understand why I chose it."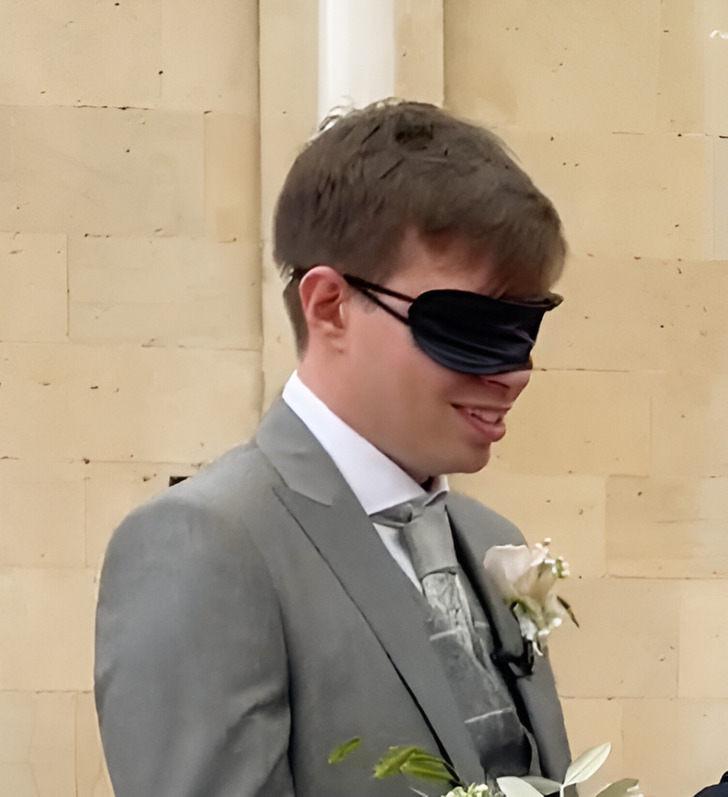 Lucy took to social media to share this remarkable footage, accompanied by a heartfelt message: "So, this is the moment that I blindfolded all my guests, and I walked down the aisle on my wedding day. Myself and Ollie thought it would be a really good idea to blindfold him as well, as when I got to the end, and my dad passed my hand to Ollie, he was able to feel my wedding dress in the exact way that I felt it when I first had it on."
"It was such an important experience for us both, even though Ollie isn't blind. We thought it was really important for him and all of my guests to experience what it's like for me in the most important moment of my life so far," she went on describing.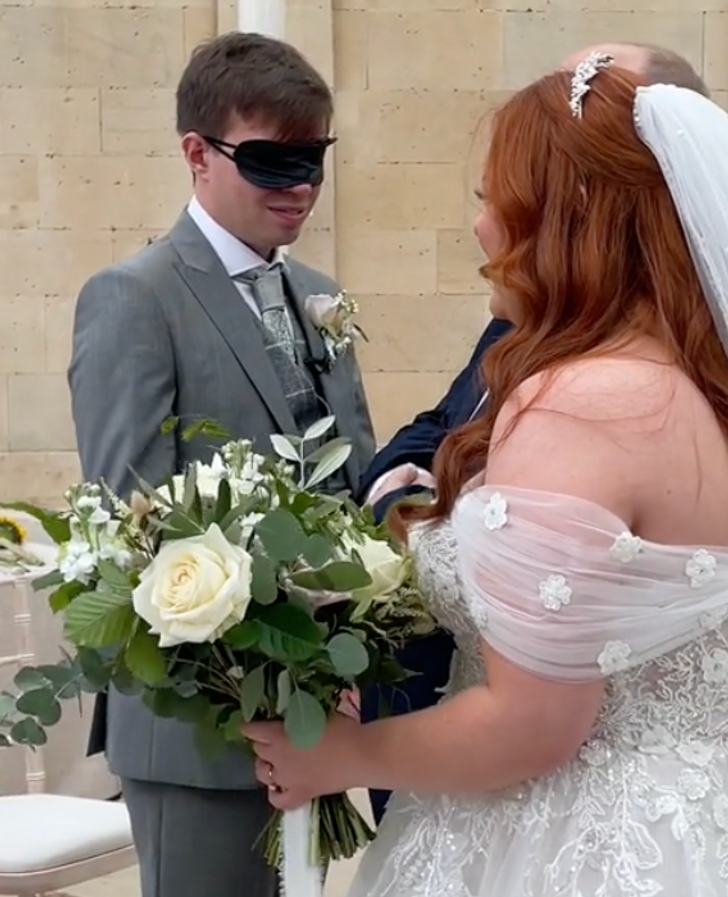 This heartwarming video has garnered over 300,000 likes and received thousands of comments.
Among them, one person expressed, "We've just been told my three-year-old is going to lose his sight, and I hope he finds someone who loves him like this. You're beautiful, by the way." Another shared, "The groom falling to his knees while seeing you as a bride — the way you see — is a fairy tale moment." A third comment read, "Gosh, who's cutting onions?" while a fourth expressed, "This genuinely took my breath away. Thank you for sharing something so heartwarming."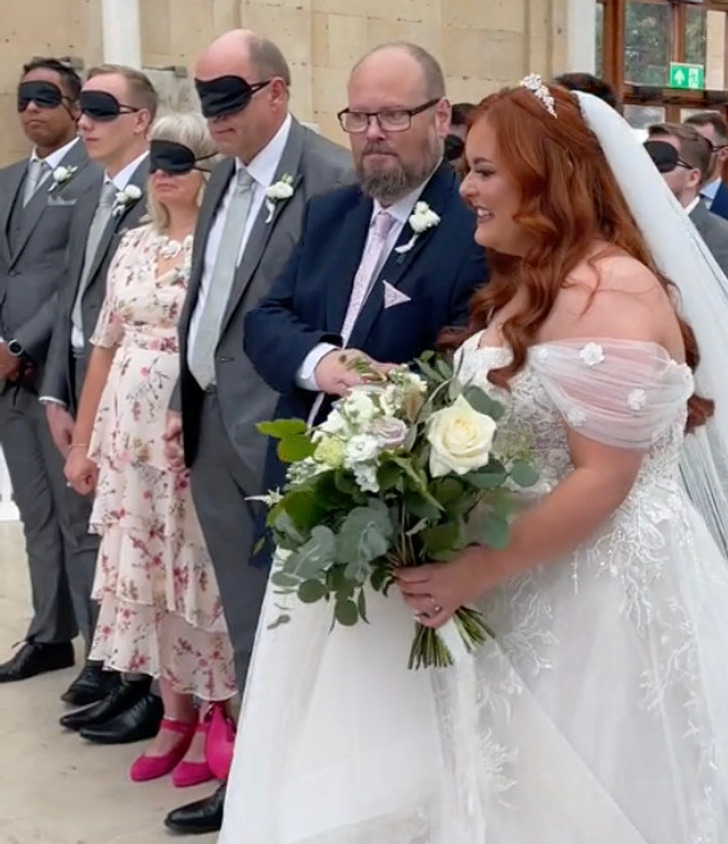 This bride infused her wedding day with her unique personal touch, showcasing her refreshing creativity. Meanwhile, let's delve into the remarkable story of a photographer who discovered an unconventional method to enable another blind bride to "experience" her wedding photos.
>>> Read full article>>>
Copyright for syndicated content belongs to the linked Source : BrightSide.me – https://brightside.me/articles/a-bride-asks-groom-and-guests-to-wear-blindfolds-as-she-walks-down-the-aisle-heres-why-815464/