News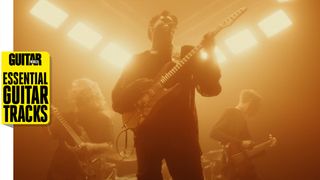 (Image credit: Unprocessed/YouTube)
Hello, and welcome to Essential Guitar Tracks. As you may well know, every seven days (or thereabouts), we endeavor to bring you a selection of songs from across the guitar universe, all with one thing in common: our favorite instrument plays a starring role.
Our goal is to give you an overview of the biggest tracks, our editor's picks and anything you may have missed. We're pushing horizons and taking you out of your comfort zone – because, as guitarists, that's something we should all be striving for in our playing.
So, here are our highlights from the past seven days – now with a Spotify playlist…
Unprocessed – Thrash
"The ultimate composite of everything Unprocessed has ever created," and "a moment for modern guitar playing and the innovation of new playing styles" are just some of the phrases that have been attached to Thrash, the newest single from boundary-pushing German prog metal outfit, Unprocessed.
The band talks the talk, but can they walk the walk? Well… yes, they most definitely can. Manuel Gardner Fernandes' percussive slap-esque style, which is part Tim Henson and part Ichika Nito, somehow reaches new heights with a jaw-dropping display of sheer technicality. That whole palm-muted clean thrash passage from 2:10 onwards needs to be heard to be believed. (MO)
Wargasm – Bang Ya Head feat. Fred Durst
Whether you like it or not, the noughties are very much back – and after receiving praise from "nu metal daddies" like Jonathan Davis and Limp Bizkit, London duo Wargasm have secured a guest spot from Fred Durst himself. The fist-pumping chorus riff is pure RATM fury, but given the band's ethos that "genre is dead", there are plenty of electronic elements at play, too. It's nu metal brought bang up to date. (MAB)
Big Thief – Born for Loving You
Born For Loving You, the second standalone single from indie favorites Big Thief in 2023, is a somewhat restrained offering from the band, channelling late-'60s/early-'70s Dylan with a breezy country/folk gait. Both of the band's guitarists, Adrianne Lenker and Buck Meek, are capable of shredding like no one's business, but here, the money's in the melody, with a gorgeous lead refrain that swoons as much as the lovestruck Lenker does in the song's lyrics. (JM)
'68 – Removed Their Hats
Forget your Black Keys, your White Stripes, your Royal Blood: '68 are the heaviest blues-rock duo to ever plug in an octave pedal. Well, we say blues-rock, but while these riffs are indebted to the pentatonic scale, they're delivered with all the frenzied energy of post-hardcore, and a sonic nastiness that goes far beyond vintage Fender amps – which makes them all the more exhilarating. (MAB)
Meet Me @ the Altar – Strangers
Meet Me @ the Altar guitarist Téa Campbell told Guitar World earlier this year that she's a frequent user of "Dave Grohl's Kemper tone" and, indeed, Strangers' dynamite riffs have the same catchy simplicity and steamrolling energy of the Foo Fighters' best offerings in that category. With one of the band's trademark bulls-eye mall-punk choruses, Strangers is another gem from one of punk's most talented up-and-coming groups. (JM)
Ryujin – Raijin & Fujin (feat. Matthew K. Heafy)
First there was pirate metal. Now, of course, there is samurai metal. Blending traditional Japanese instrumentation and melodic themes, Ryujin channel the kind of power-metal precision you might hear in your typical DragonForce track – thank you to that tapped and alternate-picked sky-rocket of a solo – but with added Shamisen, Dragon Flute, Erhu and Taiko… oh, and some epic Matt Heafy guest vocals. (MAB)
Joel Culpepper – Free (feat. Tom Misch)
Tom Misch has been preoccupied with his dance side-project Supershy in recent months, but he's dusted off the Fender Stratocaster for a super-sultry guest spot on the new single from R&B singer-songwriter Joel Culpepper. Misch's effortless grooves are out in full force on this one, which has done absolutely nothing to tame our impatient desires for his next solo album. It must be coming soon, surely?! (MO)
Smut – 18 Tons
18 Tons, a new track from Chicago alt-rockers Smut, is truly one of those songs you can get lost in. There are textures aplenty to be found here, but it's those chiming, U2-like guitar layers we keep coming back to – especially the ringing, sliiightly overdriven echoes that lead the song out. (JM)
While She Sleeps – Self Hell
You might remember While She Sleeps' guitarist Sean Long having something of a viral moment with his awe-inspiring double Whammy pedal technique earlier this year – not to mention his eye-popping signature Charvels. Well, Long proves all the attention is well deserved, with a mind-bending chorus riff that makes use of his dextrous fretboard and treadle skills, bookended by some of this year's most crushing breakdowns. (MAB)
Derek Smalls – Must Crush Barbie
Following a summer of hype, the Barbie era is set to enter its next stage as the move hits streaming platforms – and Spinal Tap bassist Derek Smalls has apparently had enough, returning with "a much-needed antidote to the ubiquitous pinkness that has spilled out of movie theaters this summer". The antidote (aka Must Crush Barbie) is quintessential Smalls – loud, loaded with bass and entirely unapologetic. (MO)
Also on this week's playlist…
TesseracT – LegionDragonForce – Doomsday PartyL7 – Cooler Than MarsErja Lyytinen – Diamonds on the RoadPolar Son – YouthThe Cadillac Three – Young & HungryMicki Free – We Are OneCherry Glazerr – SugarLarkin Poe – Bad Spell (Acoustic)Jesse Dayton – Talkin' Country Man BluesChris Shiflett – OverboardWilco – Cousin
Thank you for reading 5 articles this month**
Join now for unlimited access
US pricing $3.99 per month or $39.00 per year
UK pricing £2.99 per month or £29.00 per year
Europe pricing €3.49 per month or €34.00 per year
*Read 5 free articles per month without a subscription
Join now for unlimited access
Prices from £2.99/$3.99/€3.49
All the latest guitar news, interviews, lessons, reviews, deals and more, direct to your inbox!
Matt is a Staff Writer, writing for Guitar World, Guitarist and Total Guitar. He has a Masters in the guitar, a degree in history, and has spent the last 16 years playing everything from blues and jazz to indie and pop. When he's not combining his passion for writing and music during his day job, Matt records for a number of UK-based bands and songwriters as a session musician.
>>> Read full article>>>
Copyright for syndicated content belongs to the linked Source : GuitarWorld – https://www.guitarworld.com/news/essential-guitar-tracks-moment-for-modern-guitar-playing-spinal-tap-barbie