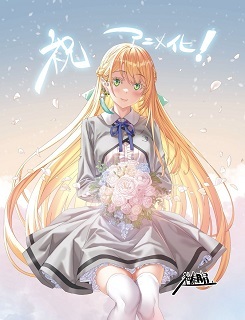 The Sneaker Bunko 35th Anniversary Festa! event announced an anime adaptation of Iris' Magical★Explorer: Eroge no Yuujin-Chara ni Tensei shita kedo, Game Chishiki Tsukatte Jiyuu ni Ikiru (Magical Explorer: Reborn as a Side Character in a Fantasy Dating Sim) light novel on Sunday.
Iris originally began writing the adventure comedy novel on the Shousetsuka ni Narou website in February 2018. Kadokawa began publishing the novel through its Sneaker Bunko label in November 2019, featuring illustrations by Noboru Kannatsuki (Goblin Slayer). The eighth volume shipped on April 28, with the ninth volume going on sale on Friday.
Yukari Higa (Zero no Tsukaima Chevalier) began drawing a manga adaptation on the Young Ace UP web magazine in August 2020. Kadokawa published the first volume in March 2021.
Yen Press licensed both the light novel and manga in English in December 2021. The first manga volume went on sale last July, with the fifth novel volume shipped on July 18. The sixth novel volume is planned for a December 12 release.
Synopsis
Reincarnated as a character in the legendary erotic game, "Magical Explorer," it doesn't take long for our hero to discover that he's been designated the unlucky side-character rather than the game's lady-killer protagonist. Not to worry, though! Armed with his vast knowledge of the game (and a few cheats) he'll do whatever it takes to win the hearts of the game's heroines and emerge as the most accomplished student at the Sorcerer's Academy! (Source: Yen Press)
Novel special site: https://sneakerbunko.jp/series/majieku/
Novel official X (Twitter): @Majieku_
Source: LN News
Magical★Explorer on MAL
>>> Read full article>>>
Copyright for syndicated content belongs to the linked Source : MyAnimeList – https://myanimelist.net/news/69893741?_location=rss