News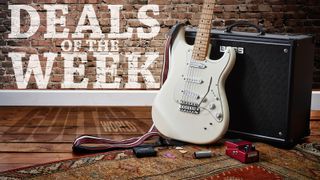 (Image credit: Future)
Here at Guitar World, we've been helping players research the best gear for them and find the very best deals for many years now. We fully subscribe to the belief that the only thing better than new gear is when that gear comes with a hearty discount.
If you're anything like us your inbox is probably overflowing with emails about sales and discounts and it can be hard to separate the genuinely good deals from the too good to be true ones. That's where we come in.
There are a few sales really worth checking out this week: Sweetwater is currently offering sizable discounts on guitar and bass bundles, as well as loads of great orchestral instruments and accessories in the back-to-school sale. While Musician's Friend is slashing the price of Fender-related products, including guitars, amps and accessories.
We'll be bringing you fantastic deals every week with the best savings on guitars, amps, effects, accessories and more, so if you don't see anything you like here – or you're waiting for payday – then check back in next week.
Guitar sales to shop
Looking for more guitar bargains? These are the sales you should check out right now.
Fender Play: 50% off annual subscriptionGuitarTricks: Get 1 month for $1Positive Grid: Savings on Spark amp bundles
How we choose our deals of the week
Here at Guitar World, we are experts in our field, with many years of playing and product testing between us. We live and breathe everything guitar related, and we draw on this knowledge and experience of using products in live, recording and rehearsal scenarios when selecting the products we recommend.
First and foremost, we are guitarists, and we want to match other players with the right products for them, at the best prices.
For us to recommend a deal it has to be a product we rate that's a genuinely great price or part of a truly fantastic bundle. It's also important that we only recommend retailers where you will have a positive shopping experience.
Why you can trust our choices
We spend a lot of our time scouring guitar retailers for fantastic deals on our favorite gear. Not only is it our job to research and recommend the best gear in our buyer's guides, but we're also dedicated to helping players get the best deals for the gear they need, too. After all, the only thing better than new gear day is a hearty discount.
We cover a lot of the big sales events throughout the year, including Memorial Day, Black Friday, 4th of July sales and Amazon Prime Day, and we have a good view on which products are likely to receive the biggest discounts and when, the prices they've been in the past and which deals are genuinely worth a look.
Where are the best places to shop?
Online shopping is definitely a lot easier and more secure than it used to be, and we like to recommend a small handful of online retailers who have a sterling reputation and offer fantastic benefits like fuss-free returns, great customer service and, in some cases, full checks and setup of guitars before they are dispatched. So, all the deals we'll recommend on this page are from retailers that tick these boxes.
What sort of deals should I look for?
Great deals come in all shapes and sizes. There are a few key types to look out for:
Single item – A single product with a great discountSite-wide discounts – A single discount percentage on a large range of products across a siteDiscount codes – Load your basket to a certain value and redeem a discount code for money off your basket contentsAdded value deals – These include multi-buy discounts, or additional products or software for free when you buy certain items
Thank you for reading 5 articles this month**
Join now for unlimited access
US pricing $3.99 per month or $39.00 per year
UK pricing £2.99 per month or £29.00 per year
Europe pricing €3.49 per month or €34.00 per year
*Read 5 free articles per month without a subscription
Join now for unlimited access
Prices from £2.99/$3.99/€3.49
All the latest guitar news, interviews, lessons, reviews, deals and more, direct to your inbox!
I'm Guitar World's eCommerce Editor. It's my job to manage buyer's guides on the site and help guitarists find the right gear and the best prices. I'm a guitarist and a drummer and I've worked in the music gear industry for 18 years, including 7 years as Editor of the UK's best-selling drum magazine Rhythm, and 5 years as a freelance writer working with brands including Roland, Boss, MusicRadar and Natal.
>>> Read full article>>>
Copyright for syndicated content belongs to the linked Source : GuitarWorld – https://www.guitarworld.com/news/guitar-world-deals-of-the-week-bag-yourself-a-discounted-fender-at-musicians-friend-or-a-free-maestro-comet-chorus-with-a-gibson-purchase-at-reverb