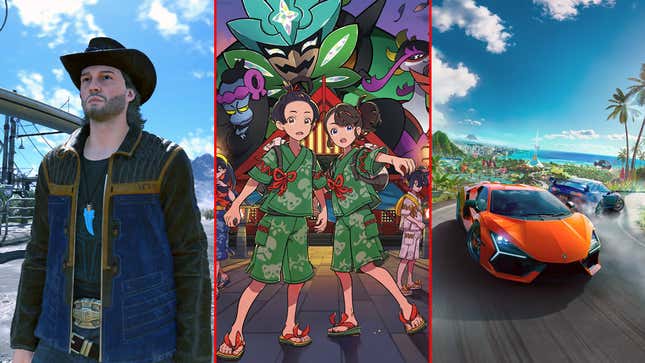 Image: Bethesda Game Studios / Nintendo / Ubisoft / Kotaku
Oh, hey there. It's weekend time once more and that means we're taking a look at what's been keeping us busy on our gaming machines. It's been a pretty busy time of year for game releases, so there's the usual new stuff in the pages ahead but also one stone-cold classic and even one game that's somehow old and new both. Read on for our picks in this week's Kotaku Weekend Guide.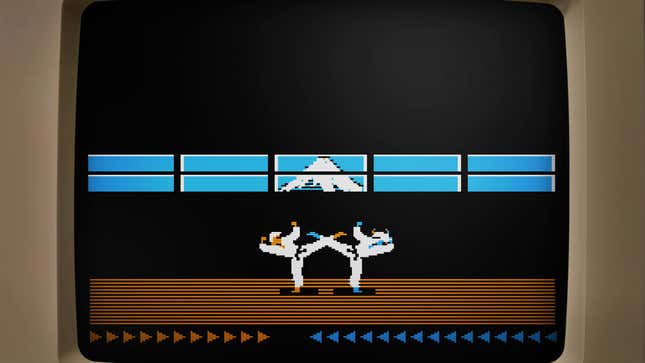 Screenshot: Digital Eclipse
Play it on: PS5, PS4, Xbox Series X/S, Xbox One, Switch, Windows (Steam Deck: YMMV)
Current goal: Bring some game history to life (and survive the damn bird)
"Wait," I hear you saying. "You're playing something called The Making of Karateka? That sounds like a documentary, not a game!" Well, my friend, it's both!
Karateka is a hugely influential and important game from 1984, designed by Jordan Mechner, who would go on to create the original Prince of Persia, among other well-regarded games. This new release from prestige emulation studio Digital Eclipse lets you play Mechner's classic, of course—multiple versions of it, in fact, as it was released for numerous platforms in the '80s. But it aims to do more than that. Through interviews, archival materials, and other supplements, it aims to contextualize Karateka within the larger scope of game history, providing insight into what makes it significant, and why we should still appreciate it today.
I often lament that game history—even from as recently as 40 years ago—is so often overlooked and erased, as many people playing and writing about games today simply lack a real awareness of or interest in the age of Atari and Apple IIc. It's very important to me that it not be forgotten, and that the games of that era continue to be recognized for both their significance to the medium's development and for the playability and enjoyment they can still offer today. I haven't even fired up The Making of Karateka yet, but if Digital Eclipse's recent release, Atari 50, is any indication, this one will also do a wonderful job of illuminating an important piece of game history.
The studio is calling this the first in its Gold Master series. I very much hope that it's successful enough to be merely the first of many. Game preservation guru Frank Cifaldi recently said on Twitter, "If the world is to take video games seriously as an art form, we must be able to support products like this." I strongly agree. — Carolyn Petit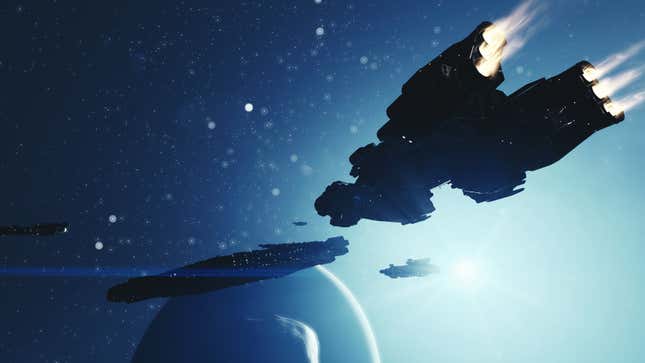 Screenshot: Bethesda Game Studios / Kotaku
Play it on: Xbox Series X/S, Windows (Steam Deck: YMMV)
Current goal: Figure out which quest I want to finish next
Playing Starfield amounts to boldly going where Bethesda has totally gone before, but damn if it isn't a time sink of a good time for me thus far. I have my fair share of criticisms to share, and there'll be a time and place for that, but right now I am thoroughly enjoying this bottomless quest machine.
But it's not just the quests, which are fun and satisfying (all but the main quest has yet to truly win me over, but nothing's felt like too much of a slog), it's also the down time, the exploration, the sight-seeing.
Read More: Starfield's Photo Mode Is Deeply Satisfying
Having leveled up my survey skill, I'm spending a lot of time just wandering planets, scanning for resources, and enjoying the quiet, gentle stroll through these worlds. Interestingly, I'm enjoying the surveying more than I have in No Man's Sky. Starfield's worlds take far less legwork to 100%. You can round up everything on a single planet with very little trouble, and I kind of like how much easier that is. Combined with the photorealism of some of these worlds, Starfield's proving to be a fine walking simulator where I can just be alone with my thoughts under the starry skies.
That said, I've got a few outstanding quests among different groups. So hopefully this weekend I'll figure out whether the pirates, corpos, or Freestar Rangers are likely to get more of my attention. — Claire Jackson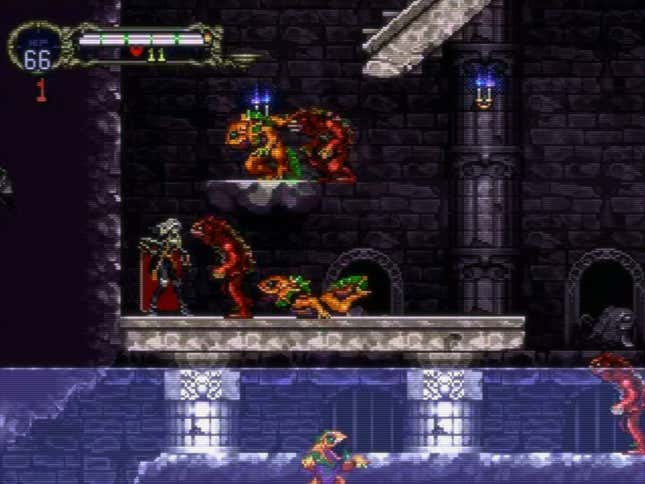 Screenshot: Konami / MobyGames / Kotaku
Play it on: PlayStation (or any of its various later ports)
Current goal: Stop thinking about Michiru Yamane's terrible politics
Konami's 1997 Castlevania: Symphony of the Night not only put the "vania" into "metroidvania," but also served as a much-needed reminder that 2D games were not only still relevant, but still vital in an era obsessed with the wonders of crudely rendered polygons. Frankly, I found it electrifying.
So naturally I like to revisit it, and the itch returned this week. The only thing is, I think I'm running outta juice. A few years ago I conquered the HardType fanhack, which was alright, and made me play like a weenie to survive (hello, rune sword!). So that was out. Luckily I spied a new hack called SotnKindAndFair, which was said to be a well-done rebalancing of Konami's tragically easy, highly exploitable game. Off I went.
And you know, it's been fine. I am once again playing one of the seminal 2D search-action games and having a decent time. But I kept wondering if the hack had actually worked, because I wasn't noticing much of an increased difficulty curve. Yeah, the hack was fine. I think the problem is more just that SotN's strengths do not lie in its overly simplistic combat or impossible-to-tune difficulty, which both pale in comparison to the countless more sophisticated games that have iterated on it since. In fact, many aspects of this trailblazer feel less sturdy now. Its massive charm still shines through, its impeccable vibes remain intact, but in various important mechanical senses SotN shows its age, and no amount of stat hacking can paper over that.
As a result my latest return to the all-time classic has been a little lighter on the dopamine than expected. I hope new players continue to find their first runs as enthralling as I did my own, but after several hundred hours across 26 years I think I've hit diminishing returns on this particular touchstone. And that's fine. We've had a legendary run. — Alexandra Hall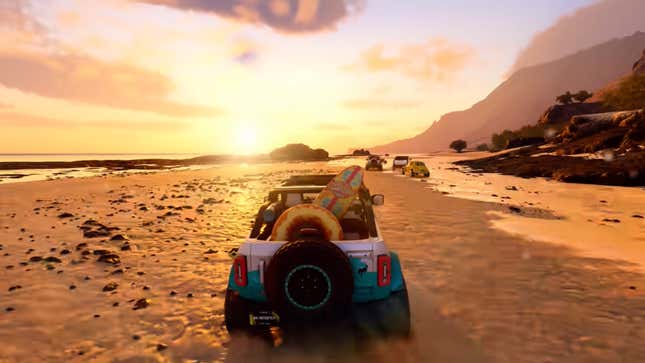 Screenshot: Ubisoft / Kotaku
Play it on: PS5, PS4, Xbox Series X/S, Xbox One, Windows (Steam Deck: N/A)
Current goal: Knock off more playlists
This weekend I plan on playing more of Ubisoft's new open-world racing game, The Crew Motorfest. Specifically I plan on dropping Ford F-150, Shelby Cobras, and Nissan street racers onto the mountains and streets of Oahu. That's not a joke. If you read my impressions piece you know that one of the best parts of Ubisoft's Forza Horizon-inspired racing game is the ability to, at any time, swap between a car, a plane, or a boat. So, you can fly high into the skies, swap to your car, and enjoy the ride back down to Earth.
I'm not sure I'll put as much time into Motorfest as I have into past Forza Horizon games—especially with so many big games out now and soon to release—but for now the wacky moments and the gorgeous setting of Hawai'i keep bringing me back. — Zack Zwiezen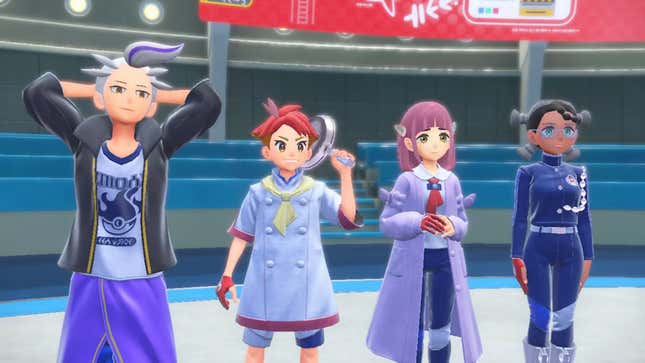 Screenshot: Nintendo
Play it on: Switch
Current goal: Complete the Kitakami Pokédex
I finished the main quest of Pokémon Scarlet and Violet's new The Teal Mask DLC and found it a pretty representative experience of the original game. It has a lot of cool ideas, a good story, and a whole lot of performance trouble. But considering I've put over 120 hours into Violet since November, that is not going to stop me from doing everything else the DLC has to offer. There are a lot of side-quests to wrap up, Pokémon to catch, and now that Torterra has been added to the game, I've got four of my six favorite Pokémon to hang out with in the Paldea region. So I'm not about to let some devastating framerate drops stop me from doing cool Pokémon shit. — Kenneth Shepard
And that's it for the Kotaku Weekend Guide picks on this fine Friday, September 15. What games are you playing this weekend?
>>> Read full article>>>
Copyright for syndicated content belongs to the linked Source : Kotaku – https://kotaku.com/games-to-play-starfield-pokemon-the-crew-castlevania-1850843943