A social media video of a woman relishing the fact that no one will be seated next to her on a 30-hour flight has led to plenty of laughs online. The viral video posted by @BillieJeanReed, which has been viewed more than 2.3 million times, captured the moment when she realized that she'd be flying in total peace and comfort to her desired destination.
Reed had not booked the row of seats for herself and so was both surprised and amused to be able to travel in such style.
"I was traveling from Sydney in Australia to Amsterdam in The Netherlands," Reed told Newsweek.
The Australian content creator lives in Sydney and was flying to the Netherlands on Qantas, Australia's flag carrier.
"That moment when they announce they're closing the doors and no one is sat next to you on a 30 hour flight," Reed had written over the post.
She can be seen smiling and breathing a sigh of relief while a flight attendant can be heard announcing that the flight is ready to depart.
How To Be Comfortable On A Flight?
Long flights can prove very uncomfortable, especially if you're in an economy seat on a busy row. It's rare to find yourself in Reed's position where your surrounding seats are all empty.
Carlie Gasia, is a certified sleep science coach and publishing coordinator at Sleepopolis, based in North Carolina. She told Newsweek how she'd advise passengers on how to have a good rest or sleep on a long flight.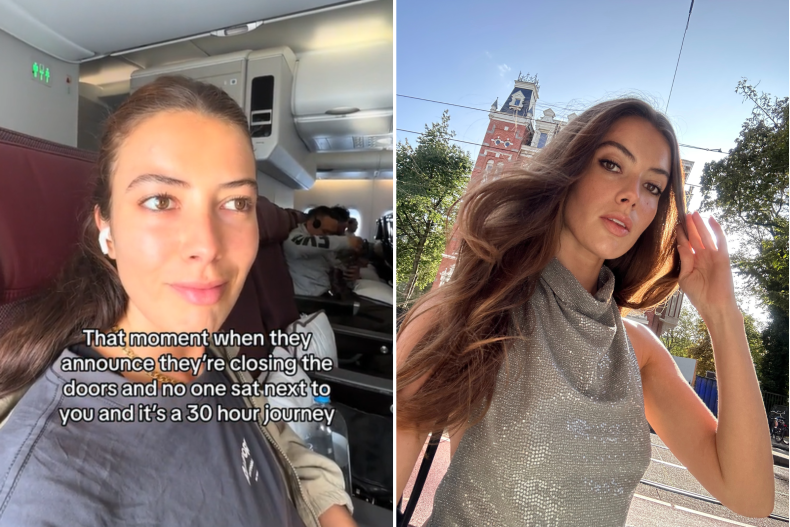 Billie Jean Reed got a pleasant surprise when she realized that no one would be sitting next to her on a 30-hour flight. She shared her delight in a viral video on TikTok.
@BillieJeanReed
"Opt for a window seat if possible, as it gives you a solid surface to lean against and try to sleep. Try your best to also select seats near the front of the plane or away from restrooms, where there is generally less noise and foot traffic," she said.
"Remember to pack a travel pillow, or personal pillow that provides neck and head support. Neck pillows that wrap around your neck and can be adjusted are great options," Gasia added. "Consider using an eye mask, earplugs or noise-canceling headphones to block out light and minimize noise disruptions for optimal rest."
"Wear loose-fitting, breathable clothing and layers, as temperatures on the plane can fluctuate. Avoid restrictive or excessively tight clothing that might make it harder to find a comfortable sleeping position," she said.
Gasia added that passenger's ought to increase their water intake in-flight too, to avoid dehydration which could contribute to discomfort and insomnia.
What Do The Comments Say?
Since it was shared to the social media platform on September 27, the TikTok post has been liked by over 267,000 users and commented on more than 400 times.
"I would cry of happiness," one TikTok user wrote.
"I did cry," Reed responded in separate comment.
Newsweek's "What Should I Do?" offers expert advice to readers. If you have a personal dilemma, let us know via [email protected]. We can ask experts for advice on relationships, family, friends, money and work and your story could be featured on WSID at Newsweek.
>>> Read full article>>>
Copyright for syndicated content belongs to the linked Source : Newsweek – https://www.newsweek.com/woman-films-shocking-moment-board-30-hour-flight-i-did-cry-1832061