Police have discovered a large quantity of fentanyl hidden in a nursery days after a toddler died from an apparent overdose from the opioid.
The owners of the New York nursery, Divino Nino, were concealing bags of the drug and other paraphernalia under a trap door in the children's play area, authorities said.
The hidden compartment covered by plywood and tile flooring was only a few steps away from a shelf of kids' toys, according to police photos.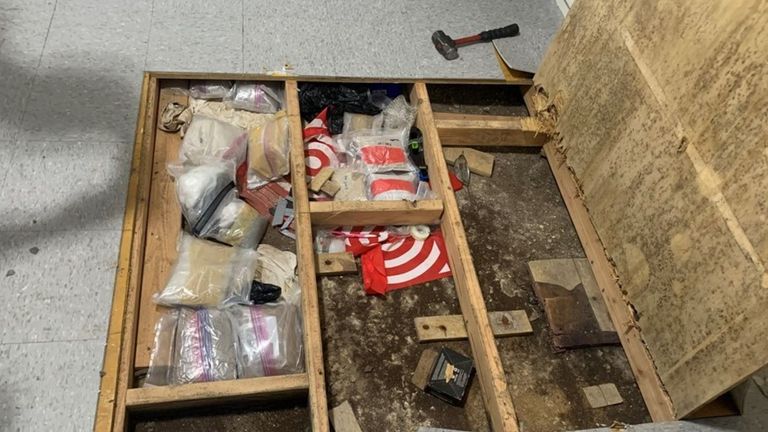 Image:
The trapdoor was in the children's play area. Pic: NYPD
This discovery comes days after a one-year-old boy, Nicholas Dominici, died from an apparent fentanyl overdose after attending the nursery.
Three other children also fell ill following the opioid exposure. They were revived after medics gave them the overdose-reversing drug Narcan.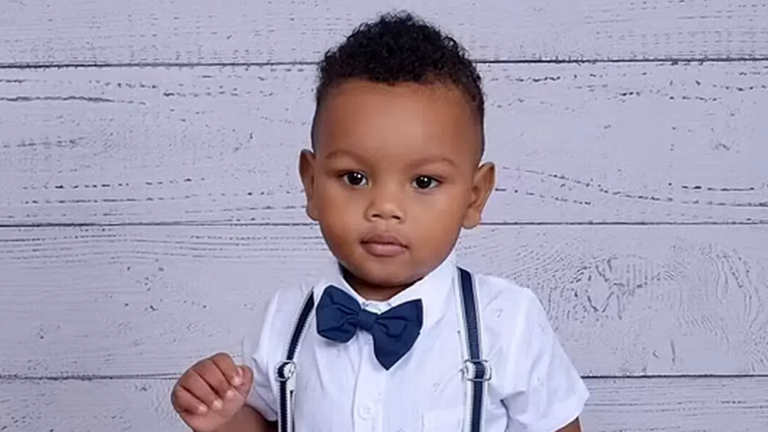 Image:
Nicholas Dominici Pic: Facebook/Yeissy Dominici
The owner of the nursery, Grei Mendez, 36, and a tenant living in the building, Carlisto Acevedo Brito, 41, were arrested on Saturday on charges of depraved indifference murder, assault and criminal possession of narcotics, including fentanyl.
Both face up to life in prison if convicted of possession with intent to distribute narcotics resulting in death and one count of conspiracy.
Mendez claimed she had no knowledge of the highly potent drug being on the premises.
The drug was found near a mat where the children had napped, Joseph Kenny, the New York Police Department's chief of detectives, said on Monday.
A second press was found inside the adjoining room occupied by Brito, according to a criminal complaint.
Prosecutors said Mendez covered up the drugs operation on Friday afternoon, after realising that some of the children in her care were not waking up from their naps.
Before calling emergency services, she phoned her husband, authorities said.
He was seen on camera entering the facility moments later, then leaving through a back alley with multiple shopping bags.
Mendez's lawyer said she had no knowledge of the operation, while suggesting that her husband was responsible for the drugs.
Authorities are still searching for Mendez's husband who is also Brito's cousin.
>>> Read full article>>>
Copyright for syndicated content belongs to the linked Source : SkyNews – https://news.sky.com/story/fentanyl-stash-found-in-new-york-nursery-days-after-toddler-died-from-suspected-overdose-12966795