Judge Tanya S. Chutkan rejected a request made by Donald Trump's legal team to extend the deadline for the former president to respond to a request for a protective order that could limit what Trump and his legal team can share publicly about the criminal case against him in Washington.
On Saturday, Trump's lawyers asked for an extension—from Monday, August 7 to Thursday, August 10—to file a response to the motion, seeking "adequate time to prepare a fulsome response."
But Chutkan rejected the request on Saturday evening and confirmed Trump's team needed to abide by the 5 p.m. deadline on Monday.
Prosecutors said the protective order was "particularly important in this case" as Trump had posted on social media about people "associated with legal matters pending against him."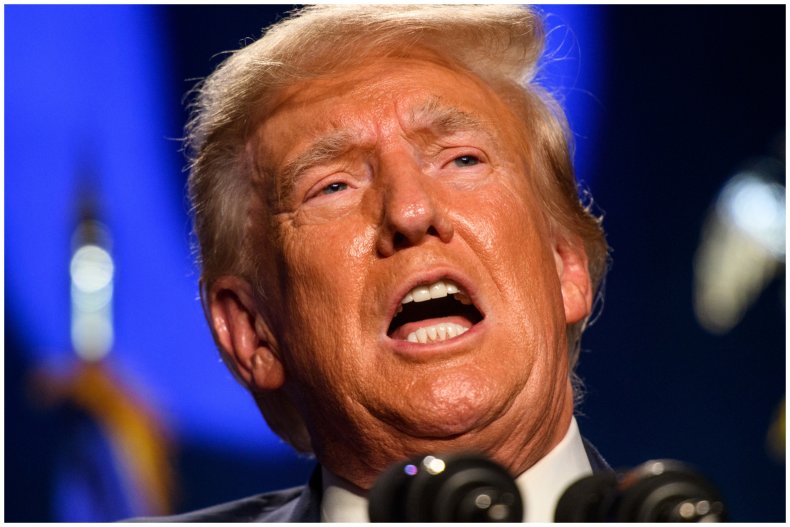 Former President Donald Trump speaks at the 56th Annual Silver Elephant Dinner hosted by the South Carolina Republican Party in Columbia, South Carolina, on August 5, 2023. Judge Tanya S. Chutkan rejected a request made by Trump's legal team to extend the deadline for Trump to respond to a request for a protective order.
Getty
In a post shared on Truth Social,on Friday, August 4, Trump wrote: "If you go after me, I'm coming after you."
A Trump spokesperson commented on the post in a statement shared on August 5 that read: "The Truth post cited is the definition of political speech, and was in response to the RINO, China-loving, dishonest special interest groups and Super PACs, like the ones funded by the Koch brothers and the Club for No Growth."
The Department of Justice issued its latest indictment against Trump on Tuesday, August 1, charging him with four counts: conspiracy to defraud the U.S., conspiracy to obstruct an official proceeding, obstruction of an attempt to obstruct an official proceeding, and conspiracy against rights.
During the arraignment hearing in Washington, D.C. Trump pleaded not guilty to the four felony charges against him.
This comes after several months of speculation over whether he would be indicated over the January 6, 2021, Capitol riot in which a mob of his supporters—allegedly motivated by his baseless claims that President Joe Biden won the 2020 presidential election thanks to widespread voter fraud—stormed Congress.
Chutkan has previous history with Trump and issued a ruling against him in November 2021, when the former president lost a bid to withhold documents from the House select committee that investigated the causes of January 6 and the incidents that took place.
She ruled against Trump when he sued Representative Bennie Thompson, chair of the committee at the time, in a bid to prevent the panel from accessing documents in the National Archives, claiming they were covered by executive privilege.
Chutkan was nominated to the bench by former President Barack Obama and has overseen cases involving rioters who stormed the Capitol.
Newsweek has contacted Trump's team for comment via email.
>>> Read full article>>>
Copyright for syndicated content belongs to the linked Source : Newsweek – https://www.newsweek.com/judge-chutkan-rejects-donald-trumps-legal-request-1817771