An evaporative salt and gypsum mining operation in the Gascoyne could be changing hands for just the second time in more than 50 years.
Key points:
Dampier Salt is in talks to sell its Lake MacLeod operationsThe company's 115 staff were told about the potential sale this weekA company looking to develop another Pilbara salt project is the possible buyer
About 115 workers at Dampier Salt's Lake MacLeod operations, 50 kilometres north of Carnarvon, were told this week that negotiations were underway which could see the site sold.
A note to staff from the company's general manager, Laura Thomas, seen by the ABC, said the decision to enter talks and potentially sell the site had not been taken lightly.
"I wish to be completely transparent and open with you all and am choosing to share this news with you at this early stage, even though it is relatively early in the course of negotiations," she said.
"We have a long way ahead of us; this sale is not yet complete."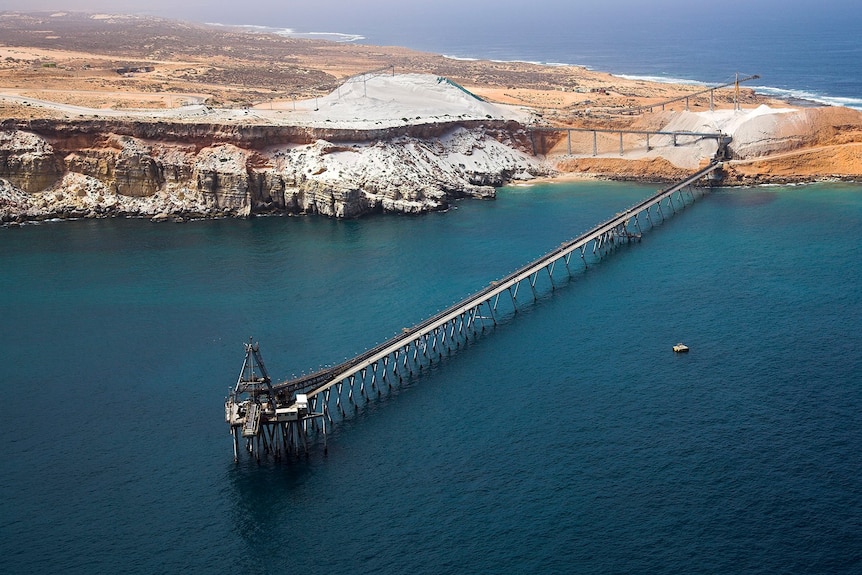 Salt is exported from the Cape Cuvier Port near the Lake MacLeod operations.(Supplied: Rio Tinto)
Ms Thomas also said the company had a long history with the Carnarvon community and a deep respect for Lake MacLeod — a massive 2,000-square-kilometre salt lake with an operational footprint of about 764 hectares.
"It is unique, full of history and biodiversity, and holds some of the most capable and committed people any of us have had the honour to work with."
Rio Tinto has a 68 per cent ownership stake in the mine and a spokesman for the company confirmed the sale talks but noted there was no certainty a transaction would go through.
Dampier Salt's Port Hedland and Dampier operations are not part of the sale talks.
Lake MacLeod and the other two Dampier Salt-run mines put out about 10.3 million tonnes of salt annually.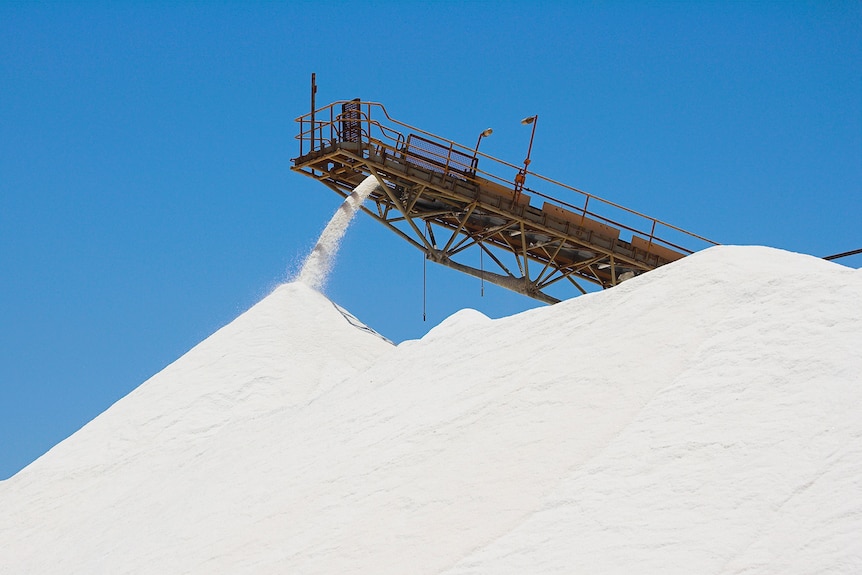 Dampier Salt has solar salt operations in Dampier, Lake MacLeod and Port Hedland.(Supplied: Rio Tinto)
Salt mine developer a potential buyer
The ABC understands through industry sources the unlisted company Leichhardt is the business in negotiations for the Lake MacLeod asset.
Leichhardt's backers include Brisbane Olympics organising committee president and former Dow Chemical Company boss Andrew Liveris.
Another investor is Melbourne-based Victor Smorgon Group, which represents one of Australia's wealthiest families.
Leichhardt chief financial officer Scott Nicholas said it was in discussions to acquire an operating asset in the salt and industrial minerals sector.
"Leichhardt regularly evaluates potential acquisitions of assets at various stages of development within the salt and broader industrial minerals space," he said.
"Leichhardt is well placed to develop and operate salt projects, with its board and leadership team having a depth of salt operational experience."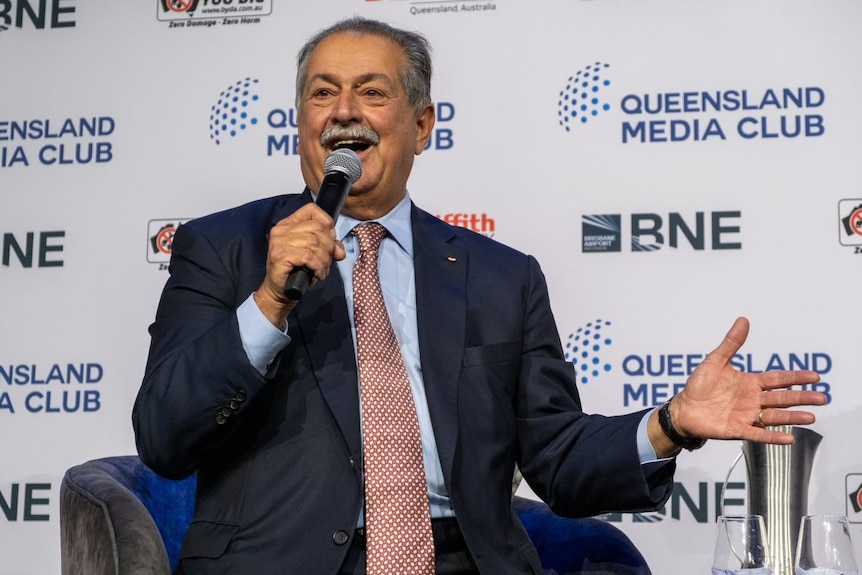 Andrew Liveris is a major backer of Leichhardt.(ABC News: Michael Lloyd)
The company has spent the past few years developing the 4.2 million-tonne-a-year Eramurra salt operation 55 kilometres south-west of Karratha.
The company hopes to capitalise on a projected global industrial salt shortfall of 20 million tonnes in 2027, with Eramurra's production starting in 2028.
Salt produced on the Pilbara coast is exported mostly to Asia for use in industries like chemical processing.
Eramurra, which would have 140 operational staff, has not received environmental approvals and a final investment decision by Leichhardt is not expected until the second half of 2024.
>>> Read full article>>>
Copyright for syndicated content belongs to the linked Source : ABC News (AU) – https://www.abc.net.au/news/2023-09-14/rio-tinto-carnarvon-salt-mine-at-lake-macleod-up-for-sale/102853198