During its big iPhone 15 reveal event last week, Apple made a point of saying that its iPhones had grown in value and capability over the last year, but hadn't raised at all in price. But that's really only true in the US.
In Australia and in many other markets, the iPhone 15 is more expensive than the iPhone 14 was, presumably because of currency fluctuations. This makes them the iPhones with the highest dollar figure we've ever seen, starting at $1500 for the least expensive model and going all the way to $2900. And while it's always a tricky business to compare iPhones to other smartphones in the market, you may understandably wonder if the new devices offer enough to justify what is, in some cases, twice the price of competitors.
The price of the base model iPhone in Australia continues to creep up steadily.Credit: Tim Biggs
What the iPhone is still missing
It's no secret that Apple is a slow adopter of certain technologies, although it would likely prefer to consider itself a perfecter. Things like HD displays, OLED technology, secondary camera lenses, wireless charging and more came to Apple's phones years after they were first seen on Androids. Things are largely the same today, as we can see by first taking a look at the standard iPhone 15 and the larger 15 Plus (which starts at $1650).
The most easily noticed missing feature for anyone who's used a recent non-Apple phone is the refresh rate. The new iPhone 15 still uses the same 60Hz the devices have always used, while the iPhone Pro has joined many competitors at 120Hz. This is a measure of how many times per second the screen can display a new image, so higher numbers mean much smoother movement and touch that feels more immediate. Motorola's Edge 30 Pro goes for $1000 and has a 144Hz screen, while Google's Pixel 7a is $750 and has 90Hz.
Loading
Worse is the fact that the standard iPhone still does not have an always-on display to show notifications, time and other information when not in active use, which practically every non-Apple phone has had for at least five years, and it can't transfer data at USB 3 speeds. Currently, these features are exclusive to the iPhone Pro.
For all the updates made to both the standard iPhone 15 and the Pro, both also come in behind the pack when it comes to certain features at comparative price points.
The maximum charging capacity of 30W is conservative next to other mainstream phones, including 45W on Samsung's flagships, and far behind some Androids which support more than 100W. And notably, when it comes to optical zoom on the cameras, the standard iPhone has none to speak of, the $1850 Pro has 3x and the $2200 Pro Max has 5x. In Android land, Google's $1300 Pixel 7 Pro also has a 5x optical zoom, and Samsung's $1950 Galaxy S23 Ultra has a 10x.
But on the other hand
These comparisons are only relevant if any of those given specs, like optical zoom or charging speed, are of the utmost importance to you. For overall usability I think iPhones still more than hold their own against most competitors, mostly owing to the iOS operating system, even though they're inarguably more expensive when compared to other brands with the same specs on paper.
iPhones are also designed and built more or less holistically within one company that's purely devoted to a singular ecosystem of products, for better and for worse, which is what makes comparisons difficult. If you're a dedicated Apple user a feature like Find My, or being able to have your AirPods switch connections between your phone and laptop automatically as you use them, might trump a higher refresh rate. And Apple's ability to tune its chips very specifically for the software the devices will be running means the A17 Pro that runs the iPhone 15 Pro is going to outperform other phones, even if they have more cores or RAM on paper.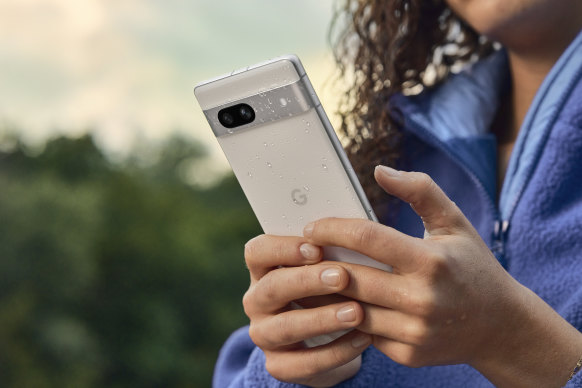 The Pixel 7a costs half the price of the iPhone 15.
We also have to acknowledge the reality that many people consider themselves to be locked in to using an iPhone, or have always used an iPhone, and only consider comparisons within Apple's ecosystem. In which case, an always-on display might not be something you even want, and $1500 for the iPhone 15 might not seem so bad since it's more or less the same phone as last year's iPhone 14 Pro which cost $1750, minus some screen tech and an extra camera.
The value of the iPhone as a core element of the Apple ecosystem can't be underestimated. It's the only choice if you want to use an Apple Watch for example, and it works better with all other Apple products than a competitor would.
Loading
But that's not to say that Apple is simply charging a captive audience whatever it wants; it just has different priorities. The cameras on iPhones are fewer and have less zoom than competitors, but the photos are beautiful and lead the pack in portrait mode and certain challenging lighting environments. And the app performance is phenomenal, because developers know exactly what devices they're targeting.
Lastly Apple's slower adoption of new technologies, combined with its phenomenal design and long support for software, tends to mean the phones don't age as rapidly. Those who don't want to pay top dollar for the iPhone 15 may be just as happy with a model from four years ago that costs half as much, which isn't something I can say for just about any other phone brand.
The author travelled to California as a guest of Apple.
Get news and reviews on technology, gadgets and gaming in our Technology newsletter every Friday. Sign up here.
Most Viewed in Technology
Loading
>>> Read full article>>>
Copyright for syndicated content belongs to the linked Source : The Age – https://www.theage.com.au/technology/for-1500-does-the-iphone-15-do-enough-20230914-p5e4ln.html?ref=rss&utm_medium=rss&utm_source=rss_technology