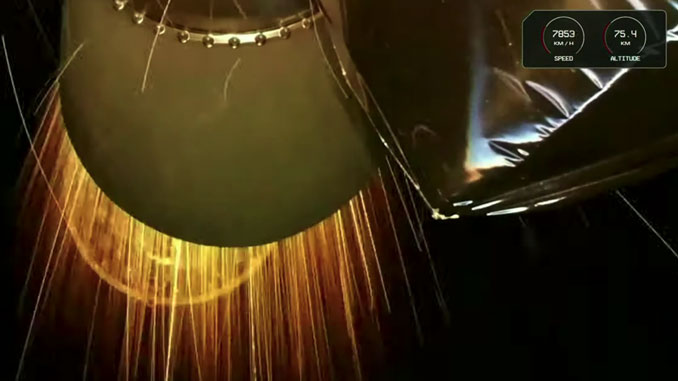 A shower of sparks at the point the Electron rocket's second stage engine was supposed to ignite. Image: Rocket Lab.
A Rocket Lab Electron rocket, carrying a radar-imaging satellite for Capella Space, failed on Tuesday after a problem occurred two and half minutes into flight. It was the fourth failure in 41 flights for the small satellite launcher.
The 59-foot-tall (18-meter) rocket lifted off from pad B at Rocket Lab's privately-operated spaceport on the North Island of New Zealand at 2:55 a.m. EDT (6:55 p.m. NZST / 0655 UTC), a little later than planned due to high levels of solar activity.
Launch controllers reported all was going well as nine Ruthford engines burning kerosene and liquid oxygen propellants propelled the vehicle to an altitude of 43.5 miles (70 km), before burning out two and a half minutes after liftoff.
The first and second stages separated with the aid of pneumatic pushers but, as the single Rutherford vacuum engine of the second stage was supposed to ignite, a brief glow was seen, followed by a spray of orange sparks, and then video from cameras aboard the rocket froze. An on-screen gauge showed the vehicle was losing velocity.
"All stations. We have experienced an anomaly," the launch director announced about 30 seconds later. "Please remain on station and we will investigate and action the anomaly plan."
In a post to the social media site X, formerly known as Twitter, Rocket Lab founder and Chief Executive Peter Beck said: "Tough day. My deepest apologies to our mission partners Capella Space. Team is already working on root cause. We'll find it, fix it and be back on the pad quickly."
In a statement, Rocket Lab said its next launch, which was to occur later this month, would be postponed to allow for any "corrective actions" that might be needed. The investigation will be conducted in conjunction with the U.S. Federal Aviation Administration (FAA), which licenses Rocket Lab's commercial launch operations.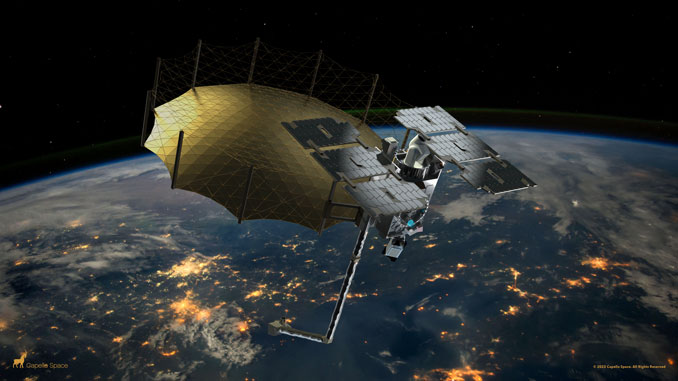 Artist's impression of Capella's Acadia radar-imaging satellite. Image: Capella.
The Electron was carrying the second of four Acadia radar-imaging satellites for Capella Space which operates a small fleet of commercial Synthetic Aperture Radar (SAR) earth-imaging spacecraft. Rocket Lab successfully launched the first Acadia on August 23, 2023. That satellite is already commissioned and returning radar-imagery.
The Acadia series is Capella's third generation of satellites. Its radar is capable of imaging the Earth's surface night and day, penetrating clouds, fog, smoke and rain. The spacecraft is equipped with larger solar panels and batteries to feed a more powerful radar system that provides higher bandwidth than the company's earlier Whitney class of satellites.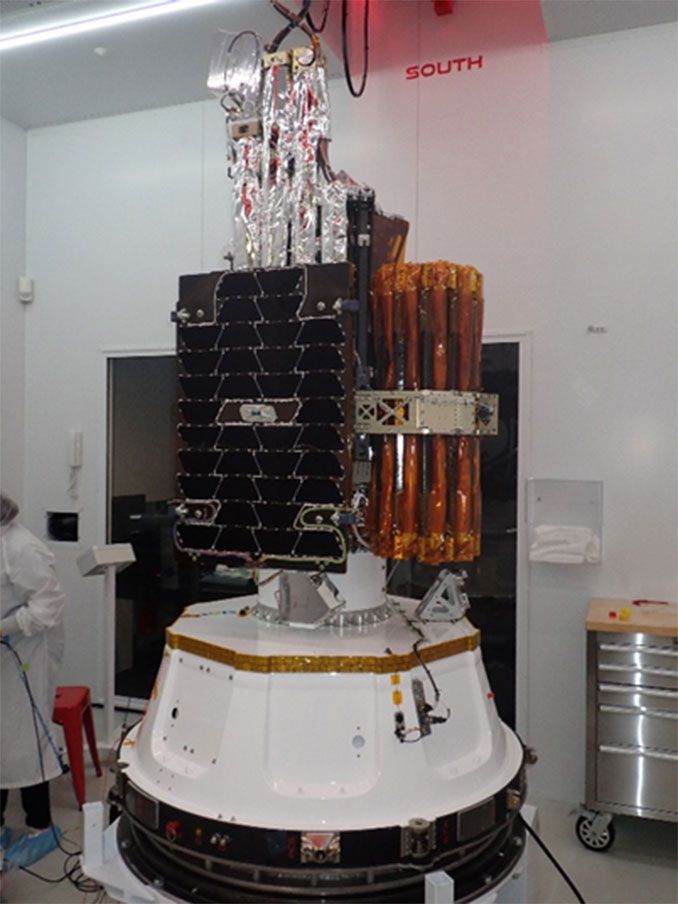 The Acadia-2 satellite pictured before encapsulation in the payload fairing of the Electron rocket. Image: Rocket Lab.
It was the fourth failure for the Electron rocket in 41 flights. All four failures have occurred after first stage separation during the flight of the second stage. Electron's first flight in May 2017 did not make it to orbit but that was later determined to be a ground software problem and the rocket itself had been performing normally before a range safety destruct command was sent. The most recent failure prior to Tuesday's mishap was in May 2021.
>>> Read full article>>>
Copyright for syndicated content belongs to the linked Source : Spaceflight Now – https://spaceflightnow.com/2023/09/19/radar-imaging-satellite-lost-as-rocket-lab-electron-rocket-suffers-launch-failure/