There was a perfectly good telephone connected to a landline sitting on a side table positioned handily between my mother's and father's favourite lounge chairs, just as it always had.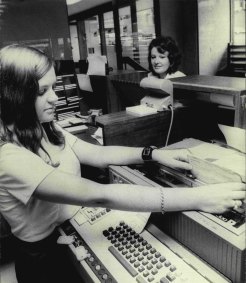 Bank tellers in action in the 1970s.Credit: Fairfax archive
Why would my mother take a mobile phone into town? She never asked this out loud, of course. It was obvious.
She couldn't use it while driving, and she certainly wouldn't use it while browsing the shops and chatting to shop assistants and any friends she might encounter.
Perish the thought of speaking on the instrument while walking along the street. It would be poorer form than leaving home without a scarf or one of her favourite hats.
I was once silly enough to try to teach my mother how to use a computer on the off-chance that she might want to keep in contact by email.
We didn't get past the point where the thing absurdly called a mouse apparently bore no relationship for her to the cursor on the screen.
Thank you, she said, but she would continue writing letters with a pen on paper and sending them in an envelope with a stamp attached. She enjoyed going to the post office and having a little chat with the staff there. And she'd quite like it if I wrote from time to time.
I found myself ruminating on these memories during the week when had I to call up the fraud department of my credit card company and explain that rogues allegedly based in Saudi Arabia had taken to charging my card – which is to say, my pocket – for unexplained goods or services.
I'd never heard of the organisation, and I'd certainly not purchased anything from them. They'd charged me quite a handy sum seven times in succession, and I hadn't noticed because I didn't balance my account at the end of each week.
The gentleman at the fraud department was most understanding, and explained that he would block the unknown biller.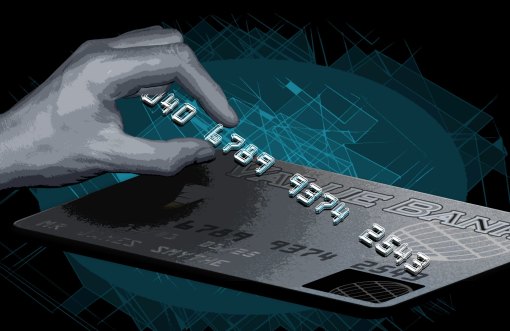 Credit card fraud is widespread.Credit: Karl Hilzinger
Unfortunately, he would also need to close my card and issue a new one with a different number.
Oh, and please remember, he advised, to contact all the suppliers you might have registered for regular payments — like insurance companies and streaming services and Uber and electronic and audible books and mobile data and stuff that I'd clean forgotten I used — to tell them your new card number.
Sure, I said. I was already familiar with that agony.
Two months ago, I had to get a new debit card after swindlers allegedly registered in Amsterdam began taking a few cents here and a few cents there, without me registering it was happening, before ramping up to sums that finally got my full attention.
At least, I mused, I had phoned the credit card fraud department on Wednesday this week.
What might I have felt if I'd discovered in the middle of last week that scoundrels had been ripping me off?
I wouldn't have been able to call anyone, including the fraud department.
Why? Optus had experienced an outage.
Outage is the polite way of saying their service was totally flubbed.
My mobile phone was rendered as useful as the one that hid for years, uncharged, on my mother's sideboard behind the vase of flowers.
And of course, being a fellow of the times, I didn't have a fixed-line phone to use when the mobile-sphere went voiceless.
At least, I am told, my personal data wasn't breached. Not like the last time, in September last year.
Loading
My mother, being a woman of elegance, would not have been crass enough to raise an eyebrow at the awkwardness of my varied modern dilemmas, though she would have been entitled to a quiet chuckle.
She had her chequebook and nice tellers at the bank and a non-mobile telephone sitting next to her favourite chair, where she often wrote letters in longhand – plus a book of her life – that will outlive any email.
All the rest to her was stuff and nonsense.
I barely dare to think what she might have felt had she lived long enough to discover the government is phasing out the use of cheques by 2028.
She'd have known for sure then that we'd all been conned by clowns who claimed that smart plastic and smarter phones would simplify our lives.
Get the day's breaking news, entertainment ideas and a long read to enjoy. Sign up to receive our Evening Edition newsletter.
>>> Read full article>>>
Copyright for syndicated content belongs to the linked Source : The Age – https://www.theage.com.au/technology/smart-cards-and-smarter-phones-stuff-and-nonsense-just-ask-my-mother-20231115-p5ek7e.html?ref=rss&utm_medium=rss&utm_source=rss_technology