Previewed during IFA 2023, Satechi is now releasing its iPhone Wallet Stand, which attaches to any MagSafe-compatible iPhone to help you easily carry credit cards. The vegan leather material and how strong it connects to your device make this product unique.
Tech. Entertainment. Science. Your inbox.
Sign up for the most interesting tech & entertainment news out there.
By signing up, I agree to the Terms of Use and have reviewed the Privacy Notice.
As a long-time iPhone MagSafe Wallet user, I was impressed with Satechi's Wallet Stand. I first tried it during IFA's trade show, and it has great built-in quality and functionalities. Interestingly, this is the company's first-ever Wallet Stand, and it's nice to see how the company nailed it just in time for the iPhone 15 release.
Satechi says this accessory is crafted from premium, scratch-resistant polyurethane leather. The company calls it "not only durable and stylish, but also environmentally-conscious." The iPhone Wallet Stand, as the name suggests, can be used as both a wallet and a stand.
The functional double-flap design of the wallet lets users carry up to four cards at once, with a cutout specifically made to show an ID, which is the perfect solution for errands and light travel. Satechi says that you can even carry money on the go if you need it.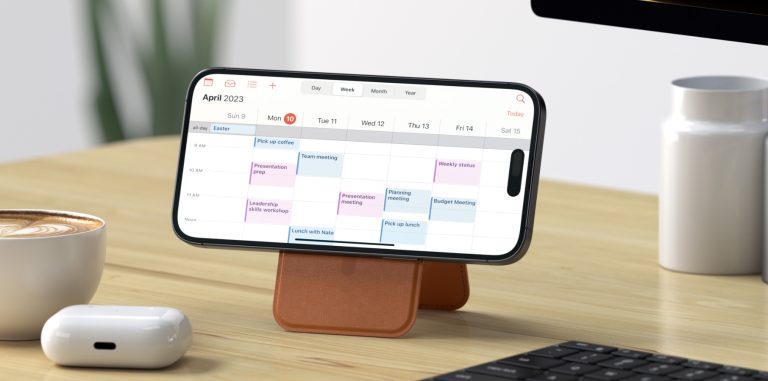 Image source: Satechi
This double-flap design also allows the wallet to be used as a stand in portrait and landscape modes, so you can leave it at your desk – or even use it with iOS 17 new StandBy Mode function after putting the iPhone to charge. Additionally, the wallet allows for NFC pass-through from the front pocket so the user can easily tap to pay without taking out a credit/debit card.
Satechi's Vegan-Leather Magnetic Wallet Stand is available in Black, Brown, Navy, Blue, and Orange on the company's website for $39.99 and exclusively available in the Apple Store and Apple.com in Forest Green, Purple, and Blue for $39.95.
The company says new accessories are coming later, specifically for the iPhone 15 series, including long-awaited Qi2 chargers and stands.
BGR also has a list of some other iPhone 15 accessories, including options from Apple and third-party sellers. Below, you can find these must-have accessories, from cases to USB-C chargers.
>>> Read full article>>>
Copyright for syndicated content belongs to the linked Source : BGR – https://bgr.com/tech/the-best-iphone-wallet-stand-ive-ever-tried-is-now-available/