Here at BGR, we regularly cover the best content to watch on Netflix across a number of different categories, ranging from the best true-crime titles on the streaming giant to the best Korean shows, the best gritty crime sagas, the biggest and most-watched Netflix shows in the world. In this post, meanwhile, we're going to take a closer look at the best Netflix dramas available to stream right now — and, with that in mind, I've picked 11 below that stand out to me as the best of the best.
Tech. Entertainment. Science. Your inbox.
Sign up for the most interesting tech & entertainment news out there.
By signing up, I agree to the Terms of Use and have reviewed the Privacy Notice.
Worth noting, this list is completely subjective, and it's also not meant to be comprehensive, so take that into account whether you agree with most of my selections or whether you think this or that standout Netflix drama was inadvertently ignored.
11 can't-miss Netflix TV dramas, from The Crown to Peaky Blinders
For an even more comprehensive look at the best TV shows to watch on Netflix right now, by the way, check out this guide that we update each month. It includes not only dramas, but also TV shows across the entire spectrum ranging from comedy to action and much more. Without further ado, though, let's jump right into our list of the best dramas (in no particular order) that are worth watching on Netflix.
Peaky Blinders: I've said it before, and I'll say it again — this British gangster drama is hands-down one of the all-time great TV series that Netflix has ever released.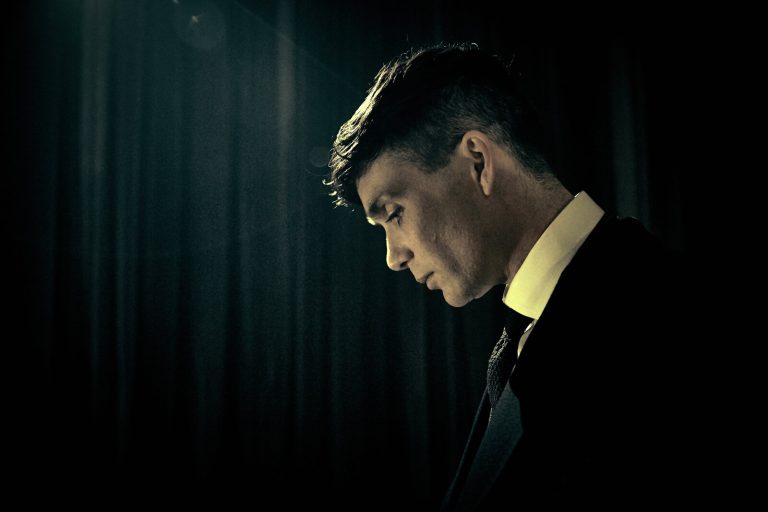 A still from the Netflix/BBC series "Peaky Blinders." Image source: Robert Viglasky/Netflix
The focus of the story is Tommy Shelby (played by Cillian Murphy), a World War I veteran who heads a crime gang in Birmingham and who's also the patriarch of the expansive Shelby family. He's as rich and complex a character as you're likely to come across in a Netflix series — Tommy is shown as everything from a killer to a family man to a devoted lover and a shrewd entrepreneur — and when you add in everything from Peaky Blinders' fantastic world-building to the stylish fashions, it adds up to this Netflix series being one that you won't be able to pull yourself away from once you've started.
I love everything about this show, including the oh-so-perfect theme song ("On a gathering storm / comes a tall, handsome man / in a dusty black coat / with a red right hand").
Crash Landing on You: This next series is a Korean-language drama that just so happened to be the first of the genre that I ever tried (and one that K-drama fans also consistently rank as one of the best of all time).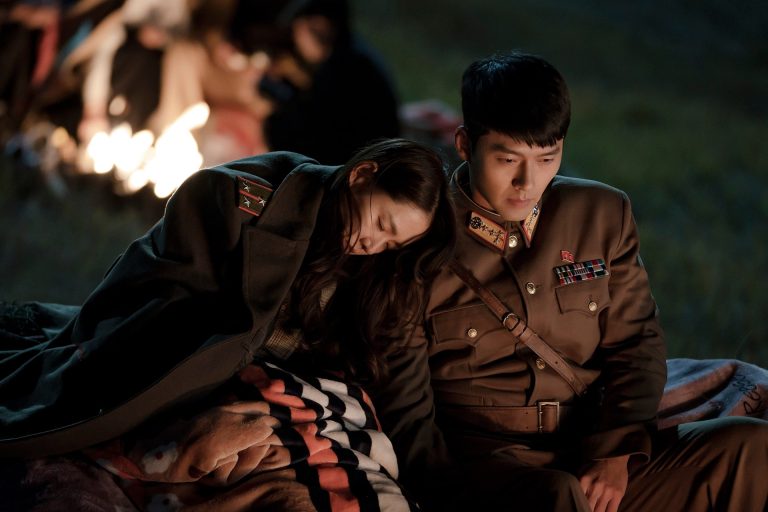 A promotional still from the Netflix Korean drama "Crash Landing on You." Image source: Lim Hyo Seon/Netflix
Crash Landing on You is about an uber-rich South Korean heiress who goes hang-gliding one day and gets swept across the border during a storm. She lands in a North Korean forest — specifically, in a tree, where she "crash lands" into the arms of a handsome, elite North Korean soldier.
The show (which is reportedly getting an American remake) is chock-a-block with everything from romance to comedy, drama, action sequences, big-budget set pieces, an ensemble bromance, and some great spy action, to boot. As with most Korean shows, there's only one season to enjoy here — and if you've never watched a Korean drama on Netflix before, this is definitely the one to start with.
Beef: While those first two are Netflix dramas that originally debuted years ago, Beef is a 2023 series that's so good, it stands alongside the best TV shows that Netflix has ever released.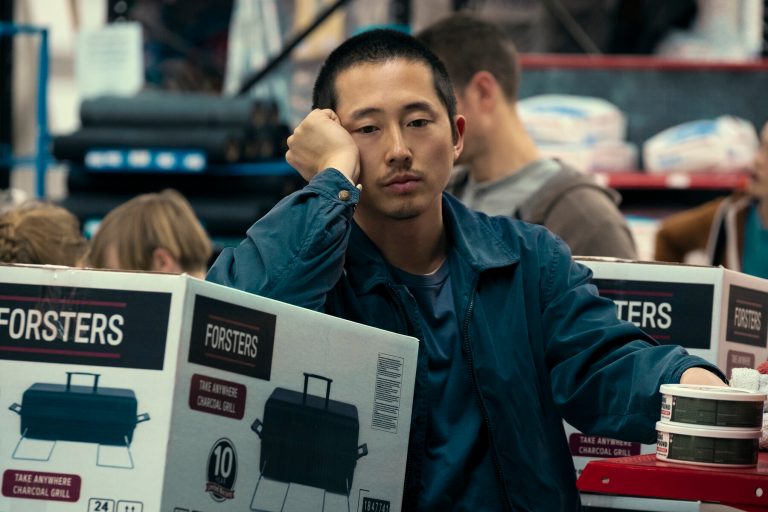 Steven Yeun as Danny in "Beef." Image source: Andrew Cooper/Netflix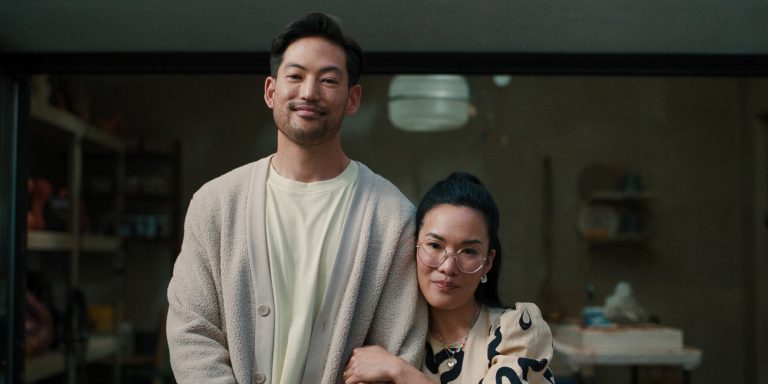 Joseph Lee as George and Ali Wong as Amy in "Beef." Image source: Netflix
From my previous review of the series, the 10-episode Beef starts off in the parking lot of a store in Los Angeles — where Steven Yeun's "Danny" almost backs his truck into the sleek SUV driven by Ali Wong's "Amy." The ensuing road rage encounter is really the manifestation of a cyclone of anger and desperation swirling in both Danny and Amy. The former is a failing contractor with a chip on his shoulder, while Wong's Amy is a self-made entrepreneur who has (what looks like) a picture-perfect life.
Amy, we come to learn, is trying to sell her plant business to the filthy rich Jordan, played by Maria Bello. In the meantime, she chafes under the thumb of her insufferable and wealthy mother-in-law.
What begins as the story of an angry, random confrontation between two strangers soon enough goes to a much more interesting and even universal place — to the divide between the haves and have-nots. And to the unseen prisons that trap people in lives that they're desperate to escape from, whether the life they live is one of privilege or otherwise.
Steven Yeun as Danny in "Beef." Image source: Andrew Cooper/Netflix
The Queen's Gambit: There was a moment during the first year of the Covid pandemic when it felt like the whole world was transfixed by the game of chess. The reason? Netflix had us all addicted to the story of Beth Harmon, the fictional protagonist of its limited series The Queen's Gambit — Beth being a chess prodigy from a humble background who learns the game and goes on to dominate it globally.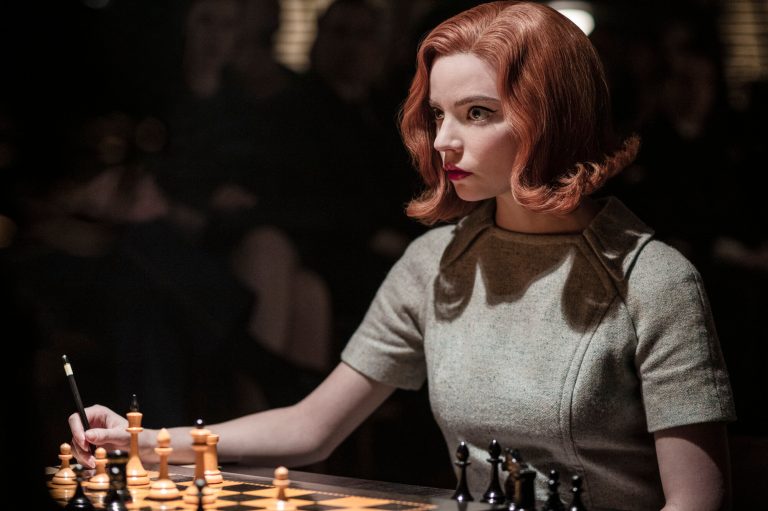 Anya Taylor-Joy in Netflix's hit series "The Queen's Gambit" as Beth Harmon. Image source: Phil Bray/Netflix
If you haven't tried The Queen's Gambit yet, don't let chess' centrality to the plot put you off. The show — based on the 1983 novel of the same name written by Walter Tevis — manages to make the game so much more exciting than most of us probably realized it could be. By the end of the first episode, I can guarantee Netflix will have you at checkmate.
Narcos: Mexico: In my opinion, these next two Netflix dramas rank among the streamer's best franchises of all time. The first is a spinoff, set in Mexico, of Netflix's cartel drama Narcos, which was originally focused on the larger-than-life Pablo Escobar — a monster who was pretty much off-the-charts evil. However, I much prefer the Mexican spinoff's focus on the entrepreneurial-minded drug kingpin Miguel Ángel Félix Gallardo, who somehow convinced the feuding cartels to band together and that wars are bad for business.
Manuel Masalva as Ramon Arellano Felix and Benito Antonio Martínez Ocasio, as Arturo "Kitty" Páez, in Season 3 of Netflix's "Narcos: Mexico." Image source: Juan Rosas/Netflix
Yes, one of the constants of this franchise has always been the shocking violence and steadily rising body count — no surprise, given that it began by tracking the bloody rise and fall of Escobar. Then came the ascent of his rivals, the leaders of the Cali Cartel, after his death. And when the franchise relocated from Colombia to Mexico for the spinoff series, our introduction to Gallardo ramped up the violence and evil, but also balanced them out with depth and powerful storytelling.
In the end, Narcos and Narcos: Mexico stand as powerful reminders of Lord Acton's dictum — the one about the corruptibility of power. And, notwithstanding the never-ending US battle against the flow of drugs, that there's also no such thing as a good war.
The Last Kingdom: As for the second of the two Netflix dramas that rank, to me, among its best franchises ever — there was a time when pretty much every streamer had stars in its eyes over the possibility of releasing its own Game of Thrones.
For a minute there, some of us thought that The Witcher might very well turn out to be that for Netflix, until the series based on the book series by Andrzej Sapkowski basically s*at the bed and collapsed before our eyes. This also obscured the fact that… Netflix already had its own critically acclaimed and fan-favorite Game of Thrones rival this whole time.
Alexander Dreymon as Uhtred in the Netflix series "The Last Kingdom." Image source: Netflix
If you ask me, that distinction belongs to The Last Kingdom. Long story short, the story here is about the ancient forces that set in motion the rise of what would become the British empire, and the narrative basis for the show is Bernard Cornwell's best-selling novel series, The Saxon Stories.
"Years ago, when I was at university, I discovered Anglo-Saxon poetry and became hooked on that strange and often melancholy world," Cornwell once said during an interview. "For some reason, the history of the Anglo-Saxons isn't much taught in Britain where I grew up, and it struck me as weird that the English really had no idea where their country came from.
"Americans know, they even have a starting date, but the English just seemed to assume that England had always been there, so the idea of writing a series about the creation of England was in my head for a long time."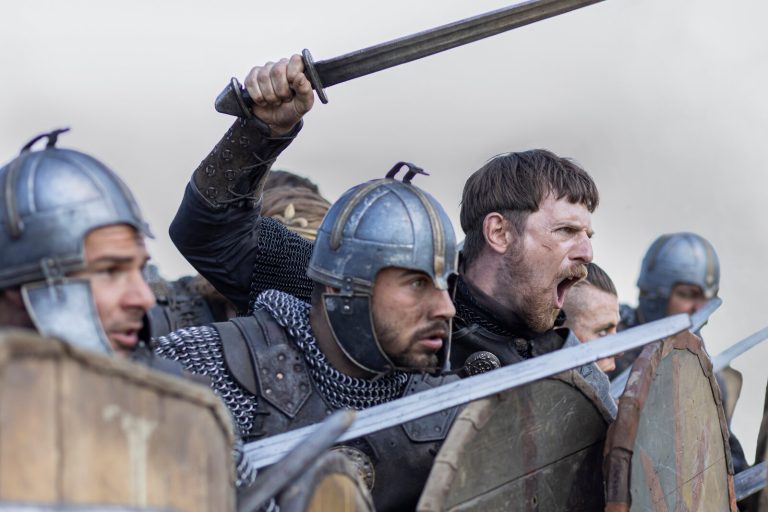 Image source: Netflix
The Crown: Our never-ending fascination with the British Royal Family has helped turn creator Peter Morgan's prestige drama about the royals into one of the biggest and buzziest Netflix shows of all time — with the still-to-come sixth and final season of the show taking us into the early 2000s.
In terms of the focus of the Season 6 story, viewers will follow Prince William (Ed McVey) as he enters university at St. Andrews — where, per Netflix, "he hopes to lead as normal a life as possible before taking up his royal responsibilities. Little does he know that the future for the crown begins right on campus, when he meets fellow student from Berkshire Kate Middleton (Meg Bellamy)."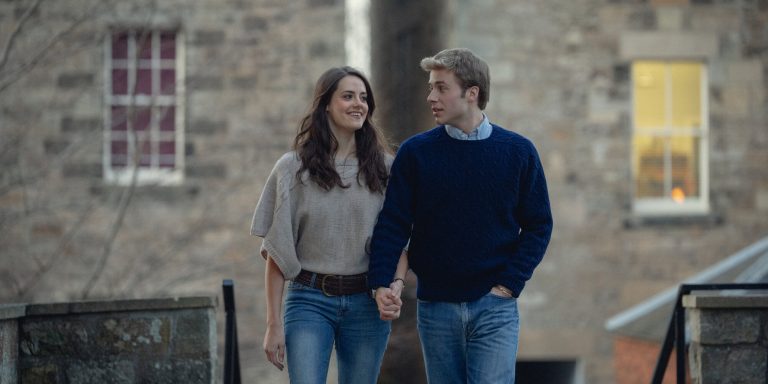 Image source: Netflix
Also, in the new season, Imelda Staunton will reprise her role as Queen Elizabeth II. Likewise, Lesley Manville is back as Princess Margaret, as is Dominic West as Prince Charles, and Elizabeth Debicki as Princess Diana. The cast also includes Claudia Harrison as Princess Anne and Olivia Williams as Camilla Parker Bowles.
Mindhunter: I'm not much of a fan of true-crime drama, least of all shows about serial killers, but I've got to hand it to David Fincher's Mindhunter — which pulls off quite a narrative magic trick.
The two-season drama is as much about the fascinating work of behavioral analysis and criminal profiling. From Netflix's summary: "Ever wanted to look inside the mind of a serial killer? That's the job of FBI agents Holden Ford (Jonathan Groff) and Bill Tench (Holt McCallany).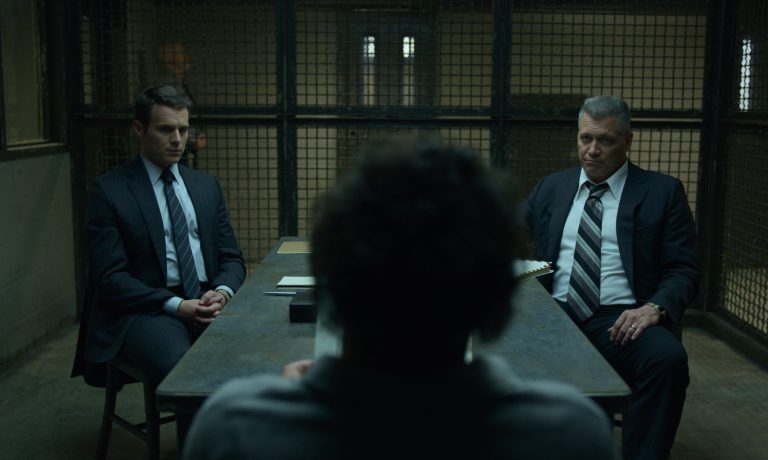 Jonathan Groff, Oliver Cooper, and Holt McCallany in "Mindhunter." Image source: Netflix
"Together with psychologist Wendy Carr (Anna Torv), the trio makes up Quantico, Virginia's new Behavioral Science Unit (BSU). Set in the late '70s to early '80s, the series chronicles the origins of the BSU and criminal profiling. To inform their work, Holden and Bill visit imprisoned killers to record their stories, reasoning that if they can understand the psychology behind these individuals, they can use it to inform open cases."
Dark: Netflix's first original series that was entirely created, produced, and shot in Germany is the 3-season masterpiece Dark, which has drawn comparisons to Stranger Things as well as to Lost (thanks to its time-bending storylines). From Netflix's official synopsis:
"Dark is set in a German town in present day where the disappearance of two young children exposes the double lives and fractured relationships among four families. In ten, hour-long episodes, the story takes on a supernatural twist that ties back to the same town in 1986. The series is created by award-winning showrunners Baran bo Odar and Jantje Friese, who previously received critical acclaim for their movie Who am I (2014)."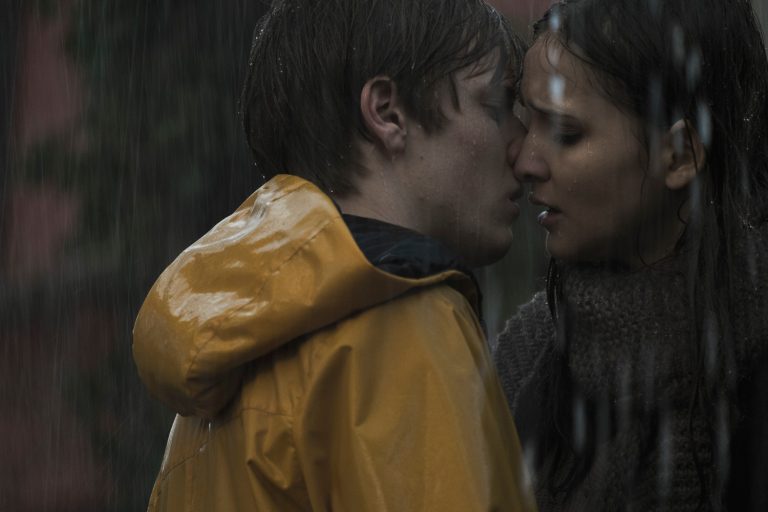 Image source: Netflix
Stranger Things: Like The Crown, meanwhile, Stranger Things is probably one of just a handful of dramas that almost everyone associates with Netflix's top-tier content — even if they're not a fan of the supernatural-focused series.
The big question everyone wants to know is when we will get to catch up with the gang from Hawkins again. Unfortunately, it doesn't have a solid answer yet. As a result of the ongoing strikes in Hollywood, there are estimates that the fifth and final season of Stranger Things might not be available to stream until 2025 at the earliest.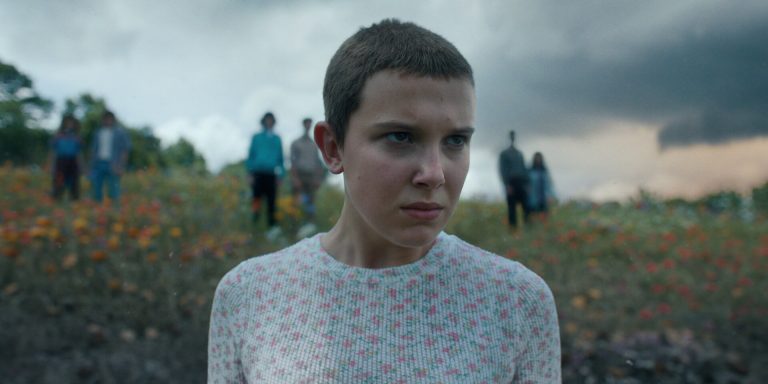 Image source: Netflix
Nevertheless, we do already know at least something things about the new season worth sharing. During a Netflix Geeked episode hosted by Felicia Day, for example, show creators Matt and Ross Duffer at one point addressed the slew of character arcs that they have to manage as part of the series. Matt Duffer is the one who then brought up the point about next season, when the problem won't be as tricky as in seasons past.
"We're stopping," he said, meaning the world of the show won't get any bigger. "We're not adding any more characters in season five. I promise."
In a way, that feels at least somewhat expected, right? With Stranger Things 5 representing the culmination of the whole thing, you want the creators of a show this big to focus on sticking the landing. Something that's all the more difficult to do when you're still bringing in new faces that you have to seamlessly work into the narrative.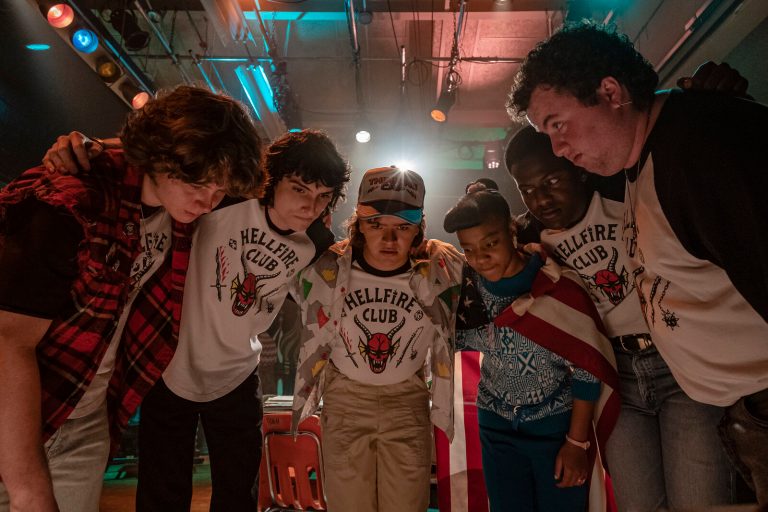 Finn Wolfhard as Mike Wheeler, Gaten Matarazzo as Dustin Hendrson, and Priah Ferguson as Erica Sinclair in Netflix's "Stranger Things." Image source: Tina Rowden/Netflix
Fauda: Last but not least, I'm a sucker for spy shows and espionage thrillers, and Netflix has quite a gem on that front in the form of Fauda — a 4-season thriller from Israel about an elite military team that engages in covert operations to keep the population safe — sometimes relying on extreme means to do so.
Often in this genre, TV shows and movies rely on the same old tired tropes, but one of the things that makes Fauda so gripping is that its creators Avi Issacharoff and Lior Raz are both veterans of the Israel Defense Forces. About the show (the title of which means "chaos" in Arabic), one Rotten Tomatoes critic raved: "In terms of command of character, narrative complexity and themes of moral ambiguity, [this] series is as good as long-form streaming television gets."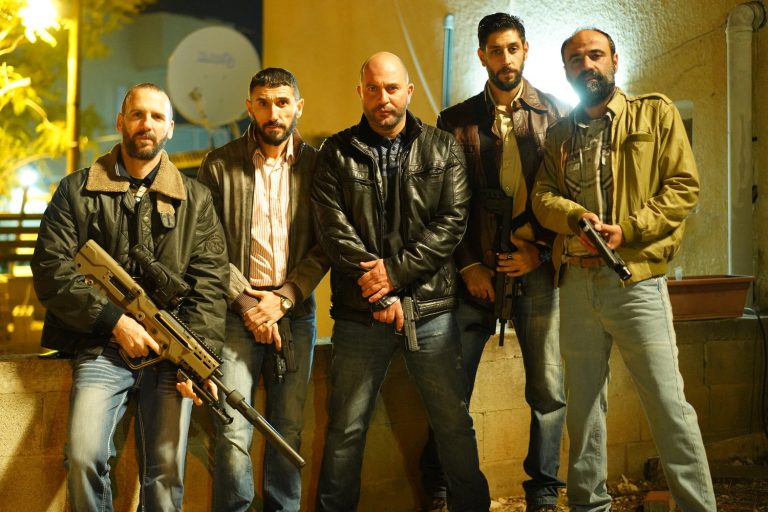 Image source: Netflix
>>> Read full article>>>
Copyright for syndicated content belongs to the linked Source : BGR – https://bgr.com/entertainment/the-best-netflix-tv-dramas-to-watch-right-now/