The Coros Pace 3 continues this family's tradition of being one of the best value-for-money fitness watches. It's highly affordable for a watch with phone-free music, generally good accuracy and route syncing for on-watch navigation. These advanced features don't match Garmin's versions. But for the money? We don't mind so much.
Pros
+
Great value
+
Solid stat accuracy during exercise
+
Supports phone-free music streaming
Cons
–
Interface isn't as slick as Garmin's
–
Advanced features would benefit from further development
Why you can trust Live Science
Our expert reviewers spend hours testing and comparing products and services so you can choose the best ones for you. Find out more about how we test.
The Pace is the easiest of the Coros series to highly recommend. It's great value, and offers everything most people will need to track a workout routine. Even a pretty serious one.
Coros Pace 3
Display: 1.2-inch, 240×240 pixel screen
Always-on: Yes
Dimensions: 41.9 x 41.9 x 11.7mm
Colors: Five available
Finish: Mineral glass, plastic polymer casing
GPS: Yes
Compass: Yes
Altimeter: Yes
Water resistance: 5ATM
NFC Payments: No
Sensors: Heart, Altimeter, Accelerometer, Gyroscope, Thermometer, Omimeter
Compatibility: iOS or Android
Storage: 4GB
Coros's Pace 3 does see the price jump a little from the Coros Pace 2, but it gains a few features that you have to pay more for from Garmin. It will stream music or podcasts to wireless headphones for phone-free runs, for example, and you can see pre-planned routes on the watch screen itself.
A $219 watch that can do all of this is clearly out to show up Garmin, and in some respects the Pace 3 does. The software is a touch less polished in parts, and there's plenty of extra development Coros could do for features like route planning. But for the money, the Coros Pace 3 is one of the best fitness watch deals of the year.
Coros Pace 3: Design and display
The transflective screen looks very clear, even in direct sunlight. (Image credit: Future/Andrew Williams)
In our last Coros review, the Coros Apex 2, we noted how the company used much higher-end materials than the competition. You don't get Sapphire glass or stainless steel here, but that style keeps both the weight and price low.
The Pace 3 is a plastic watch with a 'mineral glass' top layer, and with the nylon strap we've used onboard it weighs just 30g. It melts away on your wrist and doesn't leave anywhere near the skin indentations of a standard silicone strap when tightened up for more accurate heart rate readings.
It's a pleasure to wear. And while we imagine this white strap may get a bit grimy after a while, you can easily remove it for a wash. It's held in place using standard strap fasteners you can unhook with a finger.
The Nylon strap is more comfortable than silicone, though this design may get dirty quickly. (Image credit: Future/Andrew Williams)
There's nothing really to stop you from washing the strap while attached either, as the Coros Pace 3 has 5ATM water resistance, the same as an Apple Watch Series 8 or a mid-tier Garmin watch like the Forerunner 265.
Unlike those watches, though, the Coros Pace 3 does not use a trendy, ultra-poppy OLED screen. It has a 1.2-inch transflective LCD, the classic tech for an enthusiast fitness watch. These screens look very clear in direct sunlight. The inverse of a smartwatch screen, they feed on ambient light rather than having to compete with it.
That said, this style also comes with the downside of muted color and requires a Casio digital watch-style front light to illuminate the screen in darkness. As long as you don't come expecting smartwatch-like pop and clarity from the Coros Pace 3, we think you'll love it. This type of display is also 'always on' by design, great for those moments when you just want to be able to glance at the time without bringing the watch up to your face.
Only five watch faces come pre-installed on the Pace 3, but countless more are available in the Coros app. It also lets you design your own and incorporate your own photos. Want a watch face with your dog as the background? No problem. Just, again, don't expect an Apple-Watch-grade reproduction of its color and detail.
Coros Pace 3: Features
We found the sensors provided accurate readings throughout our tests. (Image credit: Future/Andrew Williams)
We considered the older Coros Pace 2 a great option for folks who want an affordable fitness watch that can nail the basics. The Pace 3 adds enough features that it can actually rival much more expensive watches from other manufacturers.
One of these features is dual-band GPS. This is found on high-end watches like the Garmin Fenix 7 Plus and Apple Watch Ultra. It helps in areas where the signal might be patchy, such as a sky-scraper-packed city or dense woodland.
Dual-band has an adverse effect on battery life, though, so it's switched off by default. The ideal solution is what Garmin does, where dual-band can be switched on automatically when needed. There's only manual switching here.
Route syncing is another of the Pace 3's higher-end qualities. You can draw routes using the Coros app on your phone and beam them over to the watch.
These can be manual point-to-point routes, or you can just select a beginning and end, and let the app do its thing, working out an efficient route for running, walking or cycling. It works surprisingly well, and even when we worked out a running route from London to Birmingham, a 170km-plus journey, it didn't crash or take an age.
The Coros Pace 3 tracks a plethora of sports from running, skiing, rowing, strengh training, jump rope and more. (Image credit: Future/Andrew Williams)
It's important to take note of the limitations here, though. You don't see map data on your wrist, just a 'breadcrumb' line, and there are no turn-by-turn directions either. Instead, the Pace 3 will give you a buzz when you go off-route, and an on-screen prompt tells you how far off-course you are.
Route creation is a little less glossy than Garmin's, too. There's no option to create a circular route based on length of a run or cycle either, something we love the Garmin for. But would we use this feature to plan a run or hike route in a location we don't know so well? It's a remarkable tool for the Pace 3 to have considering the price.
Wireless music support is more than welcome too. You can store up to around 2.8GB of tunes to the on-board 4GB storage. However, there's no support for streaming services like Spotify. You will have to source your own MP3 files. Plug the Pace 3 into a PC or Mac, it shows up just like a USB thumb drive for you to load your tunes onto. Simple enough (and gives us a bit of a nostalgic feeling too!).
We really like having 'structured workouts'. This is where you might have, say a 30-second plank or a 2-minute hard run effort. The watch tell you what to do. These can be built, brick by figurative brick, in the Coros app.
You can use Coros's ready made workouts too. But they're not on the watch. Or in the Coros app, but on the Coros website. Browse them on a phone and a link button lets you add them to the phone app. These workouts spice up what is a familiar array of tracking modes that cover everything from walking to snowboarding.
But, as in other areas here, there's a sense the final consumer-friendly layers of polish aren't all in place here.
There's some of this in the user interface in general too. You can potter around the Coros Pace 3's software using the touchscreen or the rotary crown on the watch side. Touchscreen implementation is poor, requiring far too many flicks to get anywhere. And the crown doesn't exactly let you fly around. The interface comes across like a Garmin copy, and doesn't fare that well in the comparison.
Still, the Pace 3 feels just as smooth as Coros's more expensive watches. There's no obvious lag, but the rhythm of the interface itself is just a bit slow.
Coral Pace 3: Performance
Throughout testing, we used the default GPS Pace 3 setting. This is without dual-band but allows for all the satellite arrays.
We had zero issues. Triangulation is fast. There were zero drop-outs without dual-band GPS switched on. And even after looking right down into the map view, the Pace 3 is generally on-point enough to, for example, show correctly which side of the road you are on. Route wavering is minimal.
Across a handful of workouts where we wore both the Coros Pace 3 and either the Garmin Forerunner 965 or Garmin Venu 3. The Coros consistently recorded almost exactly one percent less distance than Garmin. You'll see less deviation in straight sections, but in the end, every tracked run ended up at a one percent lower distance. This could be down to how the watches treat route mapping between GPS triangulation nodes, for example.
It's good stuff. We also had fewer heart rate accuracy issues with the Pace 3 than with the Coros Apex 2, which appears to use the same, or at least very similar, heart rate hardware. Once again, heart rate readings tracked very closely with watches using Garmin's latest hardware during exercise. Coros was perhaps fractionally slower off the mark with detecting heart rate increases at the start of efforts, but there's not much in it.
In our Coros Apex 2 review, our biggest gripe was with the watch's tendency to massively overreact to motion when not exercising. 140 bpm just to make a cup of tea? We don't think so. However, thankfully we haven't noticed this kind of issue with the Pace 3.
Just like last time, though, we wouldn't advise putting too much faith in the SpO2 blood oxygen readings. Coros put a fitness angle on this, suggesting it's used for altitude training. But some of its results looked a little low to us.
Accuracy is the best we've seen from a Coros watch to date. We'd still head to a top Garmin or Apple Watch for peak accuracy simply because we've stress-tested their software and hardware more. But for such a reasonable price, the Pace 3 is a winner.
The stats are comparable with those offered by more expensive models from other brands. (Image credit: Future/Andrew Williams)
It's also beautifully low maintenance. Coros says it can last up to 24 days from a single full charge. While you're unlikely to see anything like that if you use the watch properly, it's certainly one you can take on holiday without a charger. And we love that. Very different to the Samsung Galaxy Watch 4 and 5 where battery anxiety is a problem.
We haven't always been able to achieve the GPS battery life figures Coros quotes, though. It says the watch can last up to 25 hours in the 'all systems' default mode. But our readings suggested something closer to the 15 hours Coros quotes for the 'dual frequency' mode.
Was that more battery-sapping mode engaging automatically due to a bug? Who knows. This wasn't always the case, though, with one 35-minute run taking just 2% charge off. Either way, we think two-week use is a sensible expectation for those who plan to track quite a lot of runs, rides or walks.
Coros Pace 3: Should you buy the Coros Pace 3?
The Coros Pace 3's ideal audience is people who might have been considering a Garmin, but find those too expensive. Its closest Garmin rival is the Forerunner 255 Music (the same as the Forerunner 255 but with music), which is coming up for double the cost based on launch pricing.
Coros's Pace 3 has an unlikely set of higher-end abilities for its price. Sure, they are a bit basic or undeveloped in parts, but the raw capabilities are here.
Accuracy is slightly better than we've seen from previous Coros models too, making the Pace 3 among the best options for fitness watch buyers on a budget.
Coros Pace 3: If this isn't for you
The obvious step up from outside the Coros line-up is the Garmin Forerunner 255 Music or the smaller Forerunner 255S Music. We think those Garmins are more fun to use, but the extra cost may sting when, on paper, they don't appear to offer a whole lot more.
You could also consider the older Forerunner 245 Music, which is closer in cost. It's capable too, but recommending a four-year-old watch that has already been superseded a couple of times feels odd. Not fussed about that? It's a lovely wearable.
Within the Coros range, your next step up is the Apex 2, which has a snazzier metal case and supports downloadable maps for superior on-watch navigation. However, the experience of the Pace 3 is otherwise commendably similar.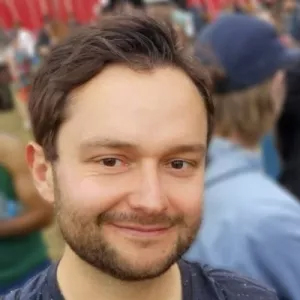 Andrew Williams is a freelance journalist based near London. He has written about tech for over a decade, contributing to sites such as WIRED, TechRadar, TrustedReviews, Wareable, Stuff, T3, Pocket-lint and many others. When he's not covering fitness tech, he writes about mobile phones and computing, as well as cameras.
>>> Read full article>>>
Copyright for syndicated content belongs to the linked Source : Live Science – https://www.livescience.com/health/exercise/the-coros-pace-3-fitness-watch-a-hands-on-review