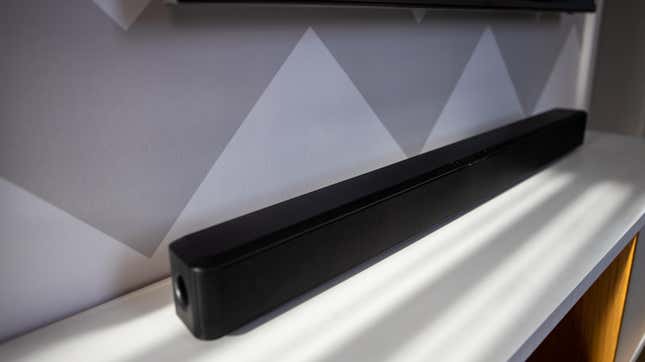 Photo: SENKI (Shutterstock)
You're not alone if you've felt dialogue in movies and shows has gotten worse over the years. One easy solution (besides turning on the subtitles) is upgrading your sound system. The JBL Bar 2.0 All-in-one Soundbar is currently $81.81 (originally $199.95) once an automatic (temporary) discount is applied at checkout. Shipping is free, but it's unclear how long the deal will last. Here's what to know.
Is the JBL Bar 2.0 All-in-one soundbar for me?
The JBL Bar 2.0 All-in-one is a solid option for those who want to upgrade from their TV speakers but don't necessarily want to get multiple speakers or a subwoofer because of space. It's "all-in-one" because it has bass already in it, with no need for other speakers. It also has easy installation with minimal wiring. An HDMI cable input allows you to connect it to your TV so you can control the volume with your TV's remote. It also has Bluetooth and a USB input, so you can connect your devices to play directly from it.
Keep in mind that while this soundbar is marketed as a "surround sound" system, it can't realistically "surround" you with a single speaker, and it will not sound like multiple speakers with a subwoofer. However, it does have a surround-sound feature that gives you the impression of surround sound. When it comes to respectable budget soundbars, you'd be lucky to find anything under $200, let alone under $100. For a single soundbar without a subwoofer, this JBL soundbar will improve most people's TV speakers significantly.
If you have limited space or think a subwoofer is too much for you, this all-in-one soundbar is a good option.
>>> Read full article>>>
Copyright for syndicated content belongs to the linked Source : LifeHacker – https://lifehacker.com/this-all-in-one-jbl-soundbar-is-81-right-now-1850888300