News
Entertainment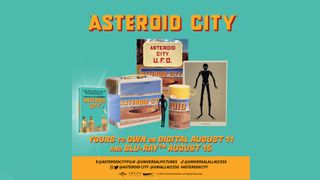 Enter to win some cool "Asteroid City" merchandise in this free Space.com giveaway through Aug. 17!
(Image credit: Universal)
Director Wes Anderson's satirical period piece "Asteroid City" lands on Digital today (Aug. 11) and on Blu-ray and DVD on Aug. 15 from Universal Pictures Home Entertainment. To celebrate the home video release, Space.com and Universal are uniting to offer a chance to win some exclusive "Asteroid City" merchandise and here's how you can get in on all the science fiction-themed freebie action.
To enter the giveaway for these cool "Asteroid City" items that include a themed lunchbox set, alien key chain, postcard, patch or "Asteroid City" Blu-ray set, all you need to do is hop on over to our Facebook post HERE announcing the giveaway.
Leave a comment telling us what you loved best about "Asteroid City" and director Wes Anderson's signature style and sarcastic wit.
Comments must be left by Aug. 17 at 2 p.m. EDT (1800 GMT) to be counted for official entry. Five winners will be chosen at random for one prize each. Winners will be announced Aug. 18 at 4 p.m. EDT (2000 GMT) on Space.com's Facebook page.
"Asteroid City" opened in theaters on June 23 and follows a convention of junior stargazers and space cadets that invade a pastel-hued fictional American town in the southwest circa 1955 with their parents and an extraterrestrial encounter that changes the nature of this special spacey event.
Its expansive ensemble cast features Tom Hanks, Scarlett Johansson, Tilda Swinton, and Edward Norton alongside Jason Schwartzman, Jeffrey Wright, Bryan Cranston, Adrien Brody, Liev Schreiber, Hope Davis, Stephen Park, Rupert Friend, Maya Hawke, Steve Carell, Matt Dillon, Hong Chau, Willem Dafoe, Margot Robbie, Tony Revolori, Jake Ryan and Jeff Goldblum.
Good luck to all participants in this otherworldly "Asteroid City" giveaway!
SPACE.COM GIVEAWAY: "Asteroid City" Blu-Ray, lunchbox set, keychain, patch and poster
Official Rules
NO PURCHASE NECESSARY. Open to legal residents of 50 U.S & DC, 18 or older. Employees, agents, officers & directors of Future PLC, Inc. ("Sponsor"), its parent, subsidiaries, affiliates & advertising & promotion agencies (collectively with Facebook, Inc., "Released Parties") & members of their immediate family (spouse, parent, children, siblings & their respective spouses, regardless of where they reside) & persons living in the same household, whether or not related, are not eligible. Void where prohibited. Subject to all applicable federal, state & local laws.
HOW TO ENTER: Beginning at 12:00 PM ET on Aug. 11, 2023 ("Event") and ending at 2 p.m. ET on Aug. 17, 2023, visit the Space.com Facebook post page ("Event Page"), and submit a comment on the film "Asteroid City." If, for whatever reason, the Event is cancelled or postponed, this giveaway will not occur. Entries generated by script, macro or other automated means or by any means which subvert the entry process are void. Limit one (1) entry per person/email. Multiple entries will be void. Entries become the sole property of Sponsor. Entry must not be offensive or inappropriate, as determined by Sponsor in its sole discretion. Sponsor reserves the right to disqualify any entry and remove any comment that it determines, in its sole discretion, is not in compliance with these Official Rules or is otherwise not in keeping with Sponsor's image.
WINNER DETERMINATION: The Space.com editorial team will select and announce the 5 winners by Aug. 18, as determined by Sponsor in its sole discretion. Odds of winning depend on the number of eligible entries received and timing of response.
WINNER NOTIFICATION: Potential winner will be notified via email on their winning submission email & they will have 24 hours from notification to respond to Sponsor. The failure to respond to such notification or a potential winner's noncompliance with these Official Rules may result in disqualification, & at Sponsor's sole discretion, prize may be awarded to an alternate winner.
PRIZE: An "Asteroid City" prize to include one of the following: "Asteroid City" Blu-ray video, themed lunchbox set, keychain, patch, poster. Approximate Retail Value: $375. Total Prize is awarded "as is" with no warranty or guarantee, either express or implied. Winner is responsible for all federal, state & local taxes. Winners may not substitute, assign or transfer prize, but Sponsor reserves the right, at its sole discretion, to substitute prize (or portion thereof) with one of comparable or greater value. Prize cannot be redeemed for cash. All prize details are at Sponsor's sole discretion.
GRANT OF RIGHTS: By submitting an entry, each entrant grants to Sponsor and its licensees, successors and assigns an irrevocable, perpetual, unlimited, royalty-free, fully paid-up license to reproduce, distribute, display, exhibit, exploit, perform, edit, create derivatives of, & otherwise use the entry & all elements of such entry, together with any other material, and the name, user name, city & state of residence, voice, image and/or likeness of entrant, in any & all media now known or hereafter devised, in any manner, in whole or in part, worldwide, without compensation or notification to, or permission from, entrant or any third party, for any purpose whatsoever, including without limitation, for purposes of advertising or trade.
CONDITIONS: By participating, each entrant agrees: (a) to abide by these Official Rules & decisions of Sponsor & judges, which shall be final & binding in all respects relating to this giveaway; and (b) to release, discharge & hold harmless Released Parties from any & all injuries, liability, losses & damages of any kind to persons, including death, or property resulting, in whole or in part, directly or indirectly, from entrant's participation in the Giveaway or the acceptance or use of prize. Released Parties are not responsible for (i) lost, late, incomplete, damaged, inaccurate, stolen, delayed, misdirected, undelivered or garbled entries; or (ii) errors or difficulties of any kind, whether human, mechanical, electronic, computer, network, typographical, printing or otherwise, relating to or in connection with the giveaway, including, without limitation, errors or difficulties which may occur in connection with the administration of the giveaway, the processing of entries, the announcement of the prize or in any giveaway-related materials. Persons who tamper with or abuse any aspect of the giveaway or the Event Page, who act in an unsportsmanlike or disruptive manner or who are in violation of these Official Rules, as solely determined by Sponsor, will be disqualified & all associated entries will be void. Should any portion of the giveaway be, in Sponsor's sole opinion, compromised by virus, worms, bugs, non-authorized human intervention or other causes which, in the sole opinion of the Sponsor, corrupt or impair the administration, security, fairness or proper play, or submission of entries, Sponsor reserves the right at its sole discretion to suspend, modify or terminate the giveaway & if terminated, at its discretion, select winner as deemed fair & appropriate by Sponsor. Information submitted in connection with this giveaway will be used in accordance with Sponsor's Privacy Policy, available at https://www.futureplc.com/privacy-policy/
WINNERS' NAMES: Winner name will be posted on the Event Page following the end of the giveaway.
SPONSOR: Future US PLC, 135 W. 42nd St. 7th Floor, New York, New York 10036. This giveaway is in no way sponsored, endorsed or administered by, or associated with, Facebook. You understand that you are providing your information to Sponsor & not to Facebook.
Join our Space Forums to keep talking space on the latest missions, night sky and more! And if you have a news tip, correction or comment, let us know at: [email protected].
Breaking space news, the latest updates on rocket launches, skywatching events and more!
Jeff Spry is an award-winning screenwriter and veteran freelance journalist covering TV, movies, video games, books, and comics. His work has appeared at SYFY Wire, Inverse, Collider, Bleeding Cool and elsewhere. Jeff lives in beautiful Bend, Oregon amid the ponderosa pines, classic muscle cars, a crypt of collector horror comics, and two loyal English Setters.
>>> Read full article>>>
Copyright for syndicated content belongs to the linked Source : Space.com – https://www.space.com/asteroid-city-blu-ray-release-giveaway