Having twice finished as the runner-up at the legendary Norseman Xtreme Triathlon in 2019 and 2021, Great Britain's Flora Colledge finally took the top step at this year's edition with a fabulous performance, to add the Norseman win to her Swissman and Patagonman titles.
Coached by none other than Team Norway's Arild Tveiten, who is the head coach of the National Federation, Colledge shared how after adapting to the use of data and technology, the 'Norwegian Method' of science-based training has allowed her to reach new heights.
In an in-depth interview with TRI247, Colledge shared what was going through her mind on race day, the patience it required to come through the field late in the run to take the win and what's next for her in the world of Xtreme Triathlon and beyond.
Popular Stories Right now
Colledge on Norseman success
As far as Xtreme Triathlon races go, Norseman is one of the toughest, with the conditions, combined with the challenging course profile, making it as much a race of attrition as a battle against fellow competitors.
The full-distance event (2.4-mile swim, 112-mile bike and 26.2-mile marathon run) starts off with a jump into the fjord from the back of a car ferry, includes freezing cold water, questionable weather conditions and a brutal climb up Gaustatoppen in the second half of the marathon. It ends some 1850m above sea level.
For Colledge, who took the tape in a winning time of 11:20:10, patience and believing in her run were key as she made her way to the top step of the podium last weekend.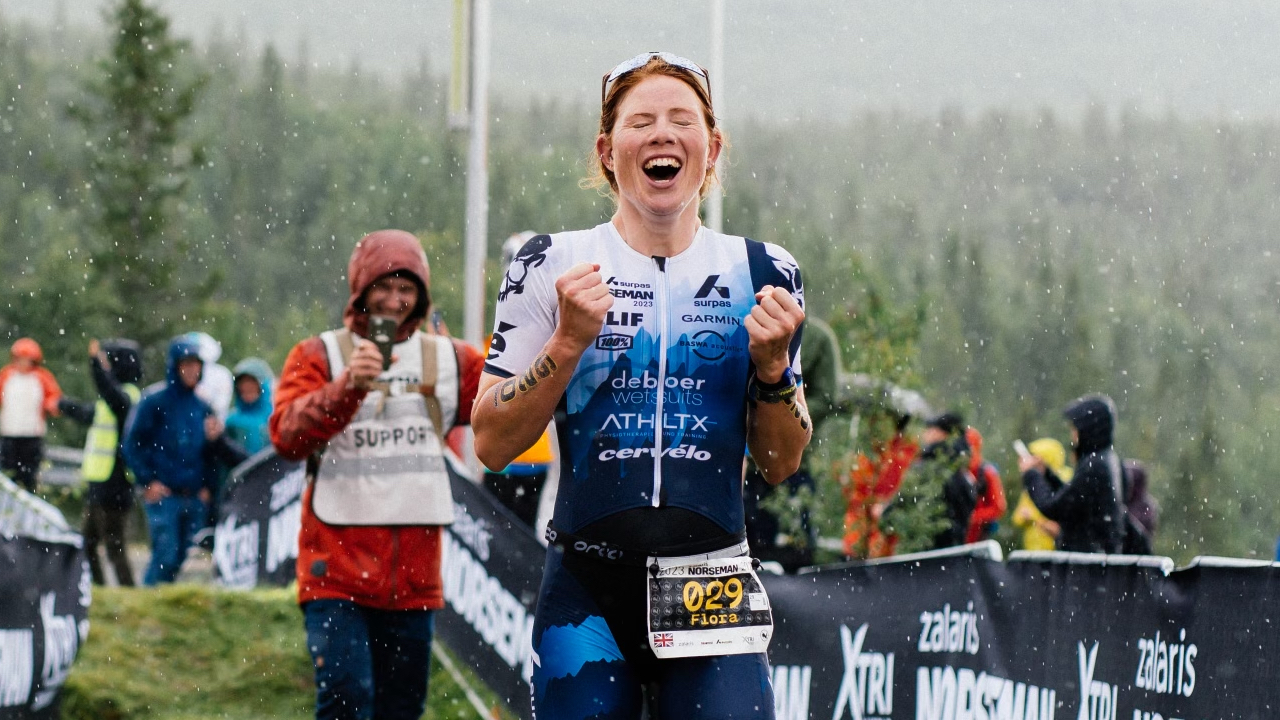 Flora Colledge wins Norseman 2023 (Photo – Paulina Monasterska-Tronina/NXTRI)
"Before the race I had told my coach, crew and on-site sponsors: if it goes well for me on race day, it won't be until the end, so don't freak out. This ended up being exactly how the race unfolded. I had a great swim, warm waters by Norseman standards, and just focused on my own effort on the bike – I kept telling myself to just ride a pace that would let me run fast.
"A lot of the women in this race are super bikers and five of them passed me – mentally it wasn't always easy to stay focused, and after the last freezing cold rainy descent I felt pretty sure my chance at a podium was gone. Starting the run I immediately felt great, and a few kilometres in my coach and crew started telling me I was ten minutes or so off the podium. Every time I saw them they told me I was gaining ground, and suddenly I passed all five women ahead of me in the space of about three minutes, before the foot of Zombie Hill.
"I knew I could run well uphill, but at that point in the race you never feel safe. I just went as hard as I could, I heard the gap was growing a bit, and at the final checkpoint I knew it would be hard for them to close the gap over the last 5k. I was extremely happy that being that patient worked in the end!"
Celebrating with her coach and team at the end of the race, having finally conquered the Norseman, it was smiles all round for Team Colledge, with the Brit sharing that it was not just his coaching pedigree but his support as a true fan of the Norseman that drew her to Tveiten 18 months ago.
"I've been with Arild for about a year and a half and I went to him because I know he's not just a great coach but also a true Norseman fan. Working with him suits me extremely well, the training approach just works for my body, and he's great about fitting the training around my part time work.
"It took me a while to adapt to some of the data and tech, because I was a purely 'go by feel' athlete, but now I think it really helps me not train too hard, and I still rely on my body feeling a lot – I just get extra information that helps us adapt the training better."
Flora looking ahead to 2024
Explaining what keeps bringing her back to Xtreme Triathlon, Colledge shared that the additional challenges that come with the discipline make racing so exciting, adding that whilst she doesn't plan to race another this season, she'll be back in 2024.
"I love the wild courses in Xtri, how it's more about working with the elements to perform your best than just racing other athletes, and I love how you do it with your crew, and they finish with you. The Norseman saying is 'you can't do it alone', and this year I absolutely won because my crew just kept me laughing and relaxed until race day and during it. Triathlon can be very isolating, but Xtri lets you build these amazing bonds with whoever is in your crew.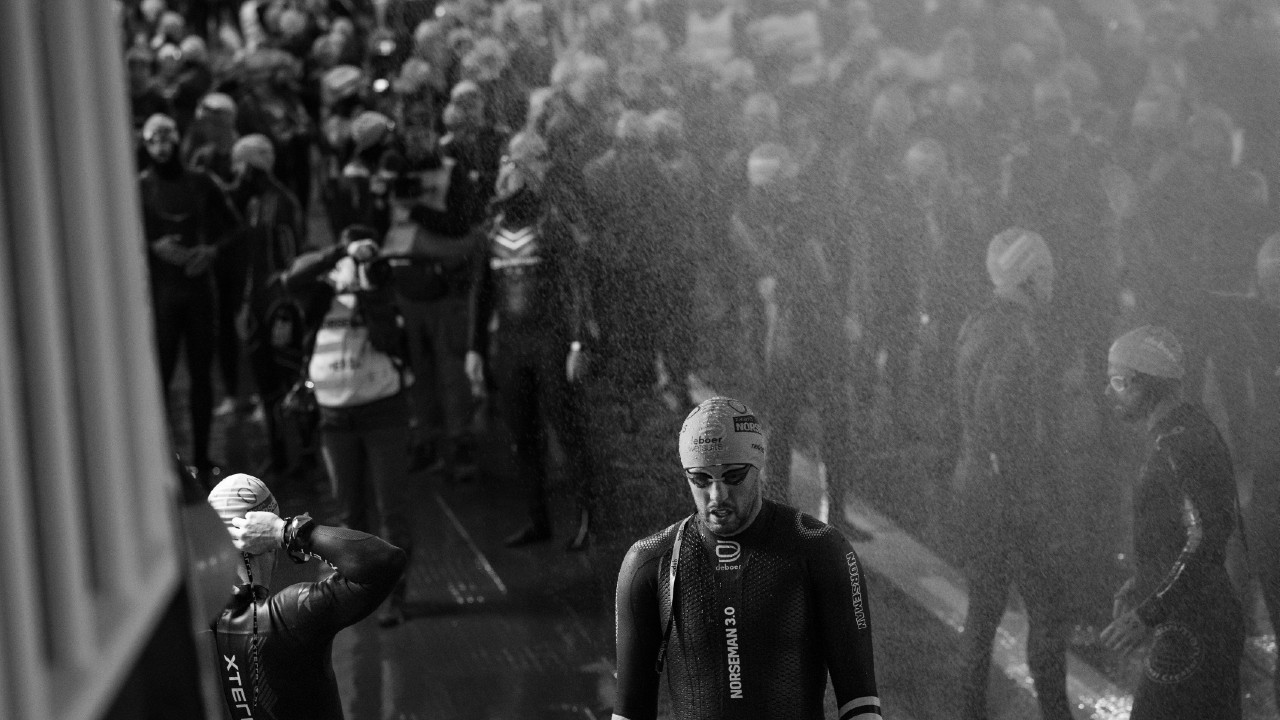 Athletes prepare for the start of Norseman 2023 (Photo – NXTRI/Snorre Veggan)
"I won't do any more big races this season, but I'll do a few local running and cycling races, and definitely one or two tris. I did SGRAIL in Girona last year and loved it, so I'll definitely head back there, but save the long stuff for 2024."
Giving some advice to anyone considering taking on a challenge like The Norseman in the future, Colledge insisted that a cool head was one of the most fundamental attributes to possess, along with the ability to recognise strengths and weaknesses and use them accordingly.
"I think to be good at Xtri you need great endurance, real honest knowledge of your own strengths and how best to use them, and a cool head so you can deal with any problems that come up, because they will. No gear in T2, losing mandatory equipment, hypothermia, it's all happened to me in Xtris, but if you can focus on just doing whatever it is that will allow you to keep going, you can do things you thought were impossible and that skill stays with you for life."
>>> Read full article>>>
Copyright for syndicated content belongs to the linked Source : Tri247 – https://www.tri247.com/triathlon-news/elite/flora-colledge-norseman-triathlon-2023-reaction?utm_source=rss&utm_medium=rss&utm_campaign=flora-colledge-norseman-triathlon-2023-reaction