George Peasgood is celebrating his 28th birthday today (Monday) and celebrating life. A year ago, it would have been almost unthinkable.
On October 1, 2022 – one year ago yesterday – a freak accident nearly killed George. Launching one final sprint at the end of a training ride, he was catapulted over his handlebars when his cleat slipped out of his pedal. He was just 200 metres from his parents' home.
Instead of celebrating his birthday, Peasgood was in a deep coma, later being diagnosed with a grade 3 diffuse axonal injury, a brain injury so severe that 90% of patients don't wake up again.
Things have come a long way since then, against the odds. The Tokyo double Paralympic medallist and World Champion has achieved his goal of riding a bike on his own, he has started running and will rejoin the British Paratriathlon training squad in the pool next month.
He's also able to live alone (with a four-month-old puppy) in Loughborough, and he's about to distribute shares of £18,000 raised for two of the organisations that helped save him.
Peasgood celebrating life one year on
An early birthday lunch with friends on Sunday is being followed by a week at the Matt Hampson Get Busy Living Centre.
George told us: "It's a year since the accident and it's my birthday. Sunday lunch was to celebrate life. To go from almost dead to where I am now is massive. I honestly can't think about it, I see pictures and think it can't be me. It's still a bit of a shock sometimes.
"There have been a few rough patches, but I don't really remember them, particularly last November and December. Since then, it's been about recovering and trying to get back to what life was like before.
"Training was my life. I never saw triathlon as a job, I know that sounds corny, but spending that amount of time training was my life, and it's still what I want to get back to."
George back on two wheels
For those who follow Peasgood's social media channels, there was a significant post last week; the first bike ride. Having set a target of riding a bike this year, he rode his mountain bike on an offroad trail.
"I told myself I would ride a bike this year, as in during 2023," he said. "To do it within the year of the accident was even better."
"The saddle height was low, but that was deliberate. I started out using it like a balance bike. It works for kids learning to ride, and it was like starting again for me.
"I've been again since with the saddle at normal height and it's fine. I'll go again, it's about the cognitive loading."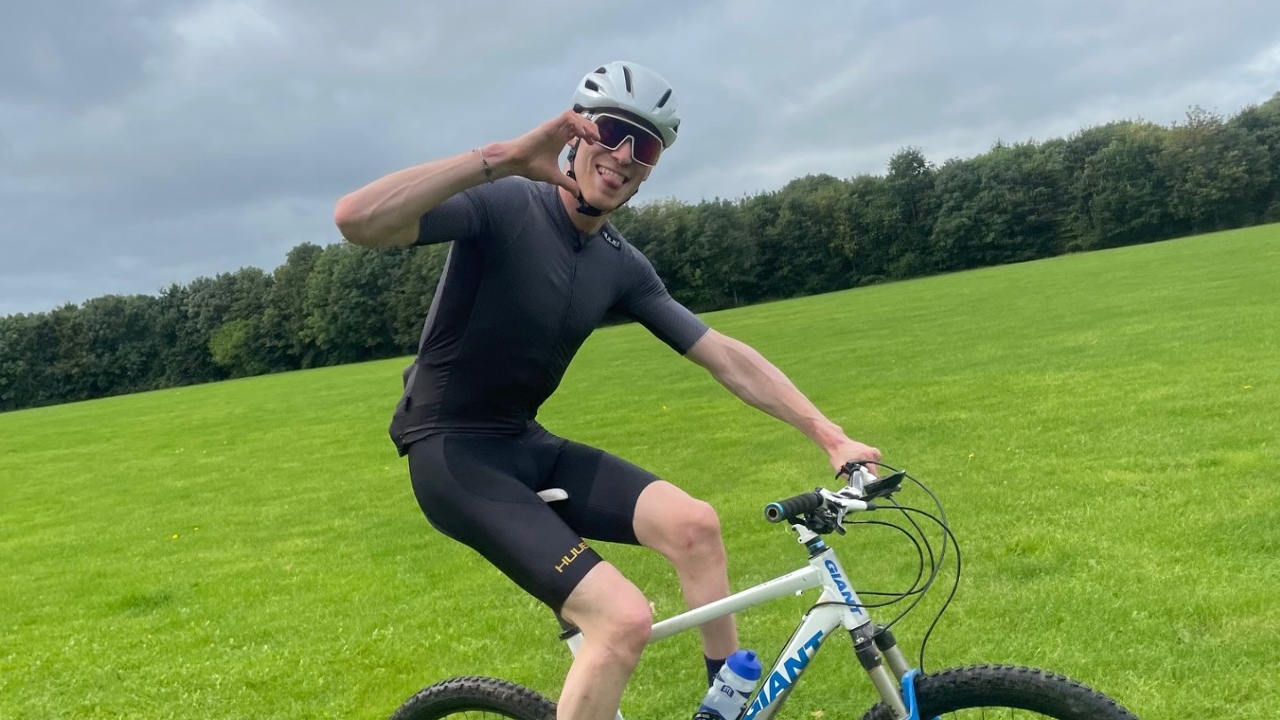 Peasgood hopes to summon the unconscious processes which saw him win cycling silver and paratriathlon bronze in Tokyo. He was a double world champion paracyclist. Along with swimming, it was his strength, but cycling was his greatest passion.
"I'm not allowed on the road yet as my decision-making isn't as good as it should be, but I've been on the back of a tandem with my brother Jack. Feeling the wind in my hair is such a nice thing. We have ridden up to 70km, 2.5 hours.
"I'll ride as much as I can, as much as you'd want to in winter when it gets cold anyway. I can use the turbo trainer and go on with Alex (Yee) and Ben (Dijkstra) and other cyclists that I know.
It's going to feel like I'm riding in a group again.
Return to squad swimming
More good news came last week when British Triathlon confirmed that Peasgood could return to swimming with the Paratriathlon squad from November 1. He'll start off-season training with some of the sport's best swimmers, including Dave Ellis, Claire Cashmore and Oscar Kelly.
"The timing coincides with the racing season being over. Even if I'm the slowest; to be back in groups and spending that time training will be amazing."
Peasgood recently swam 40 seconds for 50m freestyle in a long-course pool, a very respectable time for any triathlete. The addition of 2-3 hours a week of pool training with the squad will help him both mentally and physically.
He will have to work around his shoulder injuries, however. The impact of the crash broke his scapula in two places, and he has a lump on his collarbone, which is an 18mm overlap of his clavicle. This is something which has been extensively rehabbed in the state-of-the-art gym at the Get Busy Living Centre, funded by the Matt Hampson Foundation.
Triathlon completed
Completing the triathlon, George has remarkably also managed to run. Running was always his most challenging discipline due to his previous leg impairment. Now he jokes that with the additional injuries sustained, he's 'para squared,' although adding that only applies when running!
"The first video of me running looked like I was going to break my ankle, but I've run every week since then. I have to relearn the neural pathways of good technique. It felt a lot harder than riding a bike."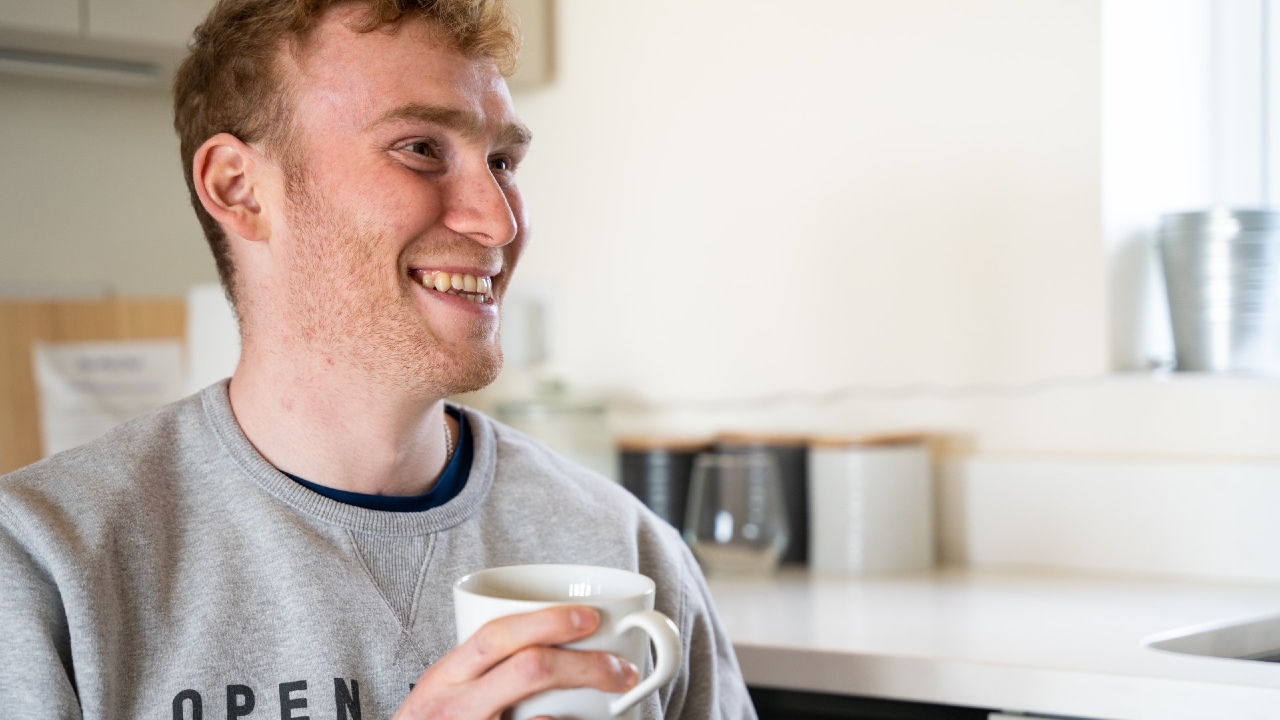 [Photo credit: @chrisdaysays on Instagram]
A massive thank you
A JustGiving site set up after the crash and other fundraising efforts, including #ForGeorge pink headbands sold by HUUB, have resulted in Peasgood now being able to distribute £18,000 of funds raised over the last year.
"To go from almost dead to now is massive. I want to say thank you to the people that have helped me get my life back." Thanks also go to those that donated towards the fund that will be distributed between the Essex & Herts Air Ambulance and the Matt Hampson Foundation.
"Although I didn't go in the air ambulance, it was the trauma doctor that arrived on board that said I needed to travel to hospital by road as the air pressure in the helicopter could cause further damage to my brain. They saved me. It's a charitable trust, so it's phenomenal to donate to them and help other people."
"The Matt Hampson Foundation helped me get my life back, and that's still ongoing.
Their motto is to get busy living, and they aim to get people to the point they become so busy; they don't have time to go there anymore.
"I've spent a lot of time there; I'm very lucky that it's only half an hour away from home. I used to ride past before my crash wondering what that hanger was doing in a field."
The Essex & Herts Air Ambulance and the Matt Hampson Foundation will each receive £6,000. The remaining £6,000 will go into a trust for Peasgood to apply for should he need any adaptive equipment in the future.
>>> Read full article>>>
Copyright for syndicated content belongs to the linked Source : Tri247 – https://www.tri247.com/triathlon-news/elite/george-peasgood-bike-accident-one-year-on-celebrating-life?utm_source=rss&utm_medium=rss&utm_campaign=george-peasgood-bike-accident-one-year-on-celebrating-life