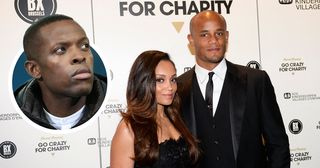 (Image credit: LAURIE DIEFFEMBACQ/BELGA/AFP via Getty Images)
Burnley manager Vincent Kompany has Sergio Aguero to thank for winning a first Premier League title and Yaya Toure to thank for his first FA Cup.
But the Belgian stalwart has Nedum Onuoha to thank for meeting his wife. The former Manchester City academy product has been telling FourFourTwo how he became close with the former defender – and how without him, he'd never have even met Carla Higgs, a lifelong City fan whom he married in 2011.
"I met Vinny before he came to City," says Onuoha. "He was a massive prospect at Anderlecht, then Hamburg, so I'd heard of him and went to watch him at Hamburg.
Nedum Onuoha played with Vincent Kompany at Manchester City (Image credit: Ed Garvey/Manchester City FC via Getty Images)
"He played No.10 that day and played well. I spent a few days with him and we became friends – in fact, I liked him so much that I introduced him to a friend of mine back in Manchester called Carla. Not only did he sign for City months later, but he eventually married her and they now have children!
"So I guess I saw something in him immediately, but the funny thing about Vincent is that his significance at the club grew with every season. He was so tough mentally, always overcoming his own injuries and setbacks, but also helping team-mates to be the best they could be."
Why Josko Gvardiol could make Manchester City invincible
As a fellow defender who used to play with him in the backline, Onuoha got to know Kompany better the most – and it doesn't surprise him that the now Burnley boss is doing so well, given how well he communicated as a player.
"He was never bossy, but Vinny knew exactly how he wanted to play the game," says Onuoha. "Playing with him at centre-back, I always knew how he wanted me to complement him. If he wanted to be aggressive, he needed someone who'd cover for him. He'd step forward and attack the ball, confident that I would cover him. He made it easy.
Vincent Kompany led Burnley to promotion in his first season in charge (Image credit: Clive Brunskill/Getty Images)
"Vinny helped create the character of the football club. Others did too, but he wasn't just a good player, he drove those standards; he was the one who organised the fines, demanding respect from everyone. He was always good at relaying messages to people, even if it had to be done in different ways.
"If someone needed shouting at, he could do that, but if someone needed gentle advice, he could do that too. I do think he was a bit ahead of his time, because he was taking a more individual approach to the group."
More Manchester City stories
In FourFourTwo's Season Preview, we assess if Manchester City can break even more records next season.
After securing a historic Treble, Manchester City transfer news is gathering steam ahead of next season. Jude Bellingham reportedly turned down the new European champions after taking inspiration from Erling Haaland's career path – though Alphonso Davies could move to the Etihad Stadium.
Pep Guardiola's side are looking to bring in Josko Gvardiol in defence, though, having already signed Matteo Kovacic this summer.
Thank you for reading 5 articles this month* Join now for unlimited access
Enjoy your first month for just £1 / $1 / €1
*Read 5 free articles per month without a subscription
Join now for unlimited access
Try first month for just £1 / $1 / €1
The best features, fun and footballing quizzes, straight to your inbox every week.
Leo Moynihan has been a freelance football writer and author for over 20 years. As well as contributing to FourFourTwo for all of that time, his words have also appeared in The Times, the Sunday Telegraph, the Guardian, Esquire, FHM and the Radio Times. He has written a number of books on football, including ghost projects with the likes of David Beckham and Andrew Cole, while his last two books, The Three Kings and Thou Shall Not Pass have both been recognised by the Sunday Times Sports Book of the Year awards.
>>> Read full article>>>
Copyright for syndicated content belongs to the linked Source : FourFourTwo – https://www.fourfourtwo.com/news/how-vincent-kompany-has-nedum-onuoha-to-thank-for-introducing-him-to-his-future-wife