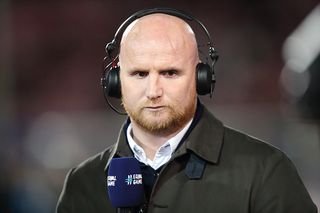 (Image credit: Getty Images)
Over the past few months, I've been learning Welsh. Not intentionally – I've been attempting to watch Wales' qualifiers for Euro 2024, and become fluent by accident.
If you need the Welsh for 'Luka Modric is in Ethan Ampadu's pocket', or 'Oh no! Armenia have scored again', I'm your go-to guy. 'Mae Luka Modric ym mhoced Ethan Ampadu' and 'O na! Armenia wedi sgorio eto', since you asked. OK fine, I used Google Translate.
As an Englishman but well-wisher of the other UK teams, I've been tuning into their games on S4C. After spending your entire life only hearing John Hartson speak English, listening to him doing punditry in Welsh this year has been oddly impressive – as impressive as if he'd done his summarising while performing a magic trick or riding a unicycle.
During qualifying, UK viewers have had two choices – watch on Welsh-language TV or shell out £14.99 a month for a subscription to Viaplay, which holds the domestic rights to all qualifiers except England games on Channel 4. If you wanted to watch Scotland or Northern Ireland live, you either paid the £14.99 or had to head down the pub.
When it was previously on Sky, at least it was part of a wider package of live football. Viaplay, in contrast, only has the Scottish Cup, the Scottish League Cup and La Liga – the latter's glamour tie, Barcelona against Real Madrid, weirdly kicked off at 3.15pm on a Saturday, so wasn't screened live anyway because of the UK's 3pm blackout.
If Viaplay's TV deal was intended to be the start of bigger things for them in Britain, it hasn't worked – not enough fans subscribed, the company made losses and have already announced plans to exit the UK market once their contractual commitments are over.
We've seen all this before, of course. Back in 2001, ITV Digital bought Football League rights, couldn't make it stack up financially and went into administration, dragging plenty of clubs with them. Setanta showed the Premier League, then went pop in 2009.
Every so often, another TV channel comes along and fancies a ride on the gravy train, only to discover it's not as lucrative as they'd hoped. Incredibly, fans don't have unlimited funds for yet another subscription.
(Image credit: Getty Images)
At the moment, if you want to watch all of the Premier League, you need Sky, TNT and Amazon. For the Champions League, from next season, TNT and Amazon. The Women's Champions League is on DAZN – free to view on YouTube this term, behind a paywall after that. Messi in MLS? Apple TV+. Then there are the documentaries: Welcome To Wrexham on Disney+, Beckham on Netflix.
For live games, you do at least have a 50 per cent chance of Ally McCoist, no matter which channel you're watching. Now let me tell you, using Ally on co-commentary to lure us in is very clever, it really is, absolutely, but I've got to say, somewhere among all of those channels, pretty much every supporter draws the line.
I'm as big a fan of McCoist as the next person, but I'd rather send £100 a month direct to his bank account than to 18 different channels (please don't send me your bank details, Ally, I didn't mean that literally – also, keep up the good work).
From 2007/08, the Premier League was prevented from selling all TV rights to the same broadcaster because of anti-monopoly regulations, forcing supporters to pay more to purchase several subscriptions, rather than just one. Is it any wonder that illegal streaming has become such a thing, then?
The Premier League rights went up for tender again recently, with talk of yet more channels or streaming services potentially entering the market. Two channels sharing rights should be the limit – if there's more, can't they club together and offer a sensibly priced subscription to watch everything? Call it a Coisty Card or something.
The good news, though, is that every Wales match will continue to be available for free on S4C through until 2028. If we're lucky, we may learn the Welsh for 'And then I kicked Eyal Berkovic in the head'…
More stories
Tottenham manager Ange Postecoglou has told FFT's Chris Flanagan that it wasn't a difficult decision to quit the Australia national team.
Dean Saunders has told FFT that Wales need to adapt post-Gareth Bale.
Thank you for reading 5 articles this month* Join now for unlimited access
Enjoy your first month for just £1 / $1 / €1
*Read 5 free articles per month without a subscription
Join now for unlimited access
Try first month for just £1 / $1 / €1
The best features, fun and footballing quizzes, straight to your inbox every week.
Chris joined FourFourTwo in 2015 and has reported from 20 countries, in places as varied as Jerusalem and the Arctic Circle. He's interviewed Pele, Zlatan and Santa Claus (it's a long story), as well as covering the World Cup, Euro 2020 and the Clasico. He previously spent 10 years as a newspaper journalist, and completed the 92 in 2017.
>>> Read full article>>>
Copyright for syndicated content belongs to the linked Source : FourFourTwo – https://www.fourfourtwo.com/opinion/s4c-last-saviour-pay-tv