The Steam Deck remains one of the hottest pieces of tech this year, despite would-be rivals like the Asus ROG Ally appearing on the market. And since it's incredibly cheap (at least for the laptop-grade hardware inside it), it's also very difficult to find on sale outside of Valve's seasonal promotions. But that might change soon. An internal listing on the Steam store showed listings for officially refurbished Steam Deck models, starting as low as $319 for the 64GB base version.
Editor's Note: Valve has officially begun selling the refurbished Steam Decks on its site. All certified refurbished Steam Decks include the same one-year warranty as a new Steam Deck with a refurbished power supply, too. Valve also notes that the refurbished Steam Decks being sold by Gamestop (available to Pro members) will carry their own separate warranty.
The leak comes from pages that appeared on Steam briefly yesterday before being taken down, and can still be spotted on SteamDB. The 256GB model was (and is now being sold at) listed at $419, while the top-of-the-line 512GB version was $519. Discounts stack up as you go higher: $80 for the base model, $110 for the middle model, and an impressive $130 for the high-end version — though of course, nothing is set in stone yet.
The Steam Deck is surprisingly accessible in terms of repair, with the main screen assembly being the only thing that's really difficult to work on from a DIY perspective. (And even that's not totally off-limits.) But even so, as a portable device there are bound to be some that get dinged up, to say nothing of the inevitable percentage that are damaged in manufacturing or transit. With so many of these things in the (literal) hands of PC gamers, selling officially refurbished models would be an easy way for Valve to recoup some losses.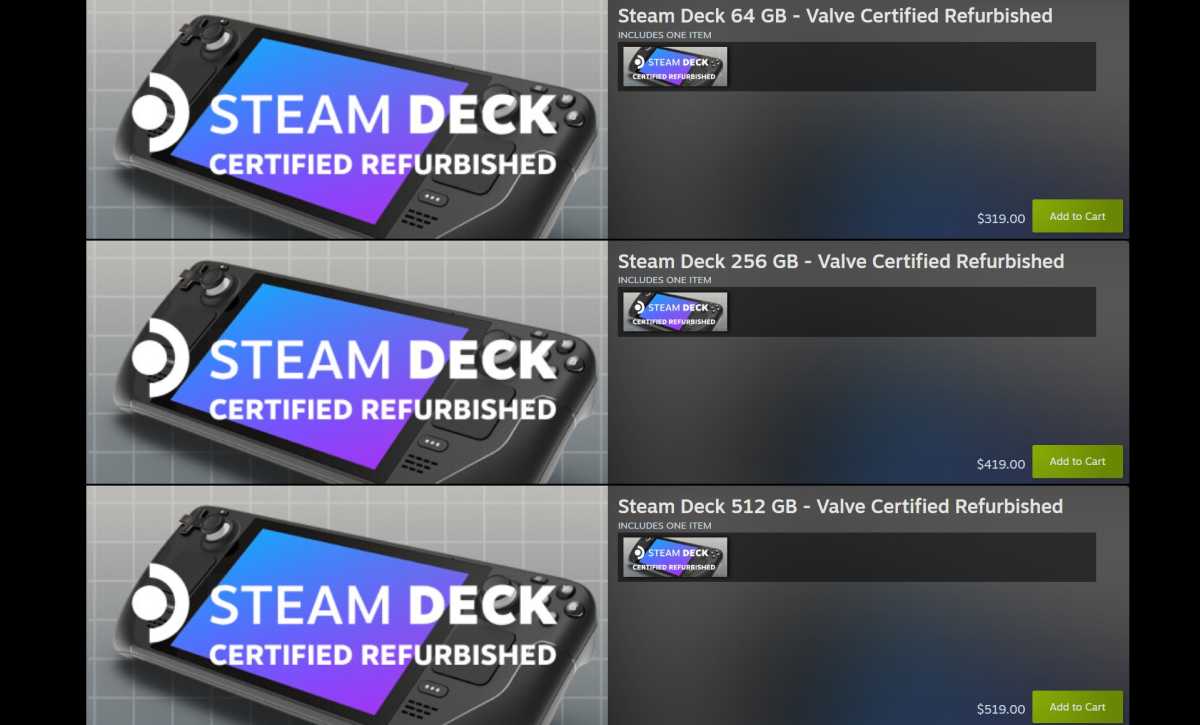 Valve has made its refurbished Steam Decks official.
Valve
Precisely when Valve will start selling the refurbished Steam Deck isn't clear. As PCGamer notes, it's possible that the company could scrap the project at any time. But if pages were already being prepped for publishing on the Steam store, that seems highly unlikely. The more probable scenario is that we'll see the pages go live once again, with full ordering options, sometime in the next few weeks.
Further reading: Master your Steam Deck with these 22 tips and tricks
This story was updated at 2:09 PM by Mark Hachman with confirmation from Valve that it has begun selling the refurbished Steam Decks.
Author: Michael Crider, Staff Writer
Michael is a former graphic designer who's been building and tweaking desktop computers for longer than he cares to admit. His interests include folk music, football, science fiction, and salsa verde, in no particular order.
>>> Read full article>>>
Copyright for syndicated content belongs to the linked Source : PCWorld – https://www.pcworld.com/article/2023987/valve-may-sell-refurbished-steam-decks-at-a-discount-soon.html