At a glance
Expert's Rating
Pros
Excellently written storyWorld-class acting, not only by Idris Elba and Keanu Reeves Graphically stunning – Cyberpunk 2077 is the new CrysisSkill tree conversion trimmed for RPG Dogtown is Narcos' Medellín by day, Blade Runner by night Stealth Bond, John Wick, or Mr. Robot – each game type feels unique Has a lot more Keanu Reeves than we were expecting
Cons
Perhaps a little too bloody and designed for splatter Dogtown is very twisty and not ideal for car battles, but all of Night City waits
Our Verdict
Phantom Liberty is CD Projekt RED's masterpiece. Not only is Cyberpunk 2077 Phantom Liberty graphically easily three generations ahead of the entire industry and redefines how we experience video games with pathtracing, it's also written even more thrillingly and staged even more explosively. Anyone who doesn't enjoy this several times in different play styles has never loved video games. A clear must-play.
Cyberpunk 2077's Phantom Liberty expansion is a reminder of how incredibly explosive gaming has become – and the perfection with which CD Projekt RED manages to involve its actors.
When Idris Elba is on a train out of Dogtown, joking with Songbird about how they really need to eat that one famous burrito of his together sometime, and there's such an eerie silence to the flirtation – the nervous looks of the head hacker because she's about to betray him – these are moments that feel like they'd belong in House of Cards or 24.
There aren't many games as well written as Phantom Liberty
It takes a lot of courage to write characters you don't automatically like, who are complex and grey-shaded. (We'll be talking a lot more about Songbird.) CD Projekt RED can put itself in a league with Naughty Dog here. Surely two of the best game studios in the world when it comes to delivering epic, visceral, highly emotional single player campaigns.
The choice of actors in Cyberpunk 2077 Phantom Liberty is absolutely fantastic. The new star in the ensemble, Idris Elba, plays the high-tech James Bond the way Daniel Craig does – the tough guy who walks over dead bodies for his government – and it changes him. "Take The Bloody Shot," as M would say.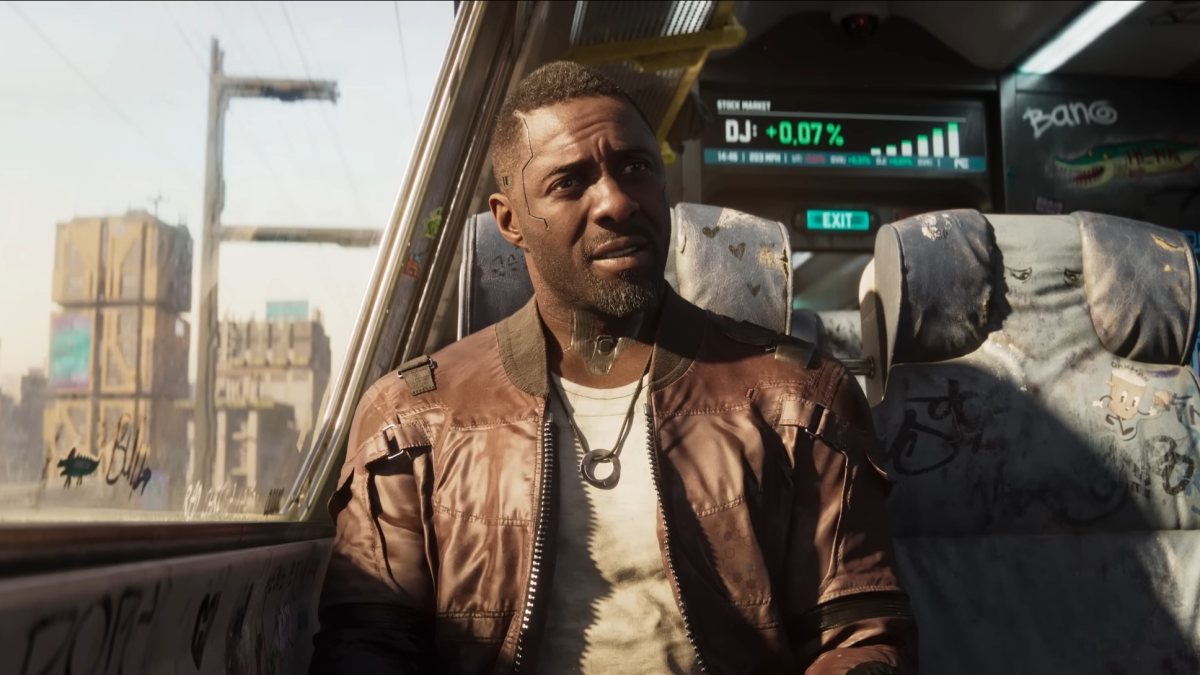 Written like a TV series: it's a treat to see how atmospherically CD Projekt RED sets the scene for Idris Elba and his acting colleagues
PC WELT
It's a gritty spy story. And that's the beauty of role-playing games: We are guided, but at key points we take the position of the head writer, deciding between loyalty and principles and moral and human considerations.
There is a lot of push-pull in the storytelling, which gives weight to your decisions and makes you want to start a second run-through right now. Narrative Director Igor Sarzyński and his team also find smart ideas to move characters along.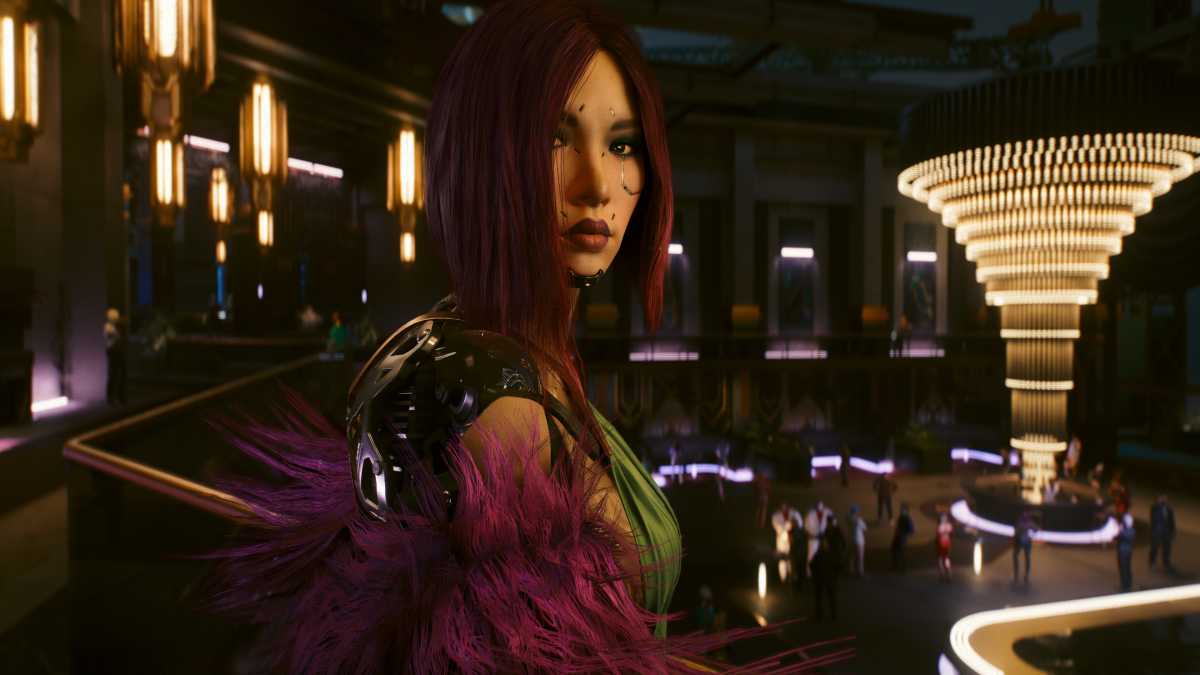 PC WELT
Myers was Militech's boss bitch in Cyberpunk 2077, happy to let others walk all over her for her career. And now as President of the New United States, we spend a lot of time with her. She unveils a bit of her soul, tells us what it takes not to end up on a rubbish heap with a bullet in her head in the corporate world of Night City.
But she also always remains inscrutable. You always have in the back of your mind what kind of person she is and so you have this alert button in your head. That's also so utterly iconic cyberpunk – a completely broken world, capitalism at its end stages and a struggle for survival from the gutter to the White House.
We can play V as James Bond. Or check hackers as in Mr Robot. Or John Wick as a motorbike ninja slashing tyres with his katana.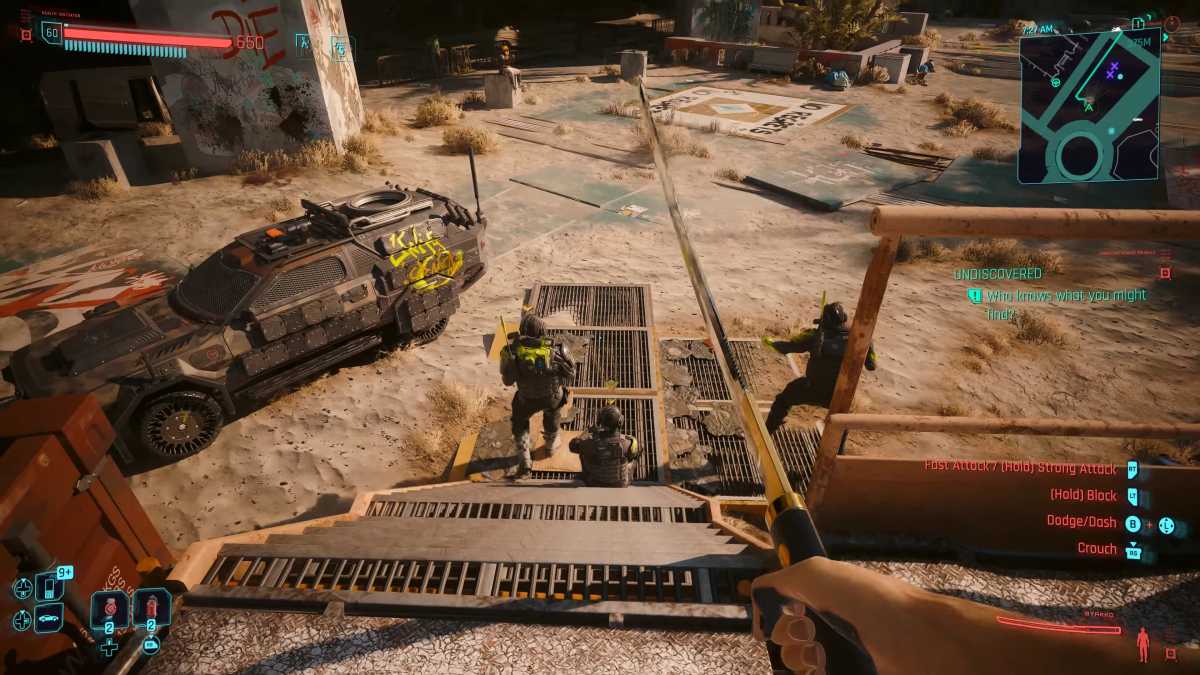 PC WELT
In the end, this is exactly the tingling sensation in storytelling that only very few studios can create. Phantom Liberty often makes us think of House of Cards, where everyone is an asshole, but in a smart, scheming, hideously admirable way.
A story is always particularly good when there aren't just the good guys and the bad guys – any third-rate writer can write a basic action movie, but not many can write a TV series that captivates for over 10 hours.
Or an action epic like Phantom Liberty, which, with all the side quests, easily clocks in at 30 hours of "press you into the gaming chair" drama. "Choose your truth V," Songbird says, because there are often those in these worlds you'd like to believe – and the naked truth.
Cyberpunk 2.0
CDPR doesn't draw one-dimensional characters, but many-faced ones with pasts, all the way through. And that plays gloriously into this gigantic update called Cyberpunk 2.0: the original was very numbers driven, but the 2023 version Cyberpunk 2077 puts role-playing back into RPG.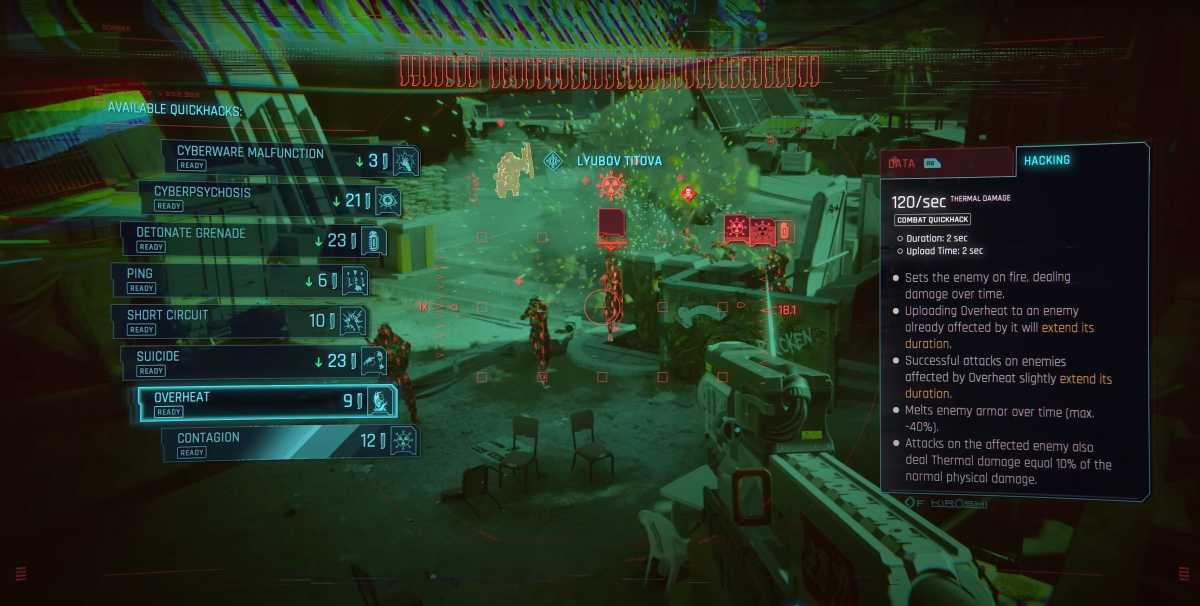 If you want to let the boss hacker hang out, you explode grenades on belts, weapons malfunction and use mechs against their own army.
PC WELT
We can skill V as a smart-weapon hacker, then she plays like James Bond or Charlize Theron in Atomic Blonde – that's that ultimate Hollywood fantasy about super-agents being able to eliminate an entire army with headshots.
But we can also go full Kill Bill – quadruple-dash in mid-air, slicing through armored enemies and slashing cars at full speed on one of those insanely fast motorbikes. Quentin Tarantino likes to chat with other Hollywood directors about movies and games on his podcast. There's no doubt he'll be celebrating Phantom Liberty.
We bounce bullets with the katana like we're Luke Skywalker. And go ultra-hacker Mr. Robot style. Because everyone wears cyberware here, you can pull a lot of shenanigans with it, like exploding grenades on enemy belts.
That's the ultimate freedom that the skill trees give us and that makes Phantom Liberty so damn strong. You can play through this RPG epic three times and will get three completely different gameplay experiences, which is a huge strength of this game.
Dogtown is a dystopian, breathtakingly beautiful pathtracing playground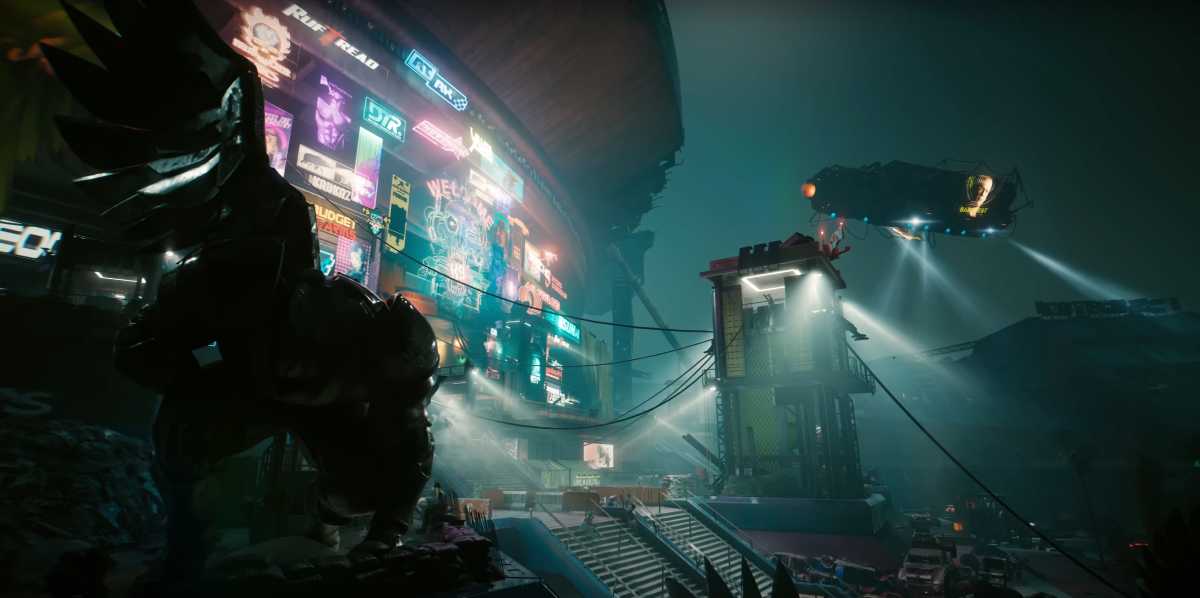 Path tracing is a new way to experience games: digital worlds have rarely felt so real, like walking through Blade Runner 2049.
PC WELT
Dogtown, the new area unlocked in Phantom Liberty, shoots upwards. It plays heavily in the vertical – it's basically a cyber Las Vegas that was never finished because of the Corpo wars. The many scaffolds lend themselves to air-dashing a group of mercenaries in almost Assassin's Creed style.
And it's a very variant city within the city – there are glass palaces, luxury hotels, and casinos nearing completion. Glass is perfect for pathtracing, CD Projekt RED fires off a fireworks display of technology here.
The way orange smoke is reflected in façades at night and the way this studio builds atmosphere with the play of light and shadow, even Denis Villeneuve (Blade Runner 2049) would take a bow.
There is much to discover: a network of roads leads into tunnels that wind their way to military bunker fortresses. There is a kind of shantytown for the poor wretches and junkies, cobbled together from old shipping containers. But there is also a high-tech stadium, which is half destroyed and in whose catacombs there is a huge black market where you can buy everything that is forbidden in Night City. The weirdest cyberware, but cyberware that can also make us overheat.
PC WELT
That's another huge strength of CDPR: there are tons of side characters, all of them somehow quirky and superbly written – like the Dude, who as a war veteran has had flamethrowers bolted to his arms for the ultimate cyber-flex.
And then there's lots of locations that are built primarily as playgrounds. The Black Sapphire Tower, the HQ of local warlord Kurt Hanson, is a high-security palace made of gold, where at the very top a rave club invites you to party for the city's mafia bosses.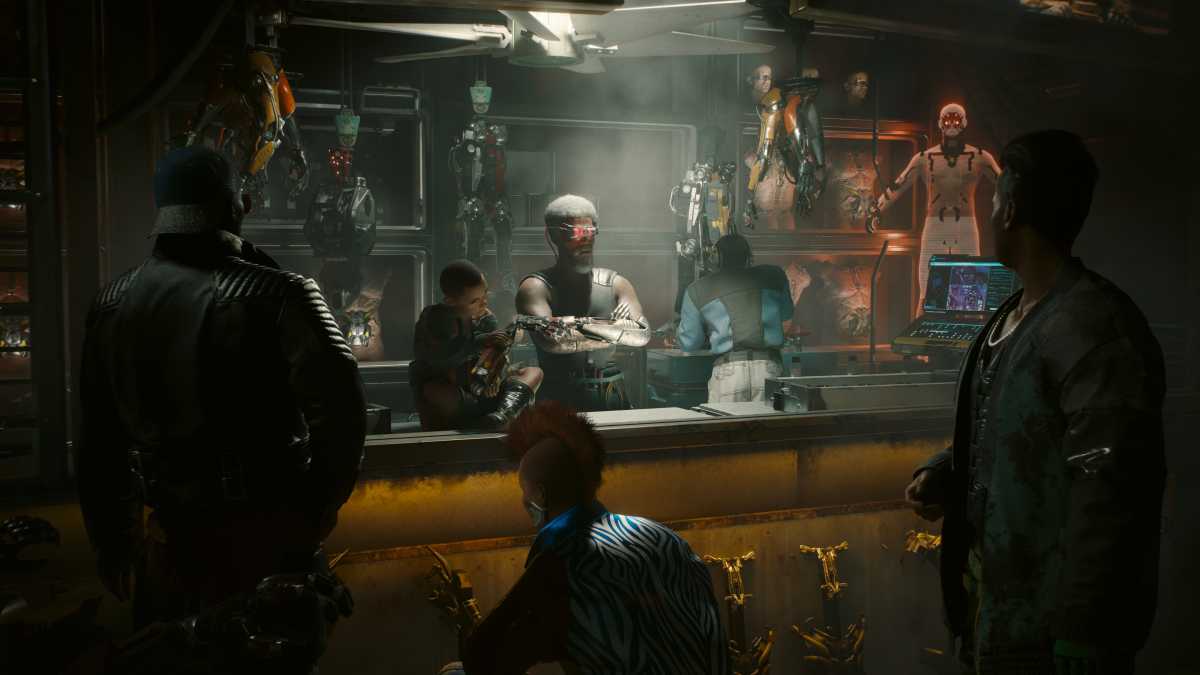 PC WELT
Enough traps and self-shooting devices await below to knock out an army, and we go in quiet and stealthy like Sam Fisher in his prime. Or we can go full headshot, John Wick style. Or hack combat robots that run amok. Crack cars and crash them in droves. Or we'll ski to maximum power, swing the hammer and let half armies shred in blood splatter. Catapult ourselves at the enemy from above with the katana or pack an entire armury and let it all hang out – it feels like there's a high-tech shooting thrash waiting at every corner that's even wackier than the last one.
There's always another city to burn. Phantom Liberty is the Cyberpunk 2077 you've been waiting for. Don't hesitate to hop in.
>>> Read full article>>>
Copyright for syndicated content belongs to the linked Source : PCWorld – https://www.pcworld.com/article/2096945/cyberpunk-2077-phantom-liberty-in-test-do-you-want-to-be-john-wick-james-bond-or-the-kill-bill-lady.html