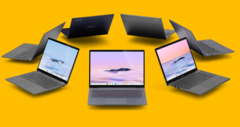 Chromebooks manufactured under Google's new Chromebook Plus initiative have beefier specs than what is usually seen in the ChromeOS world. (Image: Google Chrome, Intel, AMD, and Ryzen logos, w/ edits)
Google's new Chromebook Plus naming scheme allows manufacturers to demark Chromebooks that have higher-end specs (relative to the ChromeOS world). Chromebook Plus laptops will have to meet specific minimum hardware requirements and will have some AI-enabled features baked into ChromeOS.
Yesterday, Google announced a new initiative to the Chromebook world with "Chromebook Plus," a nickname for Chromebooks that will have beefier hardware and access to some handy AI-enabled features.
Chromebooks manufactured under the Chromebook Plus program will have "double the performance" of top-selling Chromebooks from July 2022 to December 2022, according to Google. While this doesn't quite clearly define what Chromebook Plus laptops will actually look like on paper, Google provided a list of minimum hardware requirements a device needs to qualify for the Chromebook Plus designation, including:
An Intel Core i3 12th Gen (Alder Lake) or AMD Ryzen 3 7000 series or above CPUAt least 8 GB of RAMAt least 128 GB of storageAt least a 1080p webcam with Temporal Noise ReductionAt least a Full HD display
There are quite a few Chromebooks that meet or come close to these specs, but Google is trying to market these Chromebooks as "higher-end" laptops to meet the growing demands of an increasingly connected workforce and consumer base.
Google also stated that Chromebook Plus laptops will have access to premium Google Meet features, including AI tools for webcasts via the FHD webcams on the new laptops.
Chromebook Plus devices will also get access to Google's Magic Eraser feature in Google Photos, which uses AI to intelligently erase people or objects from the background of a photo. Google will also offer three free months of the web version of Adobe Photoshop and Express, 25% off LumaFusion's online video editing software (one-time cost of ~US$22.49), and a no-cost trial of Google's own Duet AI.
Future features coming to Chromebook Plus devices include AI-generated wallpapers (generated via a text prompt), generative backgrounds for video calls, and other AI-driven tools.
Chromebook Plus laptops will be available for purchase starting October 8. Manufacturers like Asus, HP, Lenovo, and Acer all announced new Chromebook Plus laptops that start at US$399.
Buy an HP 14-inch Chromebook with Intel Core i3-1115G4 CPU at Amazon.

Sam Medley – Senior Tech Writer – 1277 articles published on Notebookcheck since 2016
I've been a computer geek my entire life. After graduating college with a degree in Mathematics, I worked in finance and banking a few years before taking a job as a database administrator. I started working with Notebookcheck in October of 2016 and have enjoyed writing news and reviews. I've also written for other outlets including UltrabookReview and GeeksWorldWide, focusing on consumer guidance and video gaming. My areas of interest include the business side of technology, retro gaming, Linux, and innovative gadgets. When I'm not writing on electronics or tinkering with a device, I'm either outside with my family, enjoying a decade-old video game, or playing drums or piano.
Sam Medley, 2023-10- 3 (Update: 2023-10- 3)
>>> Read full article>>>
Copyright for syndicated content belongs to the linked Source : NotebookCheck – https://www.notebookcheck.net/Google-announces-Chromebook-Plus-program-to-designate-Chromebooks-with-higher-end-specs-AI-features-and-more.757059.0.html