Even four seasons in, it's not a difficult argument to make that for all its aims of being a show with four primary characters, Lower Decks has been most focused, and at its strongest, on two of those characters in particular. But season four is working on a lot of the show's weaknesses, and this week it takes that criticism head on, and really works.

"Something Borrowed, Something Green" sees Tendi become the focal character of the week, as she is begrudgingly forced into taking shore leave to return to her homeworld of Orion, at the request of her family, to attend her sister's wedding. It's a fun opportunity to split the group up—and pair Boimler up with Rutherford for some fun side shenanigans, even if the show unfortunately doesn't entirely make the most use out of this rare combo. But it's most interesting because of something else beyond the Tendi focus too: after T'Lyn got to play the straight Vulcan alongside Boimler last week, we now get to see her on a "girls trip" adventure with Tendi and Mariner.
That's not to say "Something Borrowed, Something Green" isn't a bad episode for Tendi, however—quite the opposite. We get to see Tendi operating within the social circles of both the Orion people and their culture, and also the privilege of what turns out to be her very lavish, very powerful crime syndicate family from the second she, Mariner, and T'Lyn step on the planet. We also finally get to see the full extent of her backstory, as her sister opens up to Tendi that the whole ritual-kidnapping quest she finds herself participating in ahead of the wedding ceremony was devised by her sister as a way to actually see her again after she left her behind to join Starfleet.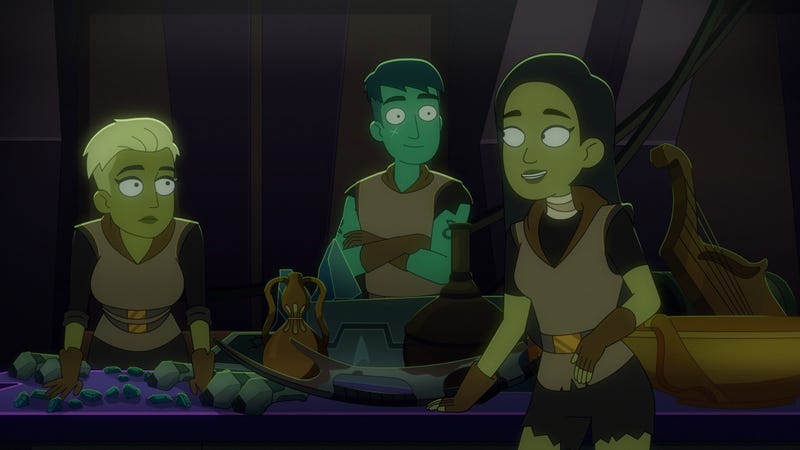 Image: Paramount
The focus on Orion culture—a rarely seen thing for Trek despite the Orions' status as one of the franchise's more famous species—is fun, but doesn't really advance what Lower Decks has already shown in snippets of Tendi's backstory before. For much of the episode's runtime, it almost feels like "Something Borrowed, Something Green" is going to be a missed opportunity, going a little but not far enough to give time to one of Lower Decks' most underserved characters. But it's saved in the personal conflict between Tendi and her sister in its climax, and the reveal that when Tendi left Orion—and fought so hard to not embody the sterotypes of its people in the wider galaxy—she ultimately left her sister to be trapped in the role she'd escaped as her family's prime assassin. Although it's resolved in a snappy sitcom runtime, this extra emotional wrinkle to Tendi's otherwise-typical backstory of wanting to defy expectations retroactively strengthens all those past snippets of her encounters with Orions in some really fascinating ways.
But while the episode mostly succeeds in giving Tendi the focus she deserved, it's almost arguably just as successful in giving us a great time with another lesser-focused character, for different reasons: newcomer T'Lyn. While she's still largely filling the role she filled last week, she's already shaping up to be a fantastic addition to Lower Decks. The outside commenter to the wild energy of someone like Mariner, or how she's able to bring Tendi out of her own comfort zones when needed, is great fun, and it really speaks to her untypical-for-a-Vulcan malleability so far—being able to pair her up with any combo of the show's main group and still feel fun and interesting in how she facilitates those combinations gives me a lot of hope that when we do get some individual focus on her, T'Lyn is already well prepared to become a highlight of the show.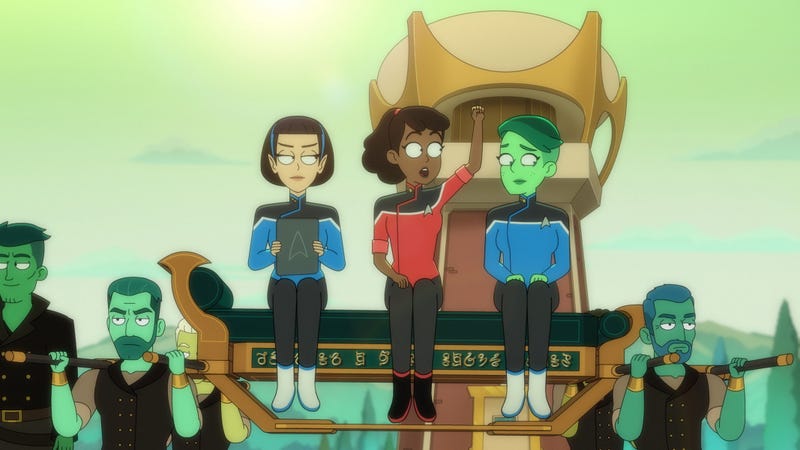 Image: Paramount
And if anything has been proven by season four so far, that moment will come soon enough—and it'll be satisfying to see as the show continues to refocus and build on its strengths, while acknowledging and working on some of its rare weaknesses.
Want more entertainment news? Check out when to expect the latest Marvel, Star Wars, and DC releases, what's coming to cinemas in Australia this year, and everything streaming this month across all platforms. Check out our dedicated Entertainment tab for more.
>>> Read full article>>>
Copyright for syndicated content belongs to the linked Source : Gizmodo (AU) – https://gizmodo.com.au/2023/09/lower-decks-is-making-more-room-for-its-underused-characters/