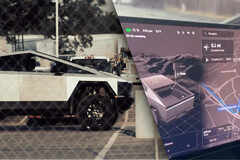 The Tesla Cybertruck was originally pitched to have 500 miles of range, but a recent video reveals less than 300. (Image source: various – edited)
A recent video of a Cybertruck walk-around accidentally revealed the electric pickup's projected range. The prototype in question still shows the remaining battery and range as a percentage, but its navigation prediction allowed internet sleuths to calculate the estimated range.
A video surfaced earlier this week showing a full walk-around of the Tesla Cybertruck, including the interior of the upcoming EV. The video thoroughly demonstrated a number of features, including internal controls for the tonneau cover. More interestingly, however, is reporting coming from Electrek that reveals the range of the Cybertruck.
As the video scans through the interior of the Cybertruck, it gives us a glimpse of the vehicle's state of charge and the route planning. On-screen, the battery is at 71%, and the route planner shows an estimated 65% battery remaining when arriving at the destination, which is a 16-mile (25.75 km) trip.
With some back-of-the-napkin maths, we can see that the Cybertruck delivers roughly 2.67 miles (4.3 km) per 1% battery used. Multiply that out, and we end up with a total range of around 267 miles (~430 km).
Now, it should be noted that this estimate is likely inaccurate for a few reasons. Firstly, it's a very short trip that seems to mostly take place on the highway, meaning consumption will be higher than the mixed estimates we're used to seeing. Secondly, this is also a prototype vehicle, and Tesla could still be refining the software, motor characteristics, and battery readouts.
It could also be that Tesla has software-locked the range on this prototype for testing purposes. That said, if this is an accurate estimate, it's a far cry from the 350–500 miles (563–805 km) that Tesla and other analysts have been touting.
Buy a Cybertruck 1/24 die-cast metal toy car on Amazon or read about the Cybertruck's development in Walter Isaacson's biography of Elon Musk.
Tesla is revoking invites to the Cybertruck event to all people that posted this video.
It's in bad taste to leak stuff like this right before a big event.
I'm not going, so I'll take the impressions. ????‍♂️ pic.twitter.com/i6VZDbK9HU
— Jeremy Judkins (@jeremyjudkins_) November 15, 2023

Julian van der Merwe – Magazine & Specialist News Writer – 464 articles published on Notebookcheck since 2022
My interest in tech started in high school, rooting and flashing my Motorola Defy, but I really fell down the rabbit hole when I realised I could overclock the i7 930 in my Gigabyte pre-built PC. This tinkering addiction eventually lead me to study product design in university. I think tech should improve the lives of the people using it, no matter the field. I like to read and write about laptops, smartphones, software and trends in technology.
Julian van der Merwe, 2023-11-17 (Update: 2023-11-17)
>>> Read full article>>>
Copyright for syndicated content belongs to the linked Source : NotebookCheck – https://www.notebookcheck.net/Tesla-Cybertruck-range-tipped-at-mediocre-267-miles-by-leaked-interior-images.769167.0.html