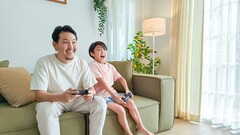 Top 5 family-friendly PS5 games to enjoy this holiday season (Source: Unsplash)
As November approaches, we look forward to the Thanksgiving holiday and Black Friday, the most unique sale of the year. Restful holidays wouldn't be complete without moments of relaxation. Below are the top five PlayStation 5 games that offer great family entertainment.
Triet Le, 👁 Daniel R Deakin, Published 11/14/2023
This game is unique as it includes all nine movie episodes of the Star Wars series. The gameplay allows players to explore the entire Skywalker saga in a world designed in the Lego style.
Being an open-world game means players can discover many famous locations in the Star Wars series. Complete missions and engage in various activities in the Star Wars universe, Lego style.
Buy LEGO® Star Wars™: The Skywalker Saga on Steam
Players will take on the role of goats in Goat Simulator 3, bringing chaos to towns and cities. In this installment, up to three players can play together. Enjoy exciting features with goats in a brand new open world. The map is significantly larger than in previous versions, and there's more entertaining content.
This highly entertaining and illogical game will surely bring laughter to family members or groups of friends.
Buy Goat Simulator 3 on Playstation
Different from the Sonic versions we have seen before, Sonic returns with a fresh take on open-world gameplay. The adventure world is always full of puzzles ranging from easy to difficult, requiring players to solve them to complete the adventure. Combine your wits with Sonic's unmatched speed to make exploring these islands incredibly enticing.
Although it is a single-player game, friends and family can join in to challenge time and solve puzzles.
Buy Sonic Frontiers on Steam.
Players will take on the role of a common cat exploring a city abandoned after a disaster. The cat's adventures through different areas will uncover mysteries to be solved. While the game mainly involves puzzle-solving, Stray also includes intense action sequences to uncover the mysteries behind.
Stray is a short game and very suitable for family members to play together during the Thanksgiving holiday.
Buy Stray on Steam
This is a 'roguelike' game for the PS5 (available on Amazon) where you play as the only surviving lamb. Cult of the Lamb is actually a dark and confusing world simulation mixed with adventure. The beginning of the game is about conquering an army, suitable for adults in the family. The latter part involves building a village, which will be great for kids.
With cute graphics and engaging gameplay, the game promises to provide entertainment for family members to play together.
Buy Cult Of The Lamb on Steam

Triet Le – Magazine Writer – 2 articles published on Notebookcheck since 2023
As a seasoned Senior iOS Engineer with over eight years of experience, I possess a comprehensive mastery of Swift, SwiftUI, and Objective-C. My passion for technology extends beyond development; I am an avid reader and writer on emerging tech trends, bringing complex topics to life for our readers.
At Notebookcheck, I look forward to blending my technical expertise and enthusiasm for tech to provide insightful and engaging content for our audience.
Triet Le, 2023-11-14 (Update: 2023-11-14)
>>> Read full article>>>
Copyright for syndicated content belongs to the linked Source : NotebookCheck – https://www.notebookcheck.net/Top-5-family-friendly-PS5-games-to-enjoy-this-holiday-season.767893.0.html