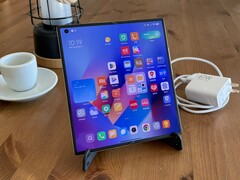 The Xiaomi Mix Fold 3 also comes with a 67-watt power adapter.
With high-end features, the 8.03-inch Xiaomi Mix Fold 3 is competing against foldable top dogs such as the Google Pixel Fold and the Samsung Galaxy Z Fold5, and at a very competitive price. Officially, it is only available in China, but can also be purchased via importers.
Manuel Masiero (translated by Jacob Fisher), Published 11/14/2023 🇩🇪
The performance data sheet of the Xiaomi Mix Fold 3 is impressive. The 8.03-inch foldable is powered by the Snapdragon 8 Gen 2, one of the fastest processors for Android mobile devices. Depending on the chosen configuration, there is also 12 or 16 GB of LPDDR5x RAM and between 256 and 1 TB of UFS 4.0 storage. WiFi 7 and fast charging with up to 67 watts are also included. Prices start from around US$1370 for the smallest model (12/256GB).
Up to 2300 cd/m² brightness in HDR mode
A highlight of the high-end foldable is its 6x camera with the Sony IMX800 at its heart, which displayed very good image quality in our review. The Xiaomi also earns plus points for its two bright AMOLED screens, which support a refresh rate of 120 Hz and reach four-digit brightness levels.
The 2160 x 1916 pixel internal display is a touch brighter than the 6.56-inch external display and, when fed with HDR content, even achieves brightness levels of up to 2300 cd/m². It can also reduce its refresh rate to up to 1 Hz using LTPO functionality, making it very energy-efficient.
No LTE band 20
However, the Mix Fold 3 has two major disadvantages. Firstly, the system language is limited to English (in addition to Chinese). Secondly, it does not support LTE band 20, which is important in a number of countries. Despite this limitation, reception problems in urban areas are unlikely to occur. But things are likely to be completely different in rural areas where LTE band 20 is often used to bridge larger distances between transmission towers.
Read the full review of the Xiaomi Mix Fold 3 here.

My fascination for computers started with the C64. Since then, I've put everything that comes my way in terms of hardware through its paces. From the C64 to the Amiga 500 and the first PC with an 8088 CPU, my list of projects has grown increasingly longer. For more than 20 years now I have also turned my hobby into my profession and have been active in the mobile section of Notebookcheck since 2021. Before that, I worked as a hardware editor for IDG Media (tecChannel.de) and VNU Business Publications (PC professional), among others.

Translator: Jacob Fisher – Translator – 359 articles published on Notebookcheck since 2022
Growing up in regional Australia, I first became acquainted with computers in my early teens after a broken leg from a football (soccer) match temporarily condemned me to a predominately indoor lifestyle. Soon afterwards I was building my own systems. Now I live in Germany, having moved here in 2014, where I study philosophy and anthropology. I am particularly fascinated by how computer technology has fundamentally and dramatically reshaped human culture, and how it continues to do so.
Manuel Masiero, 2023-11-14 (Update: 2023-11-14)
>>> Read full article>>>
Copyright for syndicated content belongs to the linked Source : NotebookCheck – https://www.notebookcheck.net/Xiaomi-Mix-Fold-3-review-Xiaomi-s-new-high-end-foldable-only-available-as-a-Chinese-import.767900.0.html