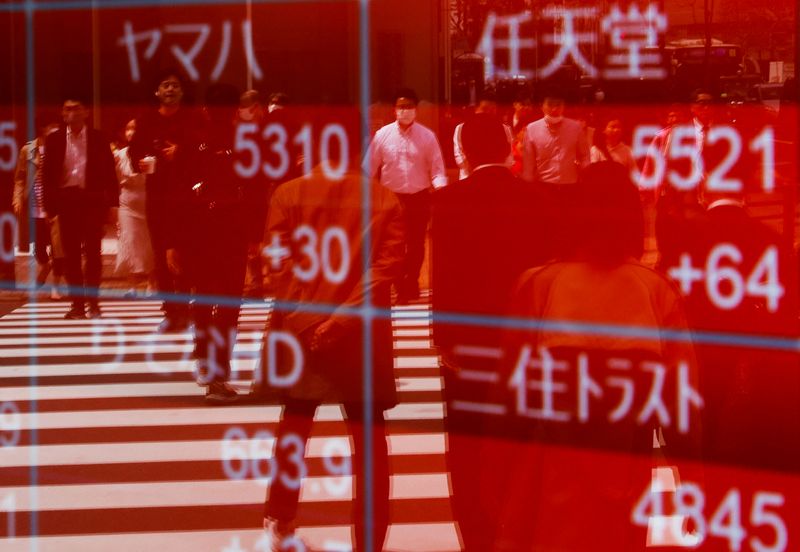 © Reuters. FILE PHOTO: Passersby are reflected on an electric stock quotation board outside a brokerage in Tokyo, Japan April 18, 2023. REUTERS/Issei Kato/file photo

By Tom Westbrook
SYDNEY (Reuters) – Asian stocks hit a one-month low and logged a weekly loss on Friday while the dollar headed for a month of gains after U.S. inflation came in steady without surprising on the low side.
Soft demand at a auction and a blowout in the U.S. budget deficit also weighed on bonds, and their higher yields in turn lent the dollar a leg up – particularly against a yen pinned by yield control in Japan.
The touched a six-week low of 144.89 per dollar in early trade, though volumes were thinned owing to a public holiday in Japan. [FRX/] Its stock markets were closed and Treasuries went untraded in the Asia session.
U.S. stock futures were flat and fell 0.5%. MSCI's broadest index of fell 0.7% with stocks in Hong Kong and China the biggest drag. It was down 1.6% for the week.
Headline U.S. CPI was 0.2% last month, the same as a month earlier, and the details were encouraging – with core goods inflation slowing down and only rents proving stubbornly sticky.
Yet a few hours later San Francisco Fed President Mary Daly told Yahoo Finance that while this was welcome, there "is still more work to do" for policymakers.
"I think the market was hoping with that inflation data that we'd hear Fed speakers say it's unlikely we'll have to hike any further, and the next move is a cut," said Andrew Lilley, chief rates strategist at investment bank Barrenjoey in Sydney.
Benchmark initially rallied on the inflation headlines, but yields were seven basis points higher at 4.11% by the close of trade in New York. yields rose two bps to 4.82%.
Thirty-year yields jumped six bps to 4.24% after a $23 billion auction landed a basis point above where the market was trading. Primary dealers were left with 12.5% of the sale. [US/]
Australian government bonds came under pressure in Asia on Friday, though outgoing Australian central bank chief Philip Lowe told lawmakers the worst was over for inflation and policy has now entered a "calibration stage".
"The U.S. and Australia pretty much have done their job to subdue their inflation," said Nozomu Ogawa, executive director, fixed income sales at Daiwa Capital Markets in Sydney.
"The market should rally from the current levels," he said, with yields over 4% attractive to Japanese investors.
DOLLAR GAINS
In foreign exchange markets, choppy trade in the wake of the inflation data left the on course for a weekly gain.
The is down marginally for the week at $1.0988. The yen was eyeing a weekly loss of 2% as traders judged the Bank of Japan's looser limit on 10-year yields as buying time for shorter-dated rates to stay low.
"If you're going to put a cap on rates, then you expose yourself to a lower currency," said Sally Auld, chief investment officer at wealth manager JB Were in Sydney
"There's also a bit of the story that's U.S. dollar related. Short-end yields are high. The economy continues to do better than people think … one thing we can be confident about is we won't be seeing rate cuts anytime soon."
In stocks, Chinese property companies were taking a fresh beating on giant developer Country Garden (HK:), which slid to a record low after forecasting a $7.6 billion net loss in the first half. The broader fell 0.6%.
In commodity markets, have been jumpy on the prospect a labour dispute at Australian fields supplying 10% of the world's liquefied could disrupt production.
Australia's labour regulator on Thursday cleared the way for workers to vote to strike at Chevron (NYSE:).
futures looked to end the week steady at $86.27 a barrel. British growth figures and U.S. consumer confidence data are due later on Friday.
>>> Read full article>>>
Copyright for syndicated content belongs to the linked Source : Investing.com – https://www.investing.com/news/economy/asia-stocks-slip-as-us-cpi-fails-to-enthuse-dollar-up-3152072