Toncoin has seen a noteworthy 20% price increase over the past week, rising from $1.75 on September 9 to $1.95 on September 15, 2023. With a current market valuation of $6.72 billion, this rise has elevated the altcoin to the No. 22 position.
Within the cryptocurrency arena, there's an unmistakable buzz among market participants as they eagerly seek out the next standout digital asset. This quest is leading to a fascinating shift in the top 20 rankings, as a fresh wave of cryptocurrencies enters the fray.
While established tokens appear to be caught in a somewhat static trading pattern, a select group of digital currencies is demonstrating remarkable resilience and assertiveness, positioning themselves as formidable contenders capable of potentially supplanting their more renowned counterparts.
Notably, Toncoin (TON) has emerged as a front-runner in this battle for prominence, boasting a noteworthy surge of over 50% in value over the last 30 days.
Increased Momentum For Toncoin
The significant price increase in such a short period of time implies increased momentum and interest in this coin. If Toncoin can sustain its steady ascent, it should be able to hit the vaunted $3 mark this weekend or in the coming days.
Meanwhile, the current market sentiment is predominantly bearish, marked by a general consolidation within a constrained price range. Recent price declines have somewhat subdued earlier optimism.
TON market cap currently at $7.1 billion on the weekly chart: TradingView.com
However, Toncoin has managed to attract positive attention in the face of these conditions. It's worth noting that there might be a short-lived negative correction anticipated after the coin breached the $2 mark.
At the time of writing, TON was trading at $2.14, up 12% in the last 24 hours and climbed by an impressive 20% in the last seven days, data from crypto market tracker Coingecko shows.
A notable factor contributing to Toncoin's price surge is its remarkable trading volume. In the last 24 hours alone, Toncoin recorded a trading volume of $27 million, surpassing its 20-day average volume of $19 million by a significant margin.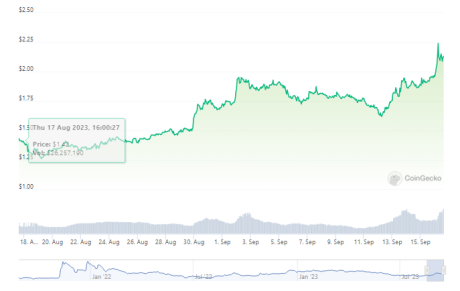 TON price action in the last month. Source: Coingecko.
TON Banks On Increased Trading Volume
An increase in trade volume is indicative of growing interest in and use of a cryptocurrency. The increased number of TON buyers and sellers has led to better market transparency and more efficient price formation. Recent high trading volume has provided the necessary impetus to drive the token's price higher.
On September 14, the Toncoin Foundation and Telegram jointly announced the introduction of TON Space, a novel cryptocurrency wallet designed specifically for Telegram users. TON Space facilitates connectivity to The Open Network ecosystem, which is overseen by the native token of Toncoin.
With this move, Telegram hopes to add more than 30% of its users by 2028. It's interesting that around 700 million people use the leading messaging app for cryptocurrency fans every month.
(This site's content should not be construed as investment advice. Investing involves risk. When you invest, your capital is subject to risk).
Featured image from GetBlock.net
>>> Read full article>>>
Copyright for syndicated content belongs to the linked Source : NewsBTC – https://www.newsbtc.com/news/toncoin-shows-resiliency-with-21-climb/