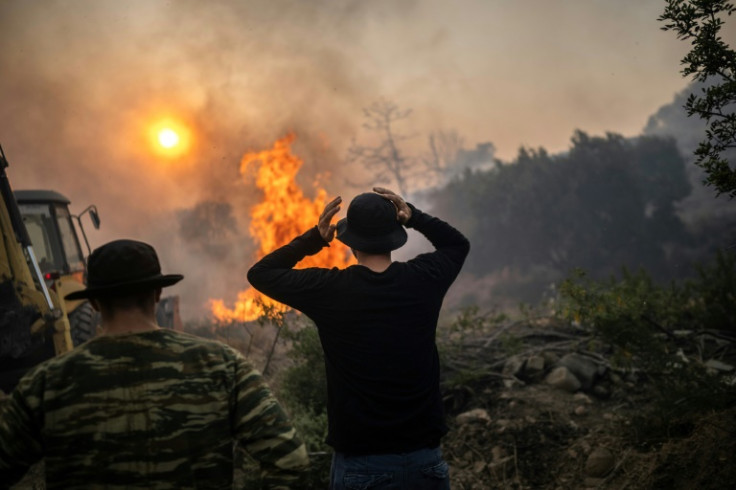 For six days, there have been huge forest fires raging across the southwest of Portugal.
Angelos Tzortzinis/AFP News
Temperatures are expected to hit a record high of 44 degrees Celsius in Spain and Portugal this week, while the two countries are sizzling in their third heatwave of the summer.
On Monday this week, temperatures soared to 46.4 degrees Celsius in Santarem, Portugal. According to provisional data from the meteorological office, the temperature broke the record for 2023.
For six days, there have been huge forest fires raging across the southwest of Portugal. The wildfires have devastated 15,000 hectares of trees so far.
According to the National Civil Protection Authority, the government issued 1,000 firefighters and 12 water-bomber planes to stop the raging flames. At least nine of the response team have been reported as injured in the fire near the southern town of Odemira, Portugal.
Almost 1,500 residents and tourists were also evacuated from the southern area this week, as the wildfires continued to spread close to the Algarve.
The Algarve is most known for being Portugal's tourist hub, lined with villas, hotels, bars, restaurants and Atlantic beaches.
The owner of a holiday cottage in Portugal, Joaquin Dieguez, said: We evacuated our clients to a hotel in Alcantara, but we are really worried because we have an enormous forest here with century-old oak trees. It's awful."
Another local Ana Costa, who is a farmer in Aljezur, revealed: "It was horrible, there was fire everywhere – we had to fend for ourselves. Nobody was there to help us, but luckily I had three friends who came."
Wow, that is a Climate fire! #Portugal is dealing with severe Climate fires, this one near Odemira. Over 800 firefighters and 202 vehicles have been deployed in a massive response effort. The severity of the fire has forced the evacuation of four communities. pic.twitter.com/n7gCKSHgWu
— Peter Dynes (@PGDynes) August 8, 2023
The wildfire near the southern town of Odemira, Portugal.
Experts revealed the recurring heatwaves in the Iberian Peninsula, which have been getting longer and more intense, are a consequence of climate change.
In recent years, the Iberian Peninsula has also been bearing the brunt of droughts and wildfires becoming increasingly common.
Several regions in the south of Spain have also been on orange alert this week, with weather warnings saying that temperatures were expected to rise above the record high of 44 degrees Celsius on Wednesday and Thursday.
Amid its third heatwave this summer, three wildfires have also spread through more than 1,000 km2 of land in Spain this weekend. A fourth wildfire also broke out on Monday in Estremadura, a western region of Spain.
The fire that broke out in Estremadura was near the border of Portugal, and firefighters were unable to contain the blaze overnight.
The north and west of Spain are being hit by forest fires.
The Spanish met office (AEMET) also issued red alert warnings to parts of Madrid in the centre, Basque Country in the far north and Andalusia in the south.
"This will probably be the hottest five August days in 73 years," said AMET.
As well as the heatwave caused by global warming, strong winds are also a huge environmental factor that is pushing wildfires through Spain and Portugal.
Three weeks ago, the Spanish Canary Island of La Palma witnessed a wildfire that was dubbed "out of control" by Fernando Clavijo, the President of the Canary Islands.
At least 4,000 people were evacuated, while 10 aerial units and 300 firefighters were put on the ground to fight the flames.
Ruben Del Campo, a spokesperson for AMET said: "It's going to be generally a more intense and extensive heatwave, and a little longer compared to the two heatwaves that we have experienced previously in the month of July."
A local in Carrascal, a region in Spain where fires have been reported as under control, also noted: "It took so long for someone to come and help us. There were no firemen. It was the helicopters and planes that came in. Without them, we'd all die here. All of us."
Pointing to the blackened land, the man said: "Look at all that has burned here!"
© Copyright IBTimes 2023. All rights reserved.
>>> Read full article>>>
Copyright for syndicated content belongs to the linked Source : IBTimes – https://www.ibtimes.co.uk/wildfires-continue-rage-through-portugal-spain-1718365