We hope you love our recommendations! Some may have been sent as samples, but all were independently selected by our editors. Just FYI, BuzzFeed collects a share of sales and/or other compensation from the links on this page.
We see you, plush fringed throw.
1.
A taper candle holder to decorate your mantle or dining room table. This accent piece has a vibrant brass finish, and easily fits a single taper candle. To add even more life to your space, group multiple candle holders together.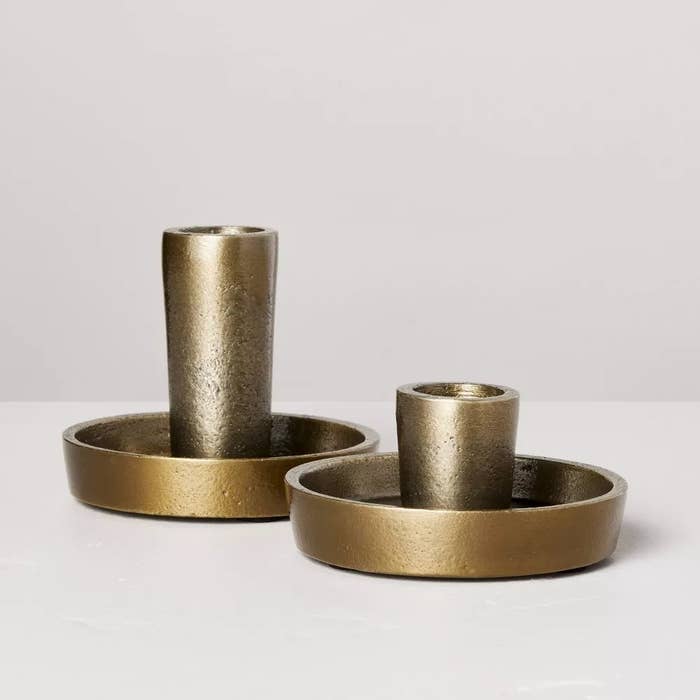 Target
Promising review: "This candle stick is solid with good weight. It has a sharp post to help hold a candle. The finish looks like antique hammered brass and has a solid construction. The base is large enough to handle a fair amount of wax and has a finish that should allow for easy cleaning." —ohmygoshua
Price: $9.99+ (available in two sizes)
2.
A succulent-print shower curtain that's just too fun to ignore. While the bottom half of the shower curtain features vibrant orange, yellow, and green hues, the top half is mostly white, so it will still go with just about any bathroom decor style.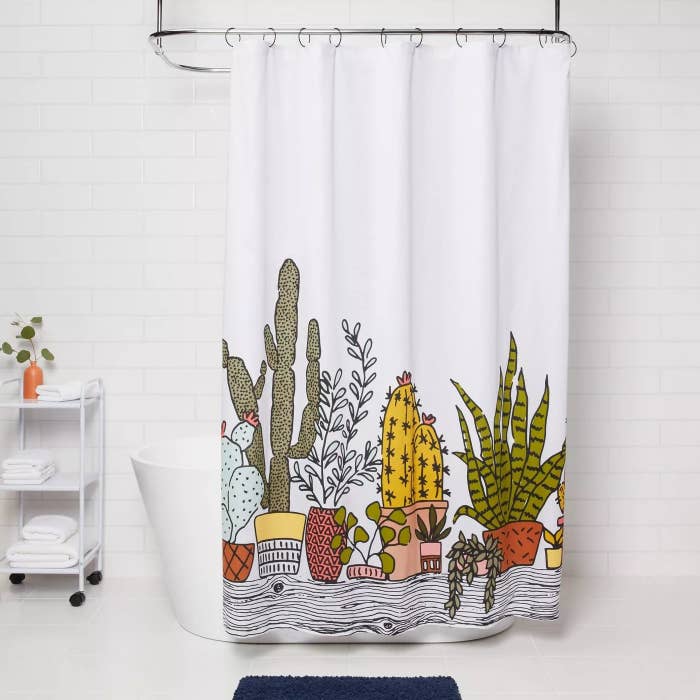 Target
Promising review: "This curtain is a nice weight and looks terrific! The colors are vivid and blend well with several different backdrops." —None
Price: $16
3.
A chalkboard calendar because organizing your life is important, especially if you can do it in a stylish way. The calendar is magnet compatible and includes two white chalk pencils with magnetic clips and a gold magnet.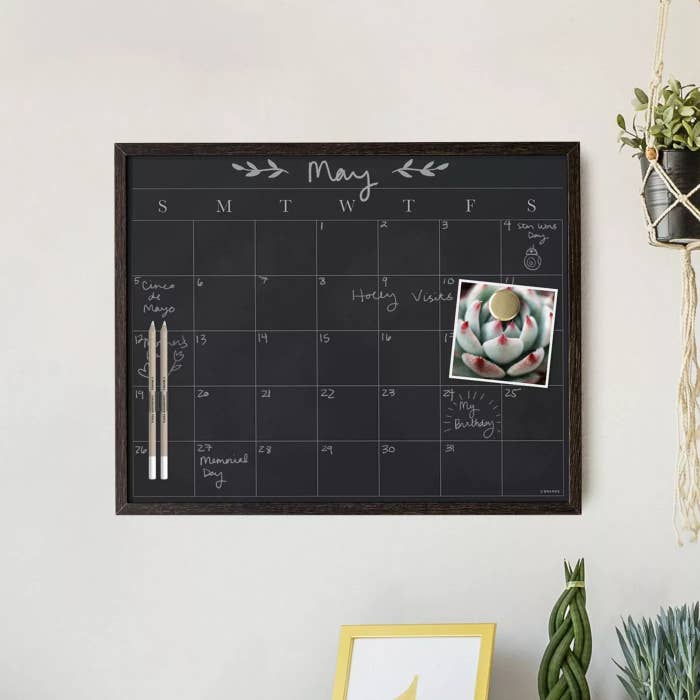 Target
Promising review: "I love this calendar more than I could put into words! When I moved into my new house, I wanted a new calendar (I was using a whiteboard). This just adds something more! It's more sophisticated than a whiteboard, and it looks so good my sister asked for one for Christmas! It's easy to clean and the chalkboard pencils and markers from the same brand work like an absolute dream!" —cfumerola
Price: $15.99
4.
A sturdy coir doormat that says "Yay! You're here!" to immediately let your guests know exactly how welcome they are in your home.
Target
Promising review: "I've gotten so many compliments!! Love the quality and it's so cute." —samin
Price: $13
5.
A natural-finish wooden picture frame so you can show off your fave pics while also making a style statement. This neutral frame features a debossed pattern all around and can be displayed vertically or horizontally.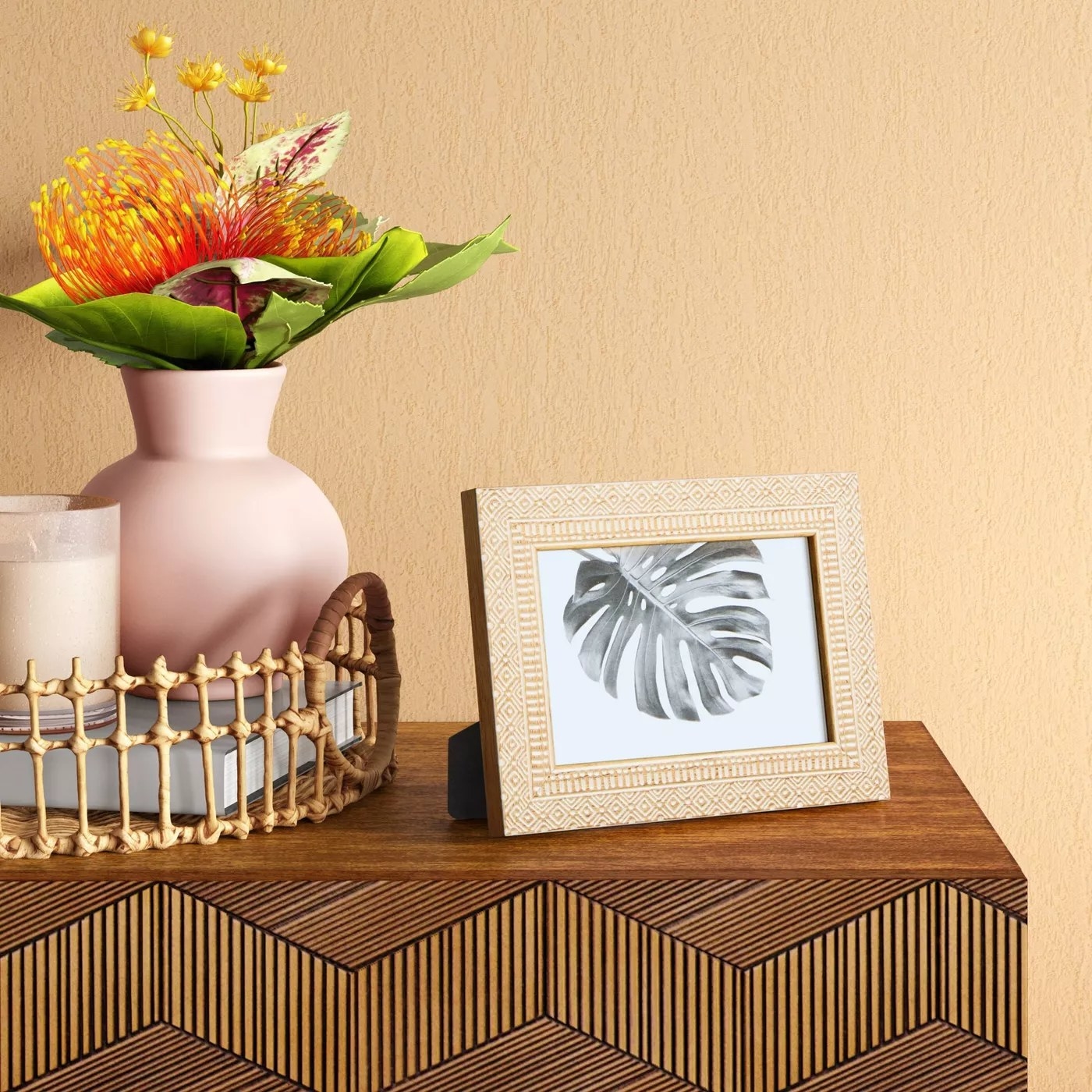 Target
Promising review: "I needed something basic, but not boring. This frame goes with any picture, and I love it." —Tbrown
Price: $6
6.
An over-door shoe organizer with 24 pockets to keep your sandals, sneakers, and slippers in one place. This organizer features a mix of solid and mesh panels in front of each pocket, and can hold various accessories as well. You can even use it in your pantry for snacks or in your hall closet for cleaning supplies!
Target
Promising review: "This over-the-door shoe rack is a perfect addition to free up closet or floor space in any home. The sturdy canvas cloth design is much quieter than the metal shoe racks I've had in the past. It's nice neutral gray color makes my random array of shoes look tidy and uniform. The slots are big enough for my women's size 9.5 Nike Airs! The mesh pockets at the top are a thoughtful addition and perfect to hold small accessories or shoes. Also, the front ends of the four over-the-door hooks are capped and stick out just enough to hang ball caps, thin scarves, or handbags." —AMO
Price: $19
7.
A set of 10 outdoor string lights in case you want to illuminate your backyard or terrace. There's an adorable rattan hood shade around each individual bulb, and the lights plug in, making them super easy to use. For even more light, you can string multiple sets together.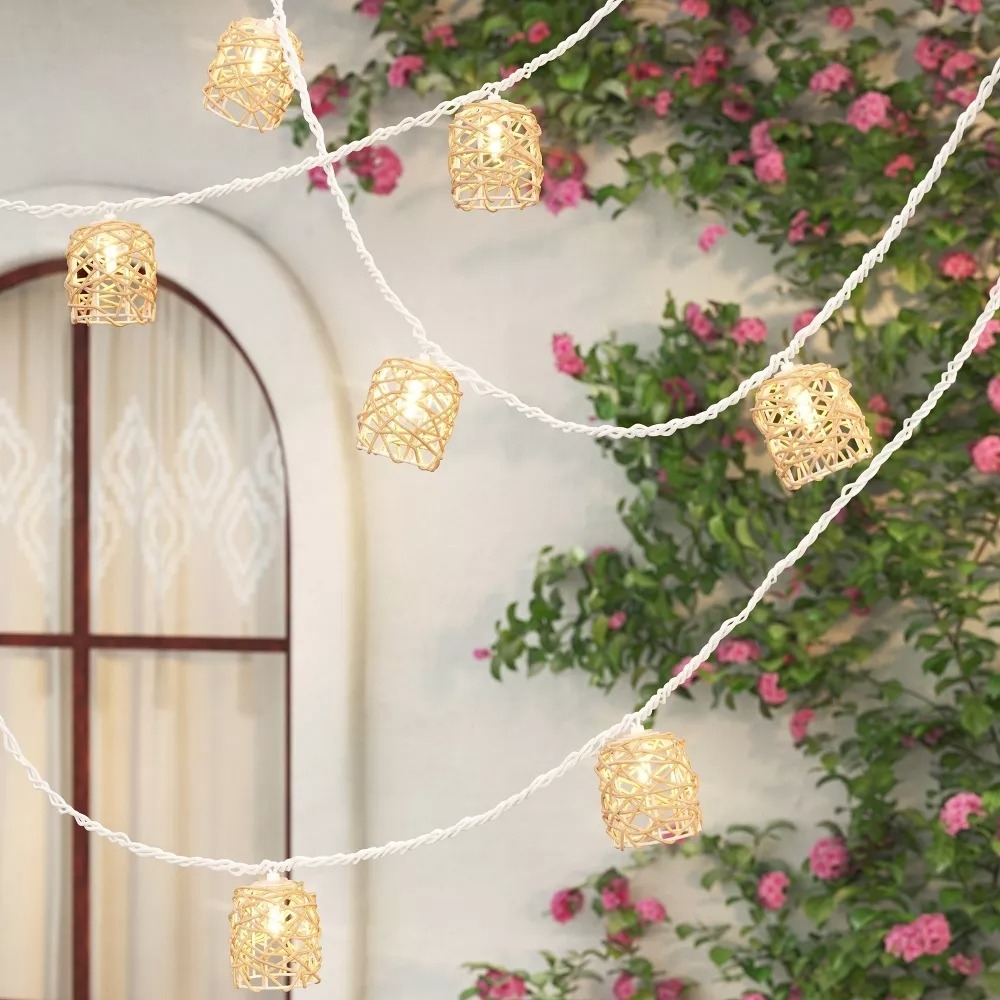 Target
Promising review: "These are so beautiful!! I have them set up in our gazebo and they are just stunning. Purchased several." —Rve
Price: $17
8.
A chenille bath rug so you don't slip after taking a shower or a relaxing soak. This woven rug is a great way to add some color to your bathroom without going overboard. Reviews love that it is comfortable to step on and machine washable.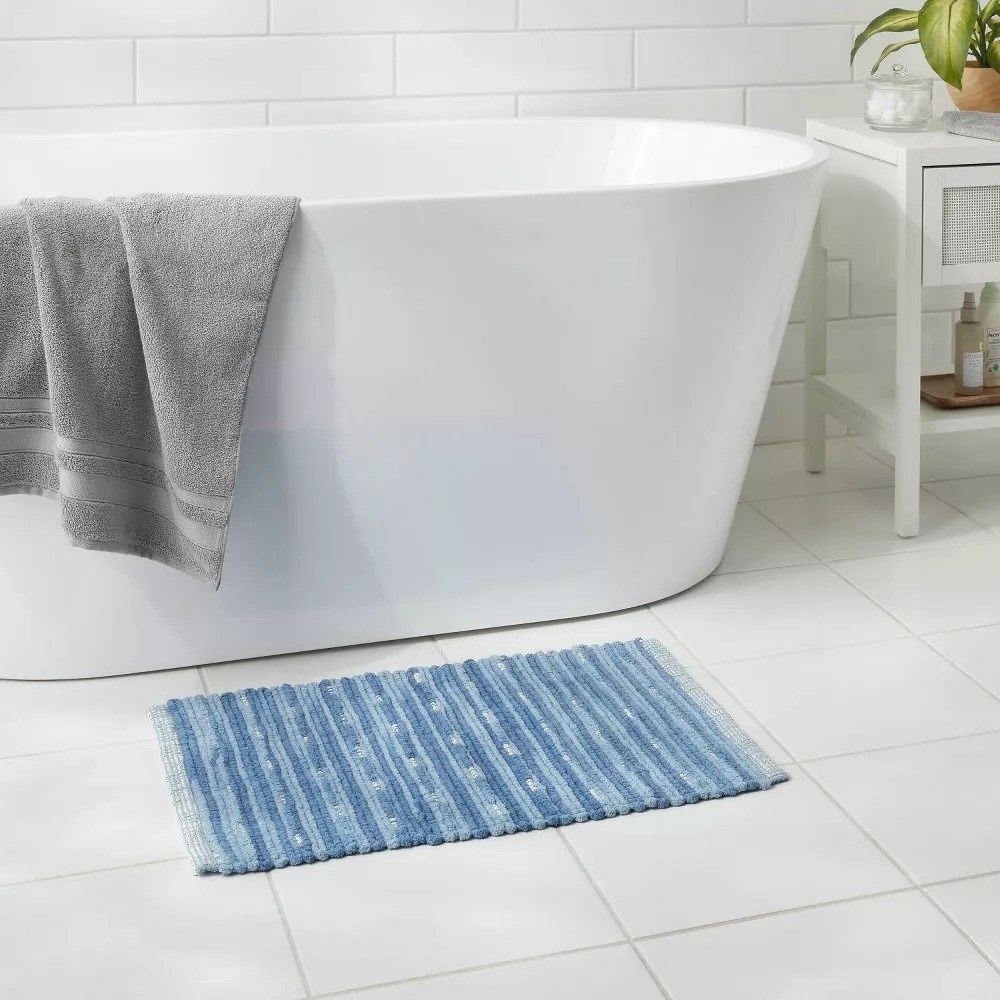 Target
Promising review: "Such a cute soft rug!!" —J
Price: $14 (available in two colors)
9.
A ceramic mini table lamp for that corner of your home that never quite gets enough light. This abstract fixture is ideal for an entryway console or end table, and even comes with its own white drum shade.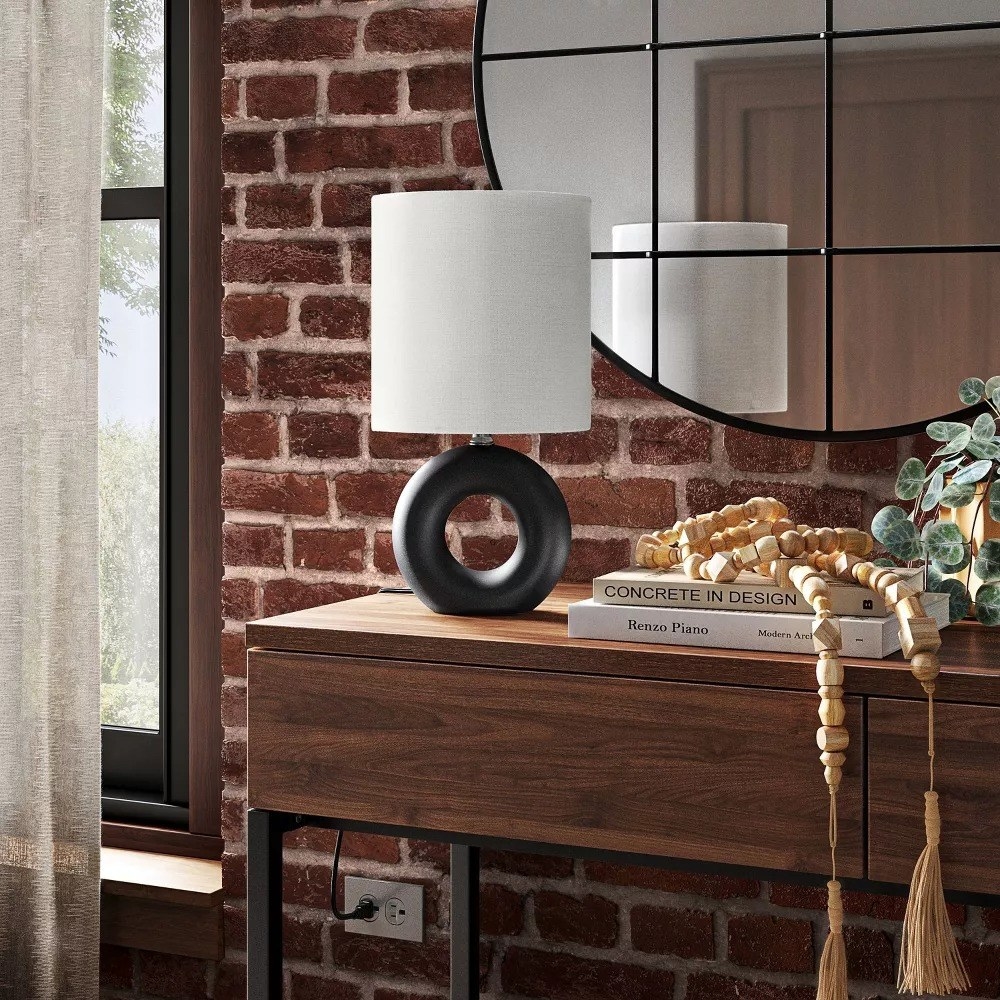 Target
Promising review: "I love these little lamps!! I've bought a few throughout the years and they're a simple addition that adds the perfect soft light + cozy feel to a room." —trhodes
Price: $12+
10.
A square throw pillow with a floral pattern in case you're looking to bring a pop of color to your living room or bedroom. This colorful accent features a cotton exterior with plump filling that's both easy to clean and comfortable to lie on.
Target
Promising review: "My home has a blue floral theme and I thought this would be the perfect addition, and it is!" —PineappleBath
Price: $10
11.
A soft, fringed throw that'll add some coziness to your space. Pop this machine-washable neutral blanket over the back of your couch or at the foot of your bed, and snuggle up with it the next time you're watching TV or reading a book.
Target
Promising review: "This is a great, simple throw blanket to add a pop of color! It's pretty thin, but yet soft and warm. This would come in handy in the warmer months, rather than my other thicker throws and blankets." —Ashton
Price: $19.99 (available in two colors)
12.
A hanging mirror with a light wood frame in case you're looking to add depth to your space. This round mirror has a built-in strap for easy mounting wherever you like, and goes with any decor style.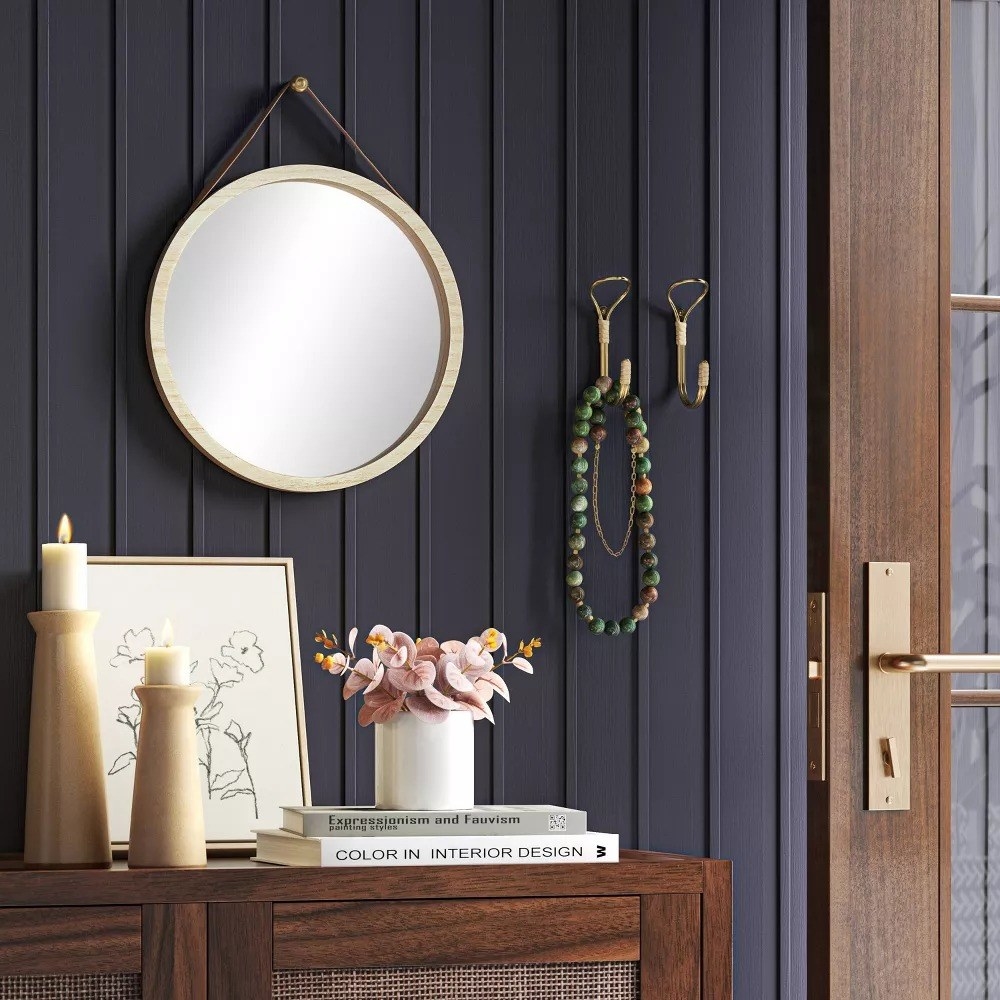 Target
Promising review: "Absolutely love this mirror. I hang it in my office. It's the best size and even has a faux leather strap that makes it look more expensive than what it is!" —Amanda
Price: $10
13.
A three-wick candle with a wooded sage scent to fill your home with the aroma of the outdoors without having to set foot outside. This elegant soy candle boasts notes of sage intermingled with pine-like cypress, woodsy olive leaf, fruity rosewood, and smoky charcoal.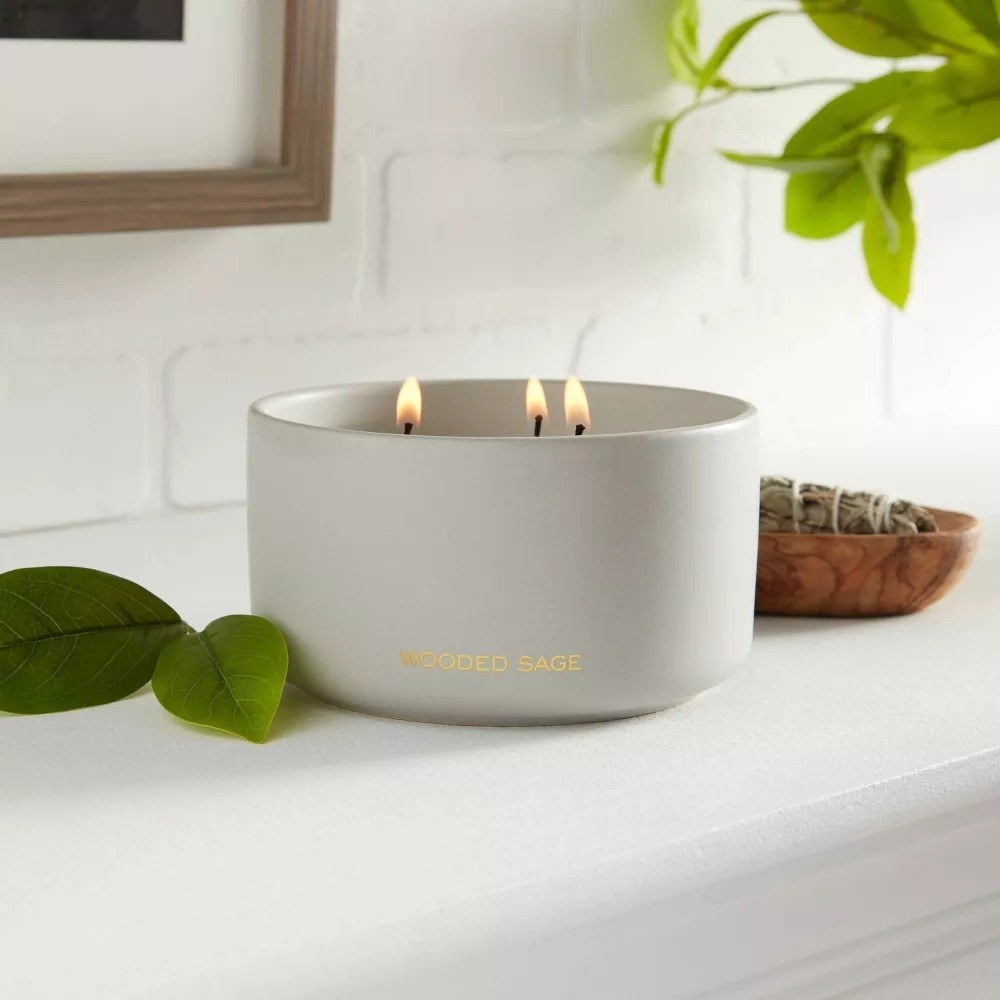 Target
Promising review: "This is one of my top scented candles! Not too masculine or feminine. Scent is very strong. After the wick runs out, it continues to keep my room scented." —RC
Price: $16
14.
A bright hexagon shelf to add a pop of color to a kid's room or home office. The shelf is ideal for storing toys, books, and other knickknacks that you'd like to display, rather than stowing them away on a bookcase or in a drawer.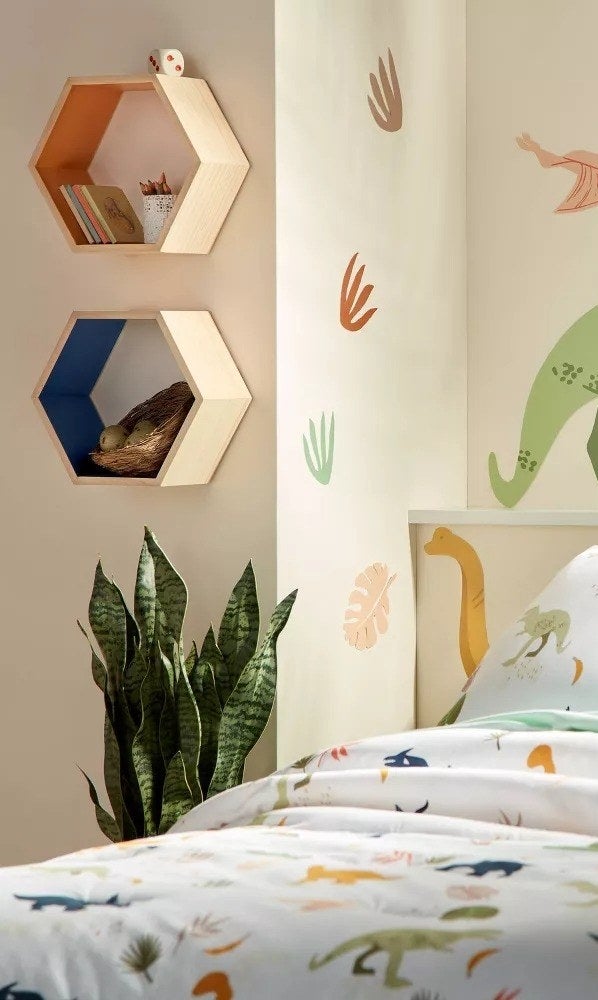 Target
Promising review: "These little shelves are incredibly cute, lightweight, and easy to hang. They have a saw-tooth style hanging bracket on the back, so they only require one nail each! I bought the yellow, and it's almost an autumnal gold shade. I would buy these again." —Leona G.
Price: $15 (available in two colors)
15.
A heathered curtain panel because sometimes you want a little bit of privacy. Each machine-washable panel is able to darken the room while adding style to your space, and comes with a rod pocket so you can hang it easily. Just note that you'll need to purchase two panels if you want to cover both sides of a window.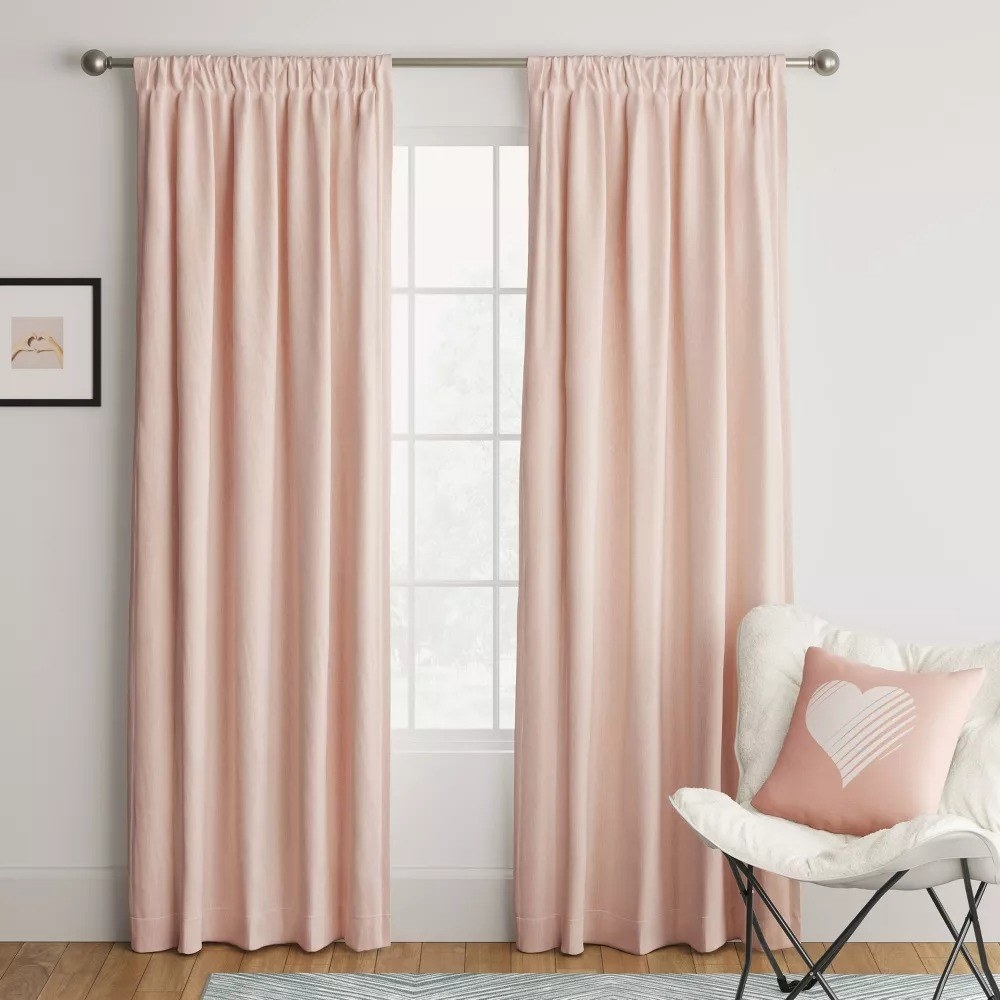 Target
Promising review: "These work so so great! I have them over each window in my home. And it has significantly reduced the amount of heat coming into each room. They are also great to keep the lights from outside coming in." —Cody
Price: $11 per panel (available in two sizes and four colors)
16.
A denim-inspired placemat to bring some color to your dinner table. This textilene placemat helps protect your table from messes and is super easy to clean, in addition to being completely adorable.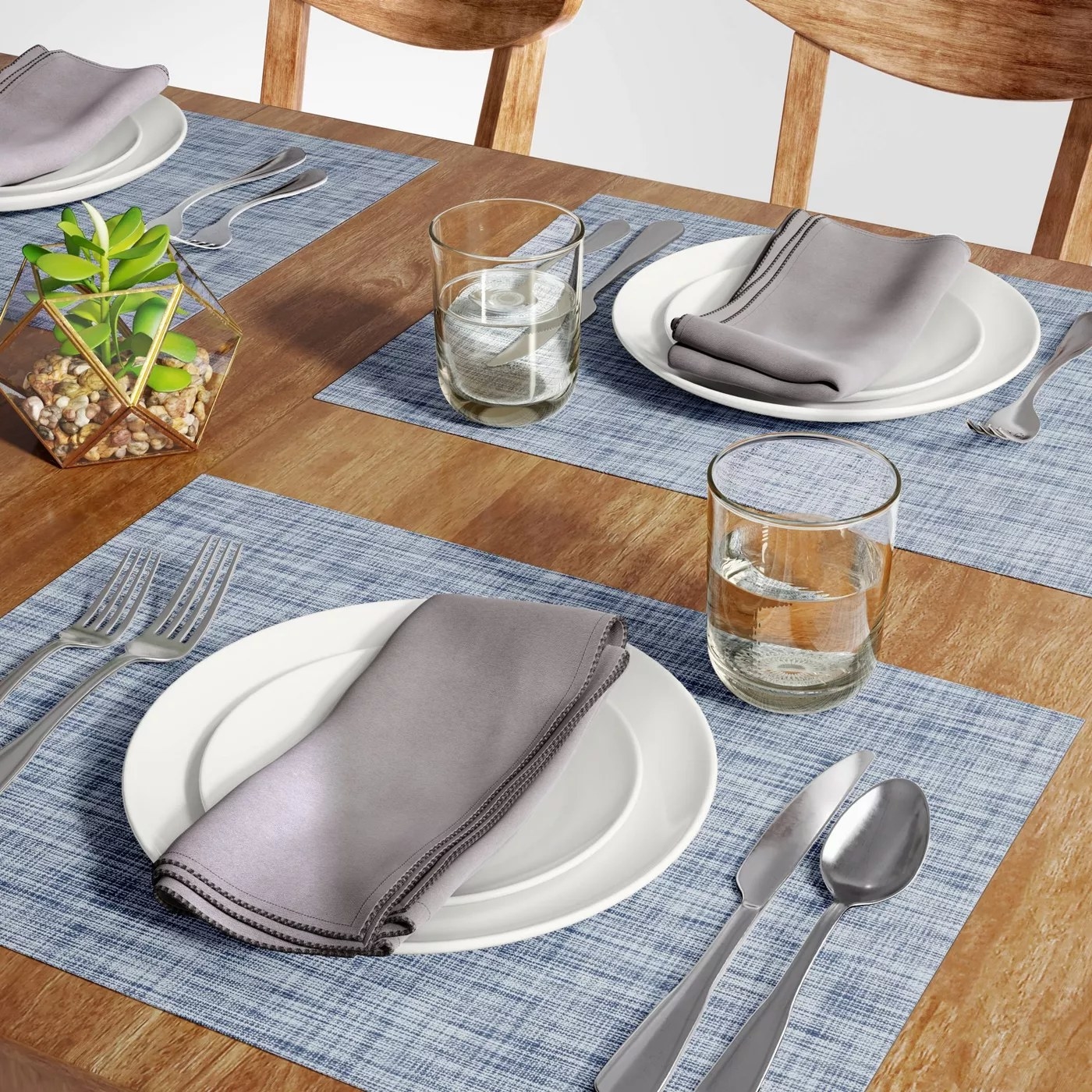 Target
Promising review: "These are classic and beautiful. We look forward to using them both indoors and outdoors. Easy to clean. So happy with the color!!" —boymom2
Price: $3
17.
A coiled rope storage basket that provides a creative way to store toys, extra pillows, and more. With 13 inches of storage space and contrasting handles that make transportation from room to room ridiculously easy, you can't go wrong with this purchase.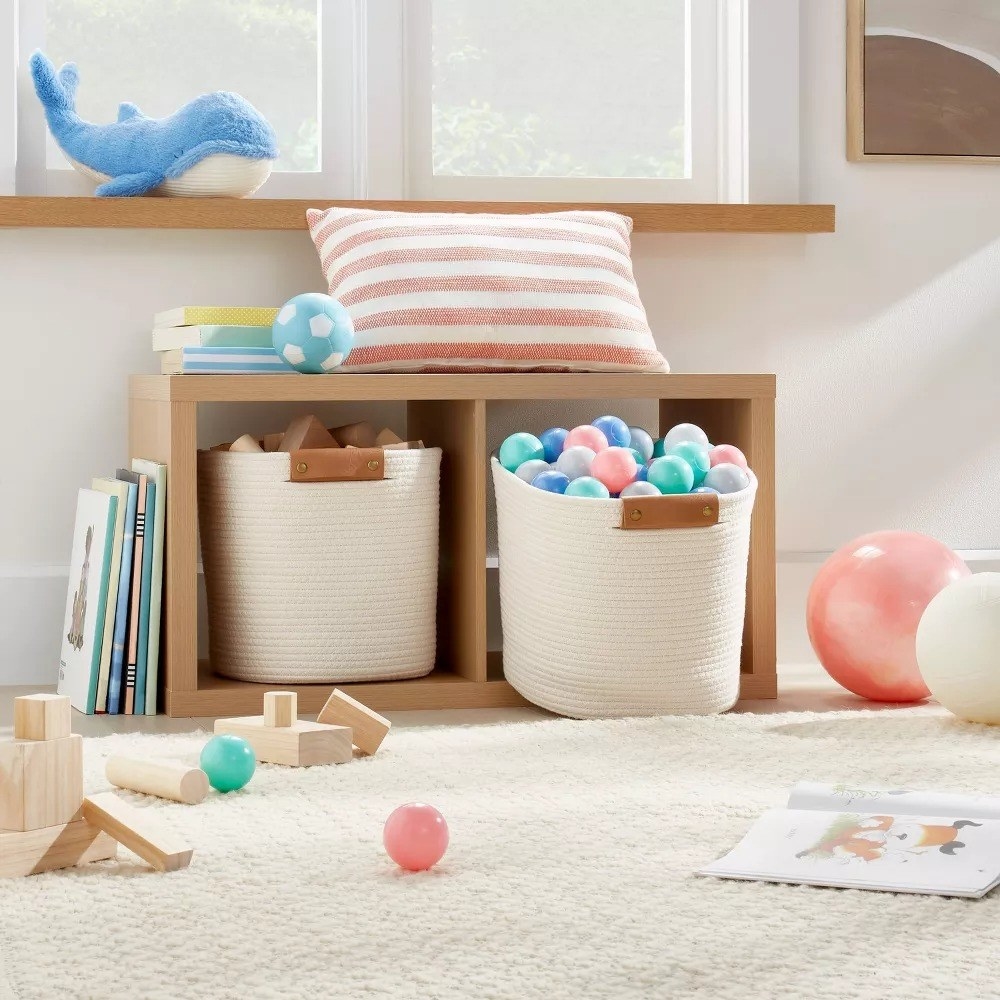 Target
Promising review: "This great find is just perfect in my room to hold essentials in a non- messy way. Just love the look with leather handles! It's an essential that won't be disappointing." —Deb
Price: $16 (available in three colors)
18.
A self-watering hanging planter because sometimes, it's tricky to remember to keep your plants hydrated. This piece takes the guesswork out of watering by filling the reservoir in the bottom so the plants can absorb from above.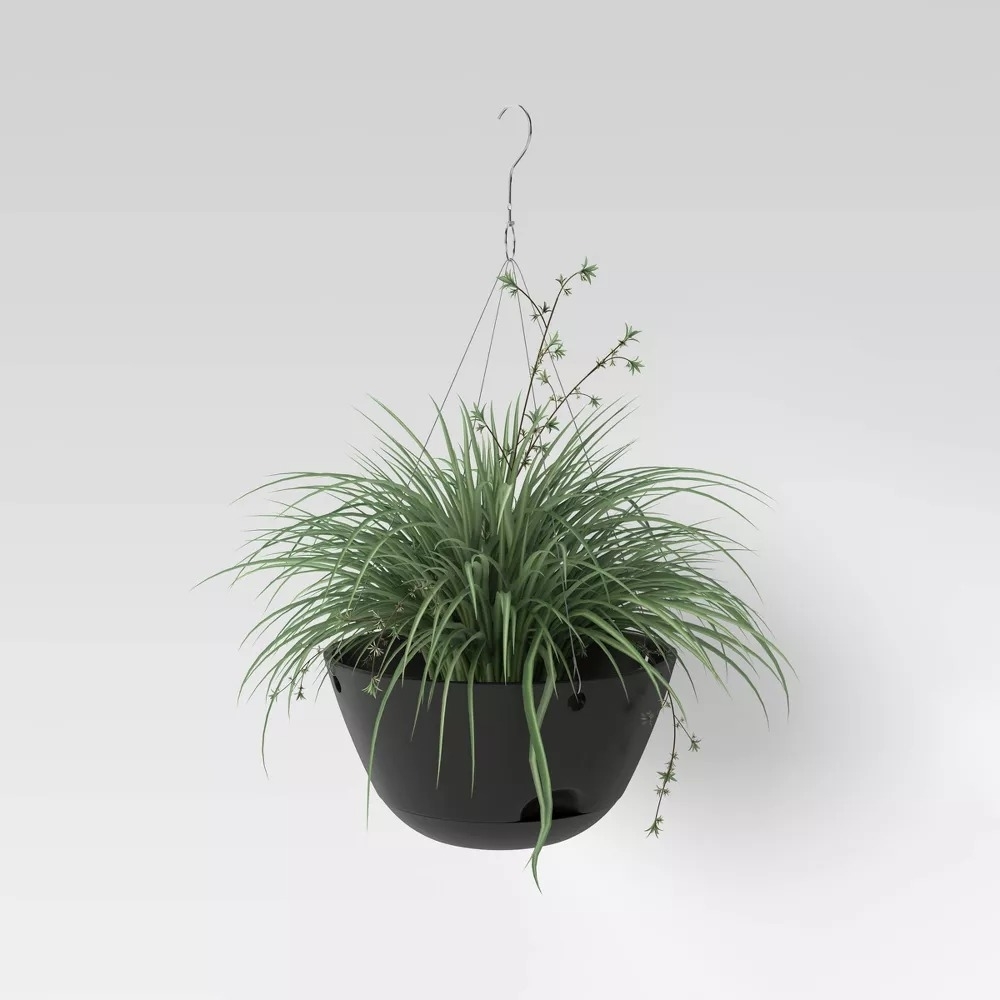 Target
Promising review: "Love the self watering feature. It has helped with not having to water as frequently, as intended. My basil has grown phenomenally in these hangers. Also, the build quality has surpassed my expectations, even though it looked flimsy. The cable ties have held up. Would buy more." —Slmdyota
Price: $10 (available in two colors)
19.
A full-length mirror to hang or prop up against a wall so you can check your fit before you leave the house. This mirror is inspired by French country design and will add charm to any room.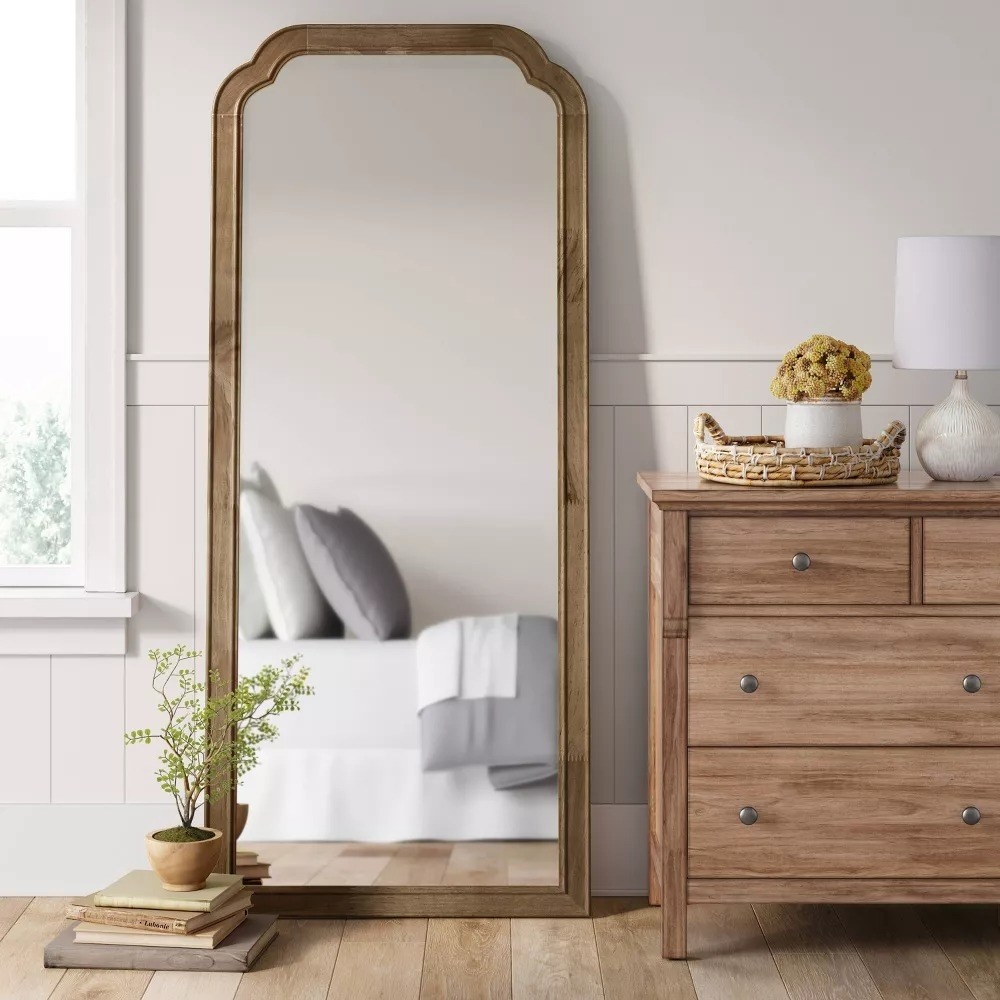 Target
Promising review: "The size of this mirror is really great for the price. The wood finish is also gorgeous. Very happy with this purchase." —HeatherL
Price: $120
20.
A pair of framed vase lithographs to hang on an empty wall. Each realistic vase drawing is in a black frame, which means it goes with just about anything. Hang these pieces together, separately, or even as part of a larger gallery wall.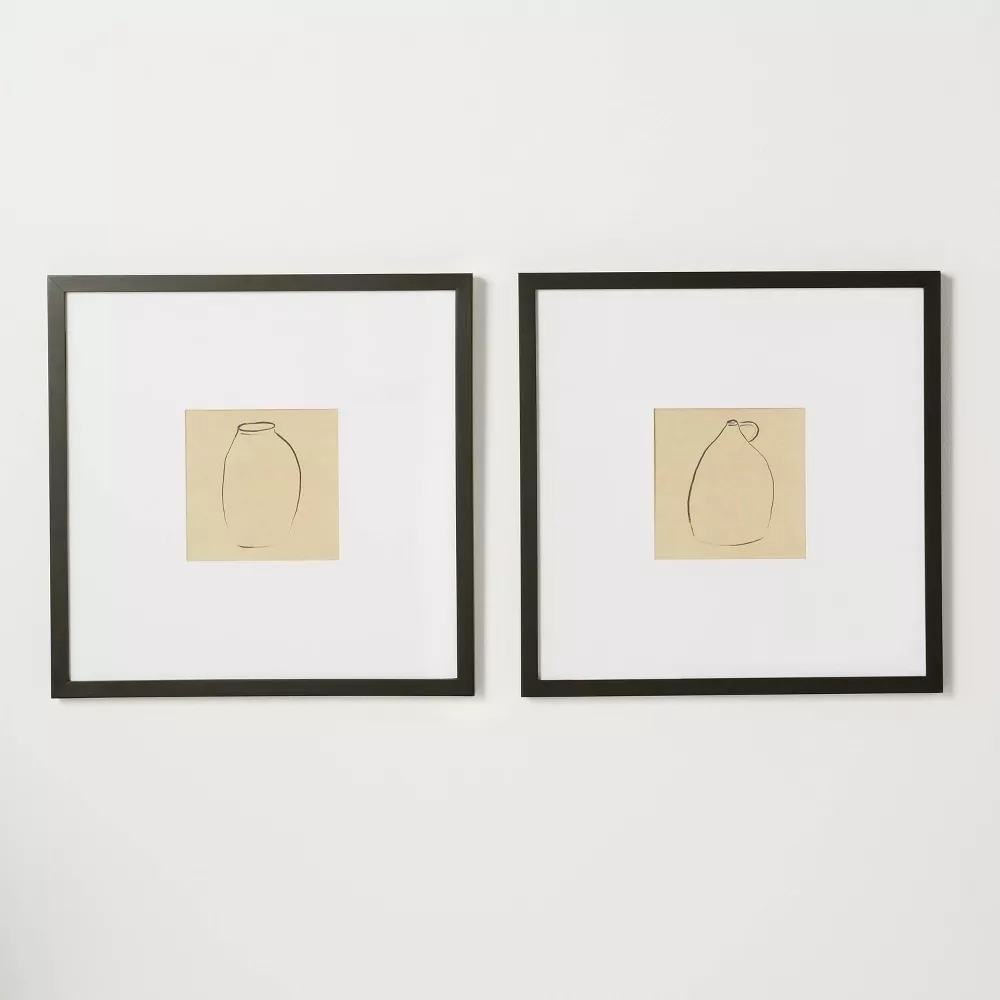 Target
Promising review: "Simple but Beautiful! I needed something to put at the end of our hallway and these are just perfect! 100% satisfied with this purchase!😍." —Naomi
Price: $42.50 (originally $50)
The reviews for this post have been edited for length and clarity.
>>> Read full article>>>
Copyright for syndicated content belongs to the linked Source : Buzzfeed – https://www.buzzfeed.com/samanthaleffler/affordable-target-home-products-that-are-honestly-very