For as long as there's been communication, there's been promotion.
From the ancient babylonians scratching messages on mud-brick walls, to post-web 2.0 agencies creating data-driven PR campaigns – publicity has taken many different forms throughout the ages.
So what does it take to create a successful digital PR strategy?
The truth is there are a thousand one one ways to raise your brand or clients' profile.
In this guide, we'll take you 10 steps that nearly every PR specialist will undertake when looking to earn press.
What is digital PR?
Digital PR is the practice of boosting awareness online. Usually a PR specialist will be tasked with promoting a brand, company, person, or event.
Typically, digital PR is driven by the traditional PR tactics of relationship building and creative ideation.
It tends to incorporate elements of multiple disciplines, including:
Content marketingInfluencer marketing SEOSocial mediaContent creationDesign
In this guide, we're going to be focusing primarily on the process of pitching journalists and earning media coverage.
What are the results of digital PR?
Digital PR can turn up some incredibly powerful results when it comes to:
EngagementOrganic trafficDirect trafficBrand awarenessBrand perceptionLeadsConversionsSales
When your brand is endorsed by a well regarded source, it earns credibility by association.
As a result of your well crafted PR (whether that's expert commentary, first-party data, third-party analysis, OOH creatives), these media outlets are now advocating for you.
Because of this, customers are infinitely more likely to put their trust in you.
A combination of coverage and unique content means a target audience is far more likely to recall, research, and even convert with your brand – especially if your PR is cleverly coordinated alongside discounts or other sales incentives.
Example:
How digital PR strategies can lead to real sales bumps
Performance Brand Agency Journey Further worked with brand Sports Direct to build a digital PR strategy which led to coverage, traffic, and revenue uplift.
The objectives
Journey Further were brought on board by Sports Direct to help them build awareness, drive up organic visibility, and land relevant press coverage during an incredibly competitive time: back-to-school season and the cost of living crisis.
The audience
The team worked with their client to define and research the target audience: budget-conscious parents of pupils (aged 4-16), looking for affordable items in a name they could trust.
The research
During their brainstorming and validation process, the Journey Further team spotted strong search volume interest in "school shoes" and "children's shoes fitting", and dived into their own first-party data to research the problem.
The outputs
From their research, they made the decision to source expert commentary, and develop the following campaign formats:
– Creative campaign
InfographicsShoe fitting guideThird-party expert commentary from a PodiatristSurvey dataBrain teaser graphic
– Multi-angle PR stories
– Limited time 10% off customer discount code
The results
As well as gaining links from 51 tier 1 national and regional publications routinely read by parents, Sports Direct saw 37% organic uplift for key category pages.
But critically, the PR strategy Journey Further built for Sports Direct led to thousands of pounds in additional revenue, generated from the campaign's supplementary discount code.
Authoritative media outlets linking to your brand can also be a strong signal to search engines that you are an authority on a certain subject matter.
Ahrefs challenged this point recently, but Kelsey Libert from Fractl provided strong evidence to prove the value of digital PR on traffic, authority, and SEO in her BuzzSumo blog: PR Links and Earned Media CAN Lead To Organic Traffic. Here's How…
It's well worth a read!
How do you create a digital PR strategy?
Your digital PR strategy will differ slightly depending on whether you're looking to promote your own brand (in-house) or that of your client (agency side).
But typically, digital PR strategies follow this formula:
1. Set your goals
As with any strategy, you need to decide what you (or your clients) want to accomplish, so you can measure against it at the end.
Remember to make your goals a qualitative statement, then quantify them with key results.
For example:
Goal: Boost campaign-relevant traffic to the website
Key result:
Get 25 links to a targeted campaign landing page Generate 1K sessions to a targeted campaign landing page
Goal: Land far-reaching coverage in major online publications
Key result:
Earn 10 pieces of syndicated contentLand coverage in 6+ publications with a domain authority of 85+
Here are a few more examples of key results PRs might measure coverage by:
Number of clicks / amount of trafficUplift in rankingsNumber of links built (do-follow / no-follow)Number of brand mentions Number of cocitations (links to content mentioning your brand or campaign)Number of impressions generated Coverage gained in a specific media outlet Number of PR assisted sales
2. Organize budget, sign-off, innovation level, and documentation
At this stage of your digital PR strategy, you'll want to:
Decide the budget you are able allocate to the campaign (if any)Determine the sign-off process (try to negotiate as few tiers of sign-off as possible)Agree upon the level of innovation
By "level of innovation" we mean how "out-there" an idea is able to be.
In their webinar How To Pitch Creative Ideas That Actually get Signed Off – Bottled Imagination revealed how they mark all of their campaigns up on an "Innovation scale", and have a great PR strategy for getting buy-in from clients for more "creative" press ideas.
This example is used for agency pitching, but the same can be applied in-house.
Find out more about Bottled Imagination's "Innovation scale" for pitching PR ideas
During this stage you should also be documenting everything.
Digital PR expert Stacey MacNaught creates a "Good-to-go" Google Drive folder containing:
Google Form client interviews, for journalist requests (email, bio, contact details etc.)Signed-off comments from clients on relevant topics, as their comments can be used for all kinds of journalist contributor requestsExpert/contributor images and headshots (color, black & white, transparent background etc.)
She then adds to it throughout the process.
Digital PR specialist Michelle Garrett does something similar. In her blog Do Editorial Calendars Still Matter When Pitching the Media? she writes…
Although these are agency tactics, documenting is just as crucial in-house.
3. Define the audience
Whether you're pitching journalists or driving traffic, relevancy is more important than ever in PR right now.
Relevancy in pitching terms means choosing the right journalists with the right audiences.
Relevancy in traffic terms means driving those audiences to the right pages, with the right keywords, to improve topic authority in search engines.
And getting the first bit right makes the second bit a whole lot easier.
Relevancy is key today because boardrooms and clients are demanding more than just top of the funnel results from digital PRs.
They want audiences who are considering and converting.
And for that, they need to get in front of hyper-relevant audiences.
The only way you can do that is by forensically investigating the audience of your brand or client.
SparkToro is great for this.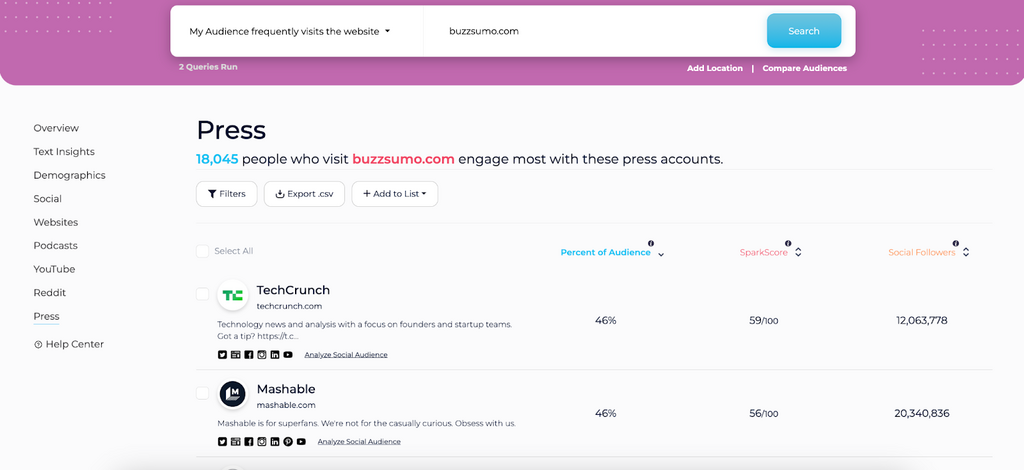 A quick domain search in the SparkToro dashboard will show you key audience insights, including:
DemographicsSocial accounts they followWebsites they interact withPodcasts they listen toSubreddits they're members of and, crucially…Press accounts they find most engaging
I have been on the receiving end of agency pitches that have been way too generic. The problem? The person pitching didn't ask our team about our own audience – an audience which we spend most of our working days trying to figure out.
Tools are a crucial way of getting into the mind of an audience, but nothing can replace talking to customers, customer-facing teams, and – if you're agency side – clients.
All of the information you gather will be key to coming up with a relevant press idea.
4. Research your press idea
Once you know who you're targeting, you can get creative. Here's 3 ways to do that with BuzzSumo
Explore topics your audience actually care about
Take the topics that you found in your customer/client interviews and via SparkToro, and search them in the Content Analyzer to get examples of top headlines. Scan this content for subtopic ideas, then check the Content Analysis Report to verify whether a topic will definitely drive engagement – don't forget to turn on the journalist filter to see what topics are most likely to be picked up by press!
Here's a video of how to do just that…
How to use SparkToro and BuzzSumo to find press topic ideas
Upcycle ideas from content your audience already consumes
If you found your audience's top websites and press sites in SparkToro, search them in BuzzSumo's Content Analyzer.
This will show you their most engaging articles, so you can get ideas for your own PR, and ensure it's topically relevant when you come to pitch that publication.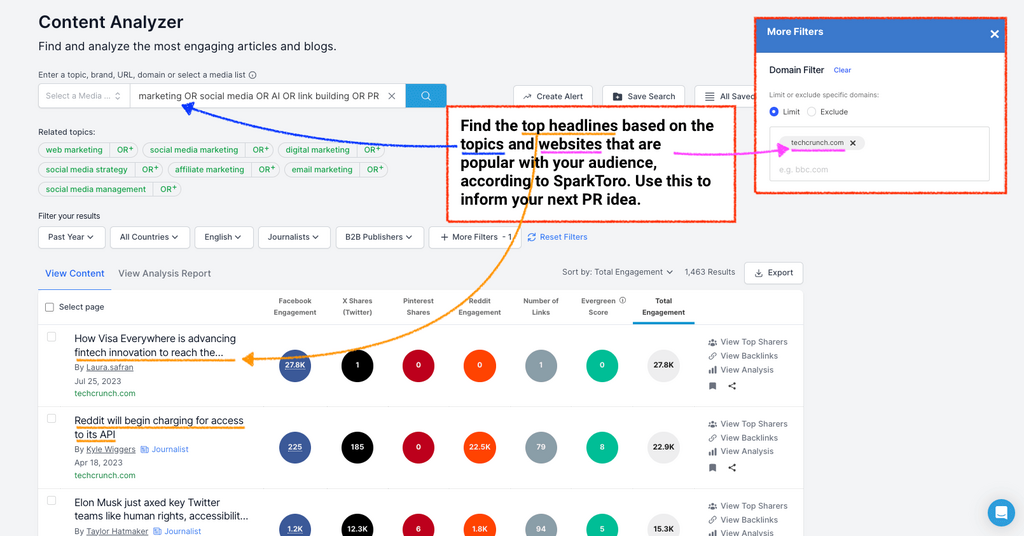 Get inspiration from existing PR campaign examples
Track down successful digital PR campaigns in BuzzSumo by searching your topic + a typical campaign format in the Content Analyzer. For example, search "AI + report" and scan the headlines to get ideas from other PR that managed to drive impressive shares and links.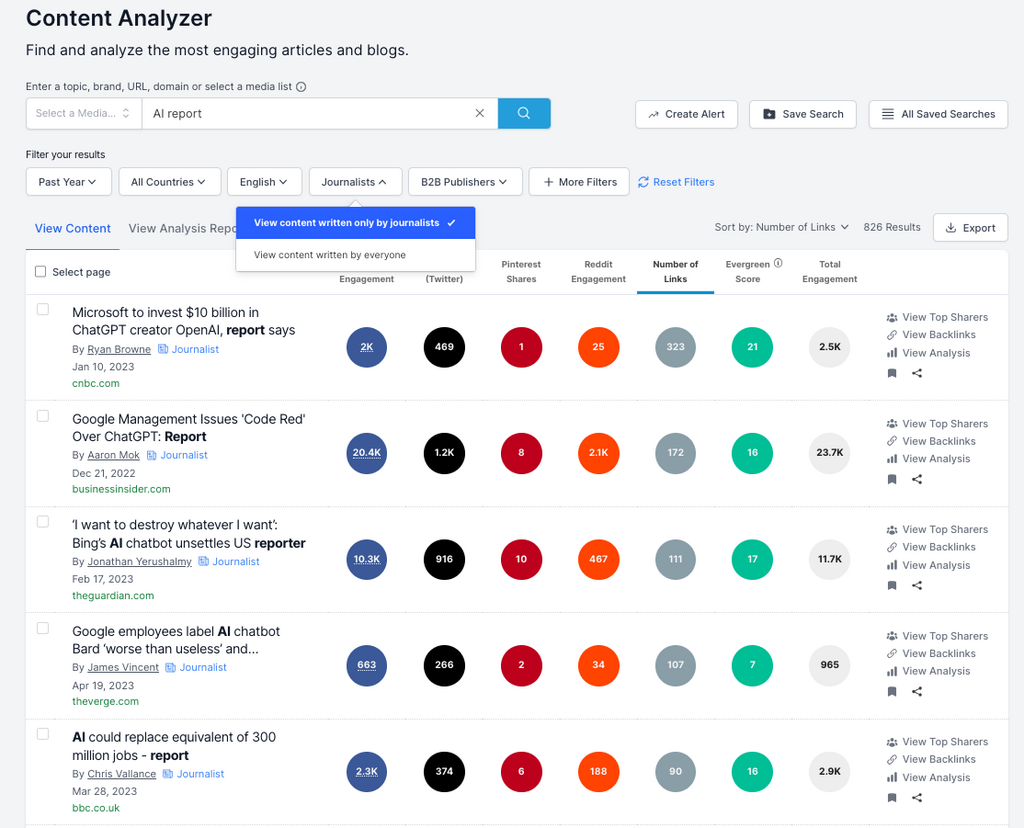 Once you have a bunch of relevant topics, start brainstorming your actual press idea.
At this point consider:
The campaign formatYour "innovation level"The agreed upon goals and key resultsThe budget and resources
5. Pitch an idea and get it signed off
This is when you really need to focus on validating your idea with data. Why should your team or clients buy into it? How does it help them achieve their goals? For the decision makers: how will it save or earn them money?
Here are a few ways you can build trust in your idea:
Prove engagement
Can you prove that there is a strong appetite for this kind of PR content using social media engagement?
Showcase cost savings
Do the keywords you're targeting have a high CPC – meaning it's more commercially viable to earn relevant coverage and organic traffic vs. spending out for it via paid media?
Prove SEO potential
Present the number of links, and the amount of traffic opportunity your campaign topics are able to earn.

6. Create the campaign and final review
Start pulling together all of your strategic outputs.
Once your campaign is at the point of final review, you should start documenting information from anyone who needs to pass comment – ie. clients or experts.
Kelsey Libert, Co-Founder of Fractl, reported that she's increasingly receiving requests for commentary and quotes, alongside all kinds of PR campaigns.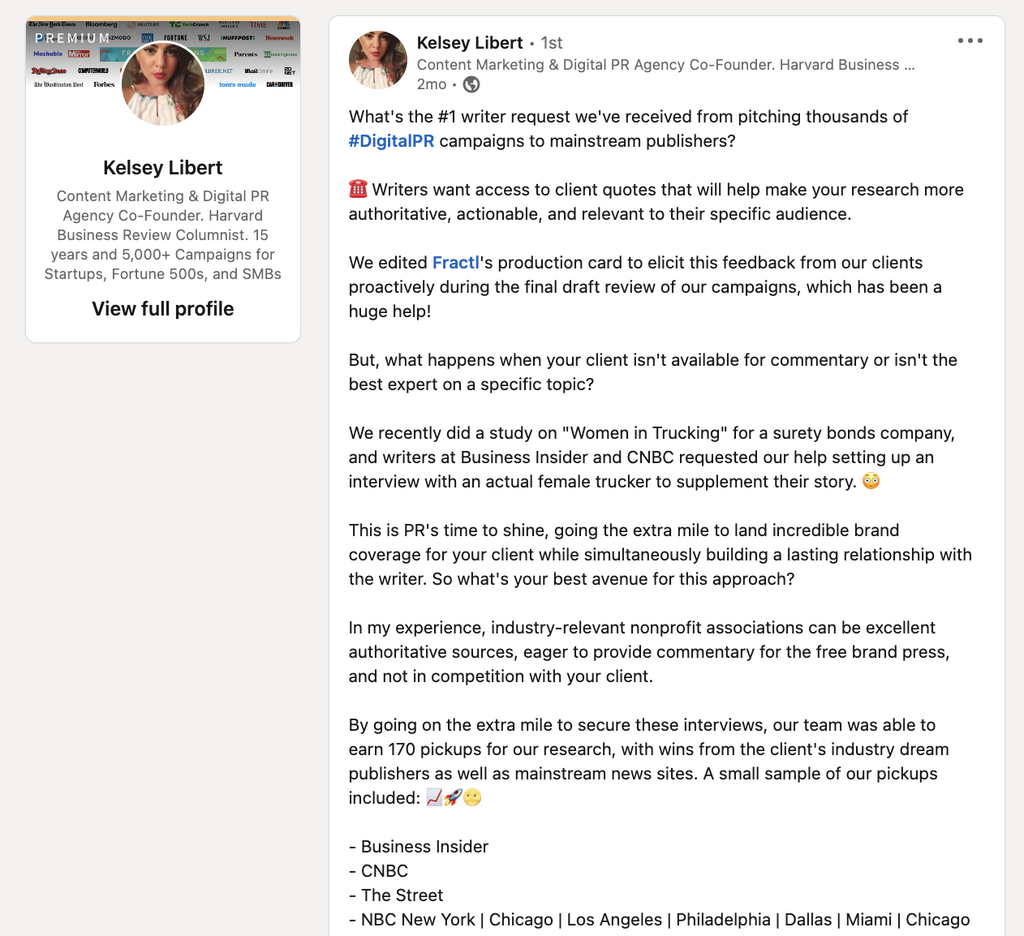 7. Research and build your list of journalists
The fate of your digital PR strategy lies in a journalist's hands. That's why you need to be hanging off of their every. word.
Find the journalists that are writing about your key campaign topics…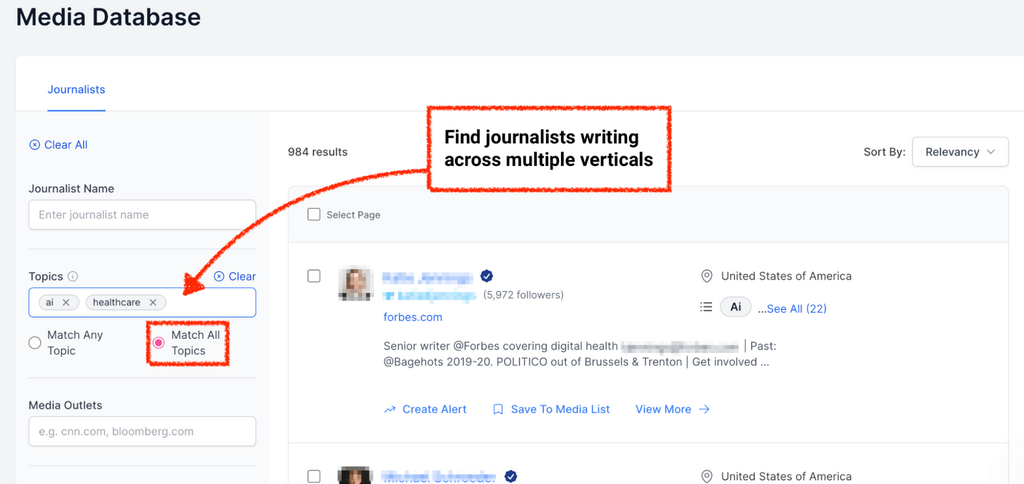 If you've written a press release about your next big product, find the reporters that covered your competitors' products.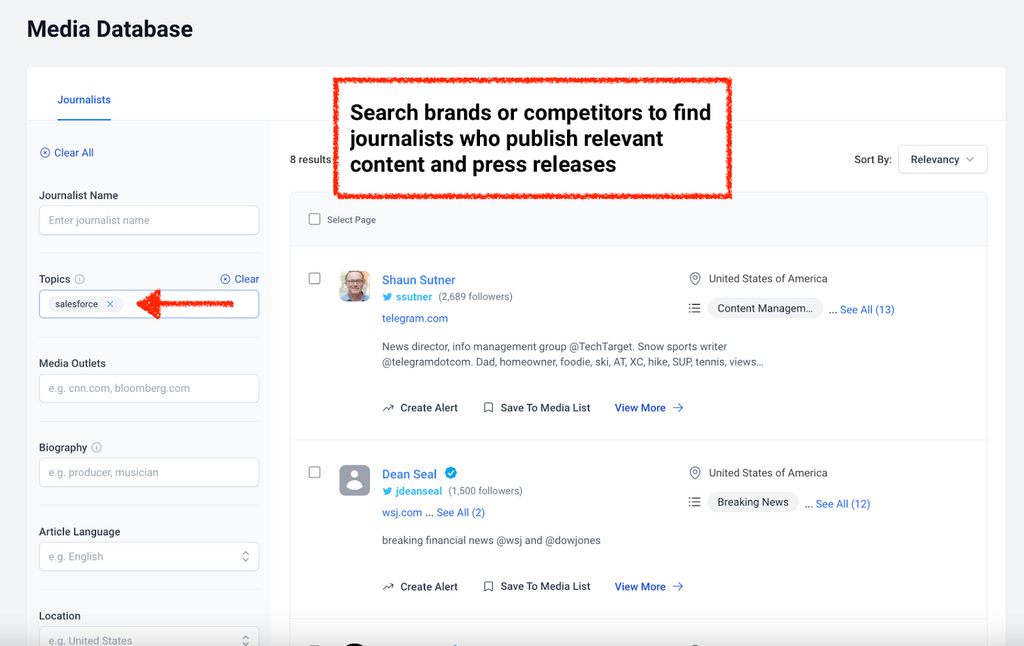 If you've created an infographic, track down journalists that have already published infographics – since they're more likely to be interested in your campaign.
Your research might also be determined by your strategic goals.
Do you want to build your online presence in specific publications?
Then you'll need to start by researching media outlets and work back from there, to find the right reporters.
Once you're happy you've sourced relevant journalists who will genuinely care about your content, then bank them to a media list.
To do all of this research, you need a journalist database with an archive of media coverage and regularly updated information.
Here are some more examples of ways you can research journalists in BuzzSumo's Media Database…
8. Pitch to journalists
At this point you need to make sure that your pitches are as personalized as possible.
Prove to a journalist that you know their beat and back catalogue by heart.
If you can get hold of their top performing content, reference it and demonstrate how your story will help them replicate that success.
And heed the advice of PR expert, and Associate Director of Digital PR at Journey Further – Domenica D'Ottavio.
9. Win the pitch and coordinate with journalists
This step is just about common sense and decency:
Be responsive if journalists need more information from youDon't pester or follow up too oftenDon't request to make edits – respect their expertiseBe clear (but not pushy) about reference and link requestsBe friendly and appreciative
You can find out more dos and don'ts of pitching journalists in our full report here.
This stage is crucial to building a great working relationship with a journalist.
10. Monitor coverage and report against your strategic PR goals
If your digital PR strategy is targeted on press pickups, use a PR tool that specializes in media monitoring so you can get instant alerts of coverage.
When it comes to PR reporting it's important to bring together data that can help you benchmark the actual performance of your strategy against the key results you set at the beginning.
This is especially important if – like Journey Further – you set multi-disciplinary goals (eg. social, search, PR etc.).
To do this, some PRs build their own PR dashboards using Google's Looker Studio, or internal software.
At this point it's also important to make sure the tools you're using offer exports, RSS feeds, or APIs so that you can easily integrate your performance data from different sources, and view it all in one place.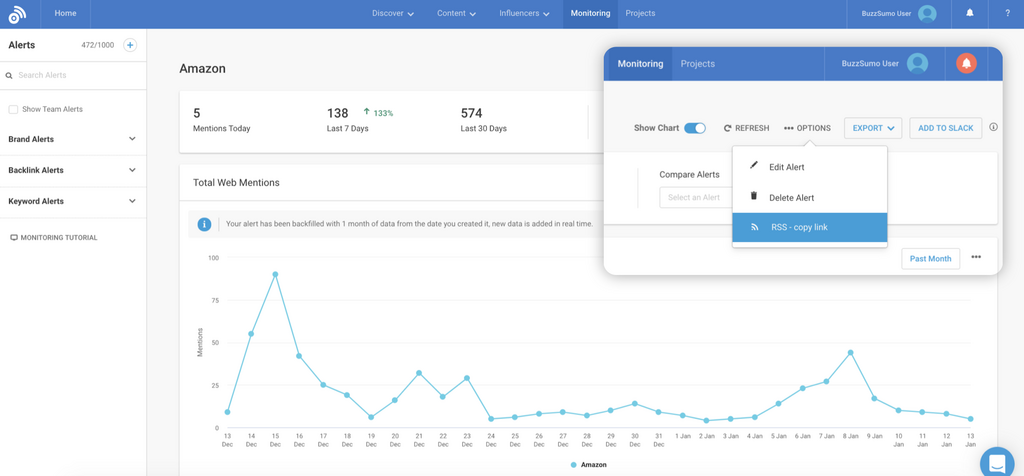 Having heard from numerous PR experts, and through doing our own media outreach, we can confidently say that these 10 steps will help you build a bulletproof digital PR strategy.
How has digital PR changed?
There's been a shift in digital PR in the last couple of years, catalyzed by a journalist backlash against non-relevant campaigns and pitch spamming.
Off the back of that, the 10 steps you saw above are starting to look a bit more like this…
Set your goalsOrganize budget, sign-off, innovation level, and documentationDefine the audienceResearch relevant journalistsGet ideas from journalist contentResearch your press ideaPitch an idea and get it signed offCreate the campaign and final reviewResearch and build your list of journalistsPitch to journalistsWin pitch and coordinate with journalistMonitor coverage and report against PR strategy goals
What was originally a later stage activity, researching relevant journalists and their content is becoming far more crucial to do earlier on in the digital PR process.
Journalist's won't open one-size-fits-all pitches anymore – they get hundreds of those a day.
Personalization needs to be baked into the idea and the pitch up front.
This won't just help PRs stand out in noisy inboxes, it will help them forge better relationships.
And, eventually, that leads to this…
Receive request from a known journalist contactSet your goalsCreate content to meet request, and reviewCoordinate with journalistLand press coverageReport back against goals
…journalists coming directly to you, instead of you chasing them.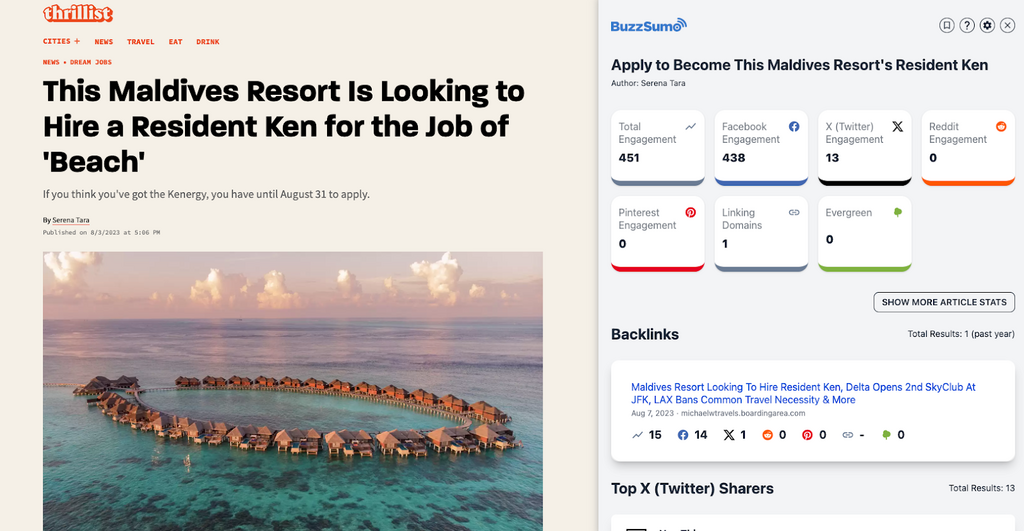 But within the article, Thrillist linked to not just one, but two of Coco Bodu Hithi Resort's key landing pages:
A page that has already earned 123 links from top-tier publications like House and GardenTheir official "Ken beach job vacancy" campaign landing page.
A search in BuzzSumo's Content Analyzer reveals the success of this campaign, which has earned 23 global backlinks – from Poland to Spain – across major publications including The Mirror, Huffington Post, and Condé Nast Traveller.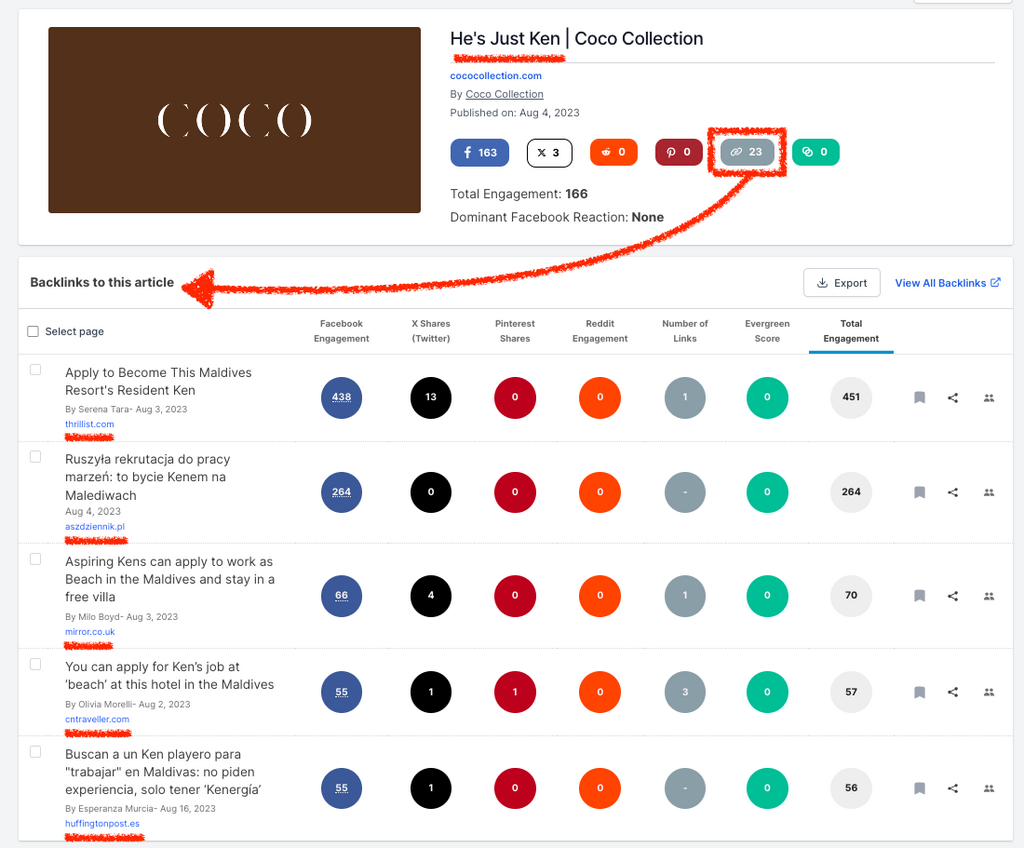 Imagining concepts with AI, and then pitching them to the press
Although the topic of AI seems to be waning…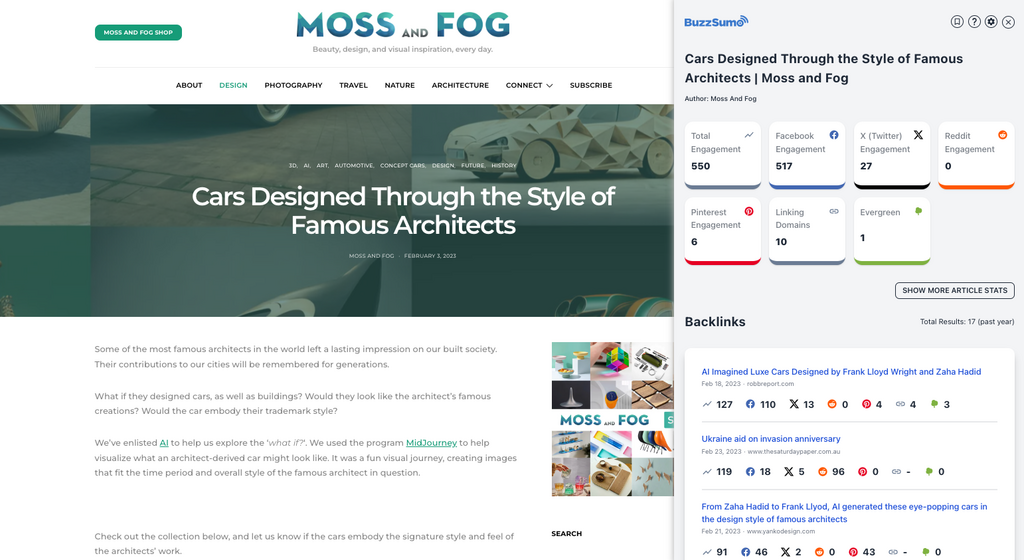 Developing research that can be pitched to different audiences
If you manage to create research that can pique the interest of multiple audiences, you're on to a winner coverage wise.
For example, localized PR can be a great way to earn coverage that mushrooms 🍄
If the research you do ranks different industries or locations, you're likely to interest the audiences of multiple industry and regional publications – not to mention the top-tier media outlets who will cover and syndicate the content for its broad appeal.
This strategy will help you repurpose your PR content, extend its natural lifecycle, and get the absolute most out of your PR efforts.
An example of this in action (source: The Grapevine) can be seen in Visual Capitalist, who publishes ranking based research from FDI Intelligence on The US Cities with the Most Vacant Offices.
According to BuzzSumo's Chrome Extension, the piece has generated 676 shares and 15 links, from digital publications and regionals.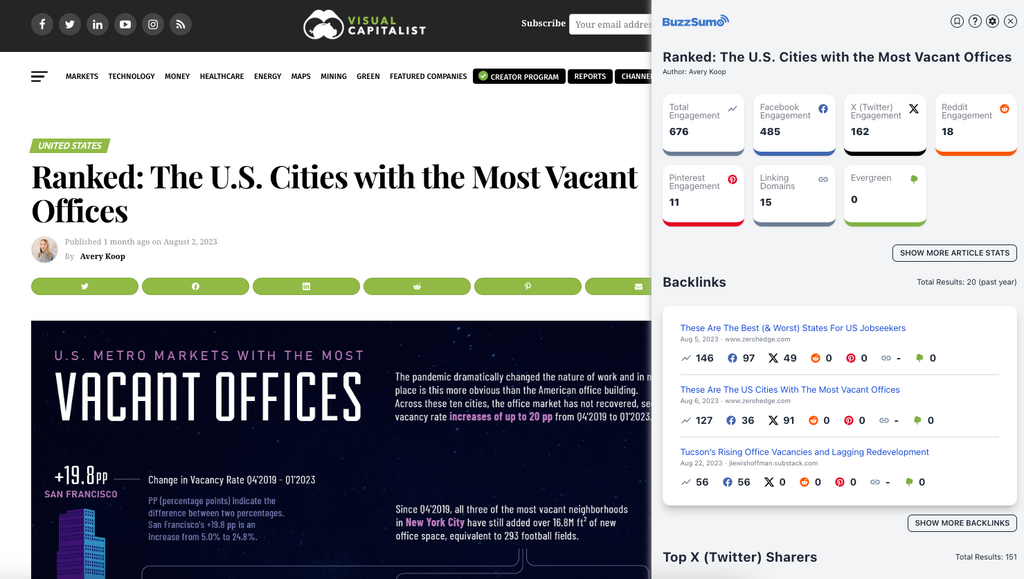 Creating Out Of Home (OOH) PR stunts to draw social attention
At one time or another we've all come across a genius PR strategy on social media.
Usually these campaigns are carefully coordinated, Out Of Home (OOH) stunts that infiltrate our everyday – IRL.
The pure creativity of the stunt gives way to thousands of social shares, numerous digital headlines, and tons of brand awareness.
Here are just a few viral examples:
Maybelline's #TotallyLashedOut stunt on the London Underground | 2023
A video of a giant Maybelline mascara wand running its way through a giant eyelash (attached to a moving london underground train) went viral on TikTok, as viewers shared their admiration for the experiential campaign.
British Airways' #lookup campaign | 2013
British Airways created a digital billboard ad, showing a little boy pointing up at the sky whenever a BA plane flew above (in real life).
BBC's Dracula billboard created by daggers and shadows | 2020
The BBCs PR department used the concept of 3D shapes, clever lighting, and spooky shadows to bring to life their adaptation of Dracula.
What is the difference between digital PR and traditional PR?
Traditional PR was characterized by networking and befriending media contacts, with the view to winning coverage in television, radio, or print based news.
Unlike digital PR, traditional PR methods were tricky if not impossible to track. Any measurement of PR activity was an approximation of the referring source's reach.
Digital PR, on the other hand, is much easier to measure and scale. If anything, certain digital PR practices have scaled too much.
In a way, we are now coming full circle and embracing elements of traditional PR:
Relevant publications> major publications
Instead of pitching to major publications based on their domain authority, many digital PRs are seeking out niche, topic-relevant publications, as they might have done before the days of DA data.
Relationships> scaled outreach
Rather than blasting out the same pitch to hundreds of journalists, PRs are carefully selecting the right journalists and focusing on building better ongoing relationships. PRs of yesteryear had no choice but to play the long game… it turns out they were on to something.
What is the difference between link building and digital PR?
Link building is fundamentally an SEO practice, where the end goal is to drive website traffic.
Digital PR is a different beast.
While digital PRs are often targeted on their ability to earn search results, links, and traffic, that isn't always the end goal.
Positive brand association, awareness, and authority are held in higher regard in the process of digital PR.
When done properly, link building can yield great results, but more often than not it involves shady practices like link buying, and high quality backlinks aren't always the priority.
Guest blog requests and link exchanges often fall under the link building umbrella.
And somewhere in between the two sits sponsored content.
Link building is far more of a transactional process, and the "Links for links sake" mentality is rife.
Link building strategies are also far easier to replicate and scale when compared with digital PR strategies.
You can templatize your requests for links, but the same can't be said for digital PR.
Sure, you can duplicate a digital PR pitch, but
Journalist's won't read it if it's too genericYou still need to create a unique idea to pitch in the first instance – even if journalists do open your templatized pitch, if the campaign idea inside isn't unique, they won't be interested in covering the story
In other words, when it comes to digital PR the stakes are higher, and quality content is paramount.
Wrapping up
There are tons of digital PR methods, but building press coverage is perhaps the most effective of them all.
As journalists demand relevant content, success is going to the PRs who research with a journalist-first mindset.
So, get creative with ideas tailored to their beat and interests. Though time-consuming, the payoff is earned media and engaged readers.
And like all the great PR veterans, you need to keep audiences top-of-mind – don't get distracted chasing irrelevant links.
With the right approach, digital PR can increase awareness, trust, and sales.
As long as you define clear goals, put in the research, and build genuine relationships, your campaigns will earn quality coverage.
Just don't forget PR is about people – without compelling stories, tactics alone won't succeed.
If you want to give any of the BuzzSumo workflows that you've seen in this post a go, grab a 30-day free trial here, or check out our plans and pricing for more information on our offering.
>>> Read full article>>>
Copyright for syndicated content belongs to the linked Source : Buzzsumo – https://buzzsumo.com/blog/digital-pr-strategy/