Features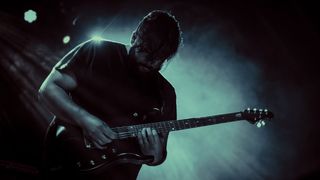 (Image credit: Ekaterina Gorbacheva)
Despite featuring a song titled Arrival, prog-strumental trio Night Verses' new album Every Sound Has A Color In The Valley Of Night: Part 1 more accurately marks a beast-mode reintroduction to venerated guitarist Nick DePirro.
Sure, the Fullerton, California riffer has dropped a handful of effects-warped, tap-dexterous solo singles throughout 2023, and he also has upcoming plans with his heavier-edged Head Cave project, but Night Verses' new album is the first from the long-running trio in five years.
And what a return it is. Take Arrival, a literal pedal-to-the-metal showcase of DePirro's DigiTech dominance, wah-quaked action, and the worlds-exploding tremoring of an EarthQuaker Devices Grand Orbiter pedal.
DePirro, an effects-head of epic proportions, has grown into his craft while constantly tweaking his pedal collection, though there's a permanent fixture on his 'board: the DigiTech Whammy. On recent single Karma Wheel, he employs this pitch-shifting must-have as a precision tool, fluctuating open-tuned chord structures across a melodic spectrum with the use of a single fretting finger.
DePirro's no slouch on his fretboard, though. Between this fall's Part 1 and its upcoming sister set – due sometime in 2024 – the guitarist broke out a series of six-string Music Man and eight-string Abasi models to boom through metallic djent complexity and acrobatic tap workouts. And then there's the record's Love in a Liminal Space, where DePirro's rainbow-vibrant vibrato and melancholy sweeps inject the influence of Pink Floyd, Opeth's Mikael Åkerfeldt, and the bend-it-til-you-break-it appeal of John Frusciante into the nocturnal drive of Night Verses.
"That's a sound that I've struggled with throughout my guitar playing," DePirro confesses of the shreddier aspects of his playing. "I never really wrote solos. It was more riffs. That's the first song in a while where I really got to go off, and go down that rabbit hole of writing a solo – writing different sections that escalate and get climactic."
Back in action and completely uncaged alongside bassist Reilly Herrera and drummer Aric Improta, DePirro walks Guitar World through their two-volume return, his formative Whammy pedal heroes, and how the band looped guests like Tool bassist Justin Chancellor and Incubus' Brandon Boyd into their tight-knit "instrumental foundation".
The band recently revealed that this entire record was composed with different "physical environments" in mind for each song. Were you actually writing in different locations, or was that more of a state-of-mind thing?
"It was sort of metaphorical. You know, through touring and listening to music on the road, or being in different areas of the world, [you're] feeling how music can enhance certain atmospheres – whether you're walking through a busy city, you're at the beach, or just driving. For me, I always think about driving through the desert when you're the only car on the road. It's that twilight hour – 3 to 4 in the morning – where you're between shows and making that long drive. I don't know, music always hits me differently then. There are vibes like that throughout our record."
With Part 1 in mind, what is the song that speaks best to that late night desert drive, and just ripping it on the open road?
"It's hard to pick one, but maybe Arrival would cater to the intensity of that feeling."
You are putting a pedal to the metal on Arrival, as it were – in this case your Whammy pedal. Maybe there's some subconscious connection there.
"For sure."
Can we talk about some technique on Arrival? You bring out a lot of natural harmonic texturing in the verse, in particular, with a nice fat 'verb and delay making everything deceptively quick-sounding.
I always try to think about which keys lend themselves best to harmonics; I adjust tunings sometimes so that I can have more harmonics available. I try to use them as often as I can
"I feel like harmonics always sound cool. I always try to think about which keys lend themselves best to harmonics; I adjust tunings sometimes so that I can have more harmonics available. I try to use them as often as I can.
"With that verse, Aric had this fast beat. When he writes beats that are more fast-paced like that, I have to think, 'Am I going to match the pace exactly, or do I float over it?' With that one, the dotted delay just made sense. I liked the idea of playing harmonics instead of fretted notes, and having something fast but still kind of floaty and trippy."
Is Arrival in an alternate tuning?
"I bounce between six, seven and eight-strings on this record, and all the tunings are open. With the six-string, on Arrival, I'm playing in drop C, and then I drop the top two strings a whole step. So, it's CGCFGC. I do that so that I have more C notes available, and I have more Gs. I have more octaves that way.
"That provides for some cool chord shapes; you can kind of reuse certain frets throughout riffs and [create] chords that are across the strings. It's an interesting way to interpret the guitar. I like the ability to have notes floating over each other, and chord shapes that are bigger. You wouldn't be able to fully do them in a regular standard drop tuning; a stretch would be too much."
With your Whammy technique, a song like Karma Wheel has you stomping out those quick pitch escalations using a DigiTech Ricochet, but you're also plunging through sections with the Whammy Pedal, proper. Do you go into pieces already knowing which direction you'll go?
"First of all, that's one of my favorite pedals, obviously [the DigiTech Whammy]. I use it all the time. I'll try to make a riff as cool as I can before incorporate effects, but occasionally I'll think, 'Oh, a Whammy drop would be cool here.'
"It's funny, if you're in drop C – where I'm at in that song – I scoop it all the way down an octave, so its technically like a double drop C. It still sounds pretty clear! It allows me to be heavier, but you can still tell what's going on. That one is [even] a little sludgier, because there's also fuzz and a Pyramids pedal from EarthQuaker Devices on it. When I go to the Ricochet, it's just Ricochet and delay. I think DigiTech makes the best pitch-shifting pedals."
What put you onto the Whammy pedal?
"Early on, Tom Morello was obviously one of the main people I would see using it. To be honest, [I don't remember] the very first time I used a Whammy, but I remember realizing how it extends your range by going up an octave. And in the beginning, I would pretty much just rip Tom Morello, as far as going up and down [was concerned]. I didn't fully understand how much control you can actually have over shaping each note – you can hit one fret and really just move [the pitch] around without actually moving your left hand! Then I started realizing I could maneuver notes, harmonics, and chords. I can do some weird stuff with the Whammy."
What are you using for the stutter effect at the end of Arrival?
"That one is a combination of the Whammy and the Grand Orbiter pedal from EarthQuaker Devices, which is basically a phase-shifter pedal. I blast some of the settings on there, and I'm shooting it up with the octave setting on the Whammy. That makes this crazy sound. There's a delay, too – safe to say I put a delay on most of the riffs I have."
You've been uploading a handful of solo singles throughout the year, you're also writing heavier material with Head Cave, and we've now got two Night Verses records on the way. While there are parallels in aesthetics between the projects, what dictates where those songs ultimately go?
"I will say that line has blurred a lot over the last year. In Head Cave, I have one rule where I only use eight-strings. I like the consistency of that. There used to be [a thing] where if I wrote something really heavy, it would most likely go to Head Cave. Night Verses gets heavy too, but that's not where we're instinctually going to every time."
How did you get Tool's Justin Chancellor involved on Séance, the closing song of the first volume of Every Sound Has a Color in the Valley of Night?
"Aric worked with Justin on a solo song that he'd put out [Improta's EXU single in 2021 – Ed]. We've all been fans of Tool for most of our lives, and when the opportunity came up to have a song where we could have features on it, he was one of the first people that we wanted for sure. It's awesome. I mean, he's one of my favorite bass players. I think I can say that for all of us."
(Image credit: Ekaterina Gorbacheva)
Séance is a more of a minimalist piece on this record, at least compared to some of the tech-ier songs on Part 1. It's lean. Are both Justin and Reilly on the song?
"It's both of them; Reilly's playing on the majority of it. While it's mellow, it still fits in with the other songs. Justin does some of the trippier stuff towards the end."
We're still bracing ourselves for the release of Part 1, but what can you reveal about the direction of Part 2?
"On the second half, we have vocal features. That was cool for us, because it was an opportunity to consider a vocalist, and where they would fit in with what we do. I also think the second half possibly has the weirder songs – and what I mean by that is that there's a couple time signatures or vibes that we don't have on the first half as much."
You've got two very different vocalists on this project, in Incubus' Brandon Boyd and Circa Survive's Anthony Green. Considering the early period of the band featured a full-time vocalist, is this Night Verses dipping their toes back into the world of vocals-incorporated music, or are these songs outliers?
"I would say outliers, if I were to pick between the two. I know we'll always remain a three-piece. It will always be the three of us with an instrumental foundation…[but] we've always been open to the idea of having guest vocalists. It's a lot of fun to hear somebody interpret your music, and do something to elevate it. And I feel like these guys killed it. I'm stoked for people to hear those songs."
Every Sound Has a Color in the Valley of Night Part 1 is out now via Equal Vision Records.
Thank you for reading 5 articles this month**
Join now for unlimited access
US pricing $3.99 per month or $39.00 per year
UK pricing £2.99 per month or £29.00 per year
Europe pricing €3.49 per month or €34.00 per year
*Read 5 free articles per month without a subscription
Join now for unlimited access
Prices from £2.99/$3.99/€3.49
All the latest guitar news, interviews, lessons, reviews, deals and more, direct to your inbox!
Gregory Adams is a Vancouver-based arts reporter. From metal legends to emerging pop icons to the best of the basement circuit, he's interviewed musicians across countless genres for nearly two decades, most recently with Guitar World, Bass Player, Revolver, and more – as well as through his independent newsletter, Gut Feeling. This all still blows his mind. He's a guitar player, generally bouncing hardcore riffs off his '52 Tele reissue and a dinged-up SG.
>>> Read full article>>>
Copyright for syndicated content belongs to the linked Source : GuitarWorld – https://www.guitarworld.com/features/night-verses-nick-depirro-every-sound-has-a-color-in-the-valley-of-the-night