Unintended undergarments also removed.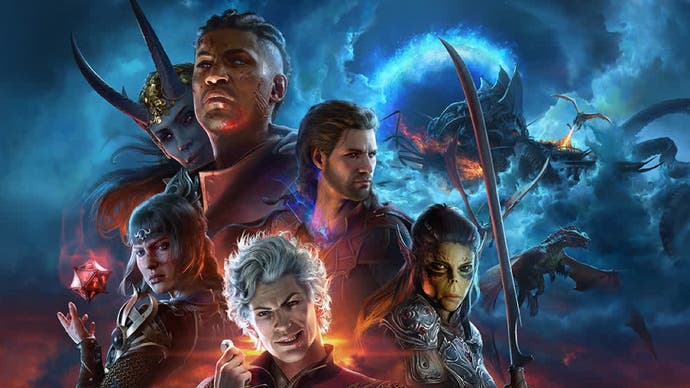 Image credit: Larian Studios
Life may be full of regrets, but if one of those regrets is that you decided to call your Baldur's Gate 3 character Bumfart the Third in a moment of weakness, there's some good news: the game's latest hotfix will finally let you change their ill-conceived name.
That's the headline feature for Baldur's Gate 3's Hotfix #9 (or at least it is if you're a remorseful Bumfart), but there's more where that came from. The Magic Mirror, for instance, will – as well as enabling the aforementioned renaming unshaming – allow you to customise your hirelings if their outward appearance isn't to your liking.
Developer Larian notes the same restrictions apply to hirelings that apply when changing the appearance of the player character – presumably meaning you can give them a full aesthetic makeover to suit your dubious whims but you're stuck with their original race, sub race, and any cosmetic modifications resulting from gameplay.
A beginner's guide to multiclassing in Baldur's Gate 3 – with every class explained.Watch on YouTube
Elsewhere in Baldur's Gate 3's latest hotfix, we now seem to have done a complete 180 after Larian was scrambling to tackle unintentional penis exposure; the developer is now yanking the undergarments back off so that genitals cans swing free. "Fixed characters showing up in their underwear in some intimate scenes even if you have nudity enabled," it writes in its patch notes.
The remaining changes introduced in Hotfix #9 aren't quite so glamorous, but should, at the very least, make for more pleasurable progression through Baldur's Gate 3. Larian has, for instance, bonked a few pesky crashes – including one that could occur when unloading or quick loading a game, and another affecting PlayStation 5 Vulkan – as well as addressing a range of other bugs and issues, as detailed below:
You can now use the Magic Mirror on hirelings.
You can now change your name through the Magic Mirror.
Fixed a rare crash that could occur when unloading or quickloading a game.
Fixed an issue causing GPU crashes on PS5 Vulkan.
Fixed the Guardian Statue repeatedly falling into a chasm, causing the server to stall.
Fixed a splitscreen issue on PS5 that could cause a black screen when listening in on a dialogue.
Fixed unpreparing spells not removing their buffs if the spell was upcasted.
Fixed buffs being removed by unpreparing spells if the buff came from a different source (e.g. a scroll).
Fixed some character positions and animations breaking if you skip lines in certain dialogues.
Fixed the previews not working correctly in the Accessibility options.
Fixed an issue causing Minthara's romance to unreliably trigger.
Fixed Minthara's dialogue after you [SPOILER] not triggering properly when you talk to her.
Fixed the Adamantine Splint Armour sometimes making your legs transparent.
Fixed a geometry stretching bug introduced in Hotfix 8 on Vulkan.
Fixed characters showing up in their underwear in some intimate scenes even if you have nudity enabled.
Fixed Feign Death causing an infinite leave–join combat loop in certain circumstances.
Fixed prices in dialogues not displaying correctly in savegames that were made while the price was on screen.
Optimised the line-of-sight system for entities with no sight range, like items.
>>> Read full article>>>
Copyright for syndicated content belongs to the linked Source : EuroGamer – https://www.eurogamer.net/baldurs-gate-3s-now-lets-you-change-your-name-thanks-to-hotfix-9