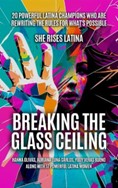 New York, NY, October 02, 2023 –(PR.com)– Celebrating Hispanic Heritage Month, a remarkable group of twenty-one women, twenty Latinas, have come together to launch the groundbreaking "Breaking The Glass Ceiling" anthology book. Recognizing the urgent need for increased support and representation for Latina women in the business world, this anthology takes a significant step forward in honoring our roots while promoting diversity and inclusion.
The eBook release is set for October 3, with the hard copy release on October 17. Pre-sales are available now – Click here: Breaking The Glass Ceiling
The Growth of Latino-Owned Businesses
In recent years, Latino-owned businesses have experienced remarkable growth, outpacing the average industry significantly. A study by Stanford University reveals that Latino-owned companies have achieved a staggering 34% growth rate, in stark contrast to the mere 1% growth observed across all industries. Latinos in the United States have injected a remarkable $2.3 trillion into our economy, making it equivalent to the fifth-largest global economy. Despite comprising 19% of the U.S. population, Latinos still face under-representation and stereotyping in various sectors, including media, where only 7% of workers are Latino, and a mere 3% are Latina.
This discrepancy extends to film, television, news, book authors, editors, and publishers. A recent report by the U.S. Government Accountability Office underscores that from 2010 to 2019, the percentage of media workers who are Latino or Latina grew by only 1%, compared to a 3% rise for Latinos in other fields.
The "Breaking The Glass Ceiling" book seeks to address this disparity, change the narrative, empower Latina women to achieve upward mobility, and foster wealth creation by sharing the inspirational stories of accomplished Latina's who can serve as role models in leadership and representation. This collection of stories introduces you to a diverse group of women who have conquered adversity and paved the way for a brighter, more inclusive future.
Inside, you'll immerse yourself in the captivating stories of extraordinary women who have risen above challenges, defying societal norms to achieve their ambitions. From business magnates and scientists to artists and activists, this book displays a kaleidoscope of Latina voices that resonate with the richness of their experiences.
Witness how these remarkable women broke through the glass ceiling for themselves and future generations. Their journeys will ignite your aspirations. This book celebrates unity, resilience, and the power of collective action. Discover how these stories can spark positive change in your life and community.
Regardless of your background, "Breaking The Glass Ceiling" is a call to action, an invitation to dream bigger, and a reminder that you, too, have the power to transcend limitations. Join the movement to break barriers, defy expectations, and rise to your full potential. This book is more than a book; it's a testament to the indomitable spirit of Latina leaders who are changing the world.
Each author shares a transparent, empowering, and captivating chapter of their journey and provides practical tools for women to put into action. The book dives into their battles and tenacity, showcasing how they have broken through professional hierarchies and male-dominated structures, lifting themselves and their families and communities from poverty and scarcity mindsets through education and empowerment.
Meet the Authors:
These remarkable women exemplify family values, financial freedom, and tenacity in the United States, contributing to its rich tapestry. They represent various industries, including entrepreneurship, corporate leadership, real estate, mortgage brokerage, event planning, investment, and coaching:
Yudy Veras Bueno, Rosemarie Diane Young, Silvia Yocasta Guichardo, Jacqueline Vazquez, Neily Soto, Ana Liliana Reynoso, Johana Quintana, Peggy Pratt, Janet Pagan, Lorilet Monegro, Hanna Olivas, Karol Lynch-Escobar, Karina Castellanos, Claudia Inoa, Zoila Gomez, Adriana Gibson, Lourdes R. Genao, Kris Fleming, Adriana Luna Carlos, and Julissa Alvarez.
About The Publisher: She Rises Studios
She Rises Studios is a global multimedia company that amplifies women's stories across print, television, film, and digital platforms. Our mission is to empower women of all life stages, helping them overcome adversity and develop an unstoppable mindset. Founders, Hanna Olivas & Adriana Luna Carlos. – Concept & Lead Coordinator for the Breaking the Glass Ceiling, Yudy Veras Bueno. For more information, please visit: https://www.sherisesstudios.com/about
For more information about the project, please contact Dr. Lorilet Monegro – [email protected] (646) 226-9958 or Yudy Veras Bueno – [email protected] (845) 642-1298 www.yveras.com
Lorilet Monegro
646-226-9958
For more information about the project, please contact Dr. Lorilet Monegro – [email protected] (646) 226-9958 or Yudy Veras Bueno – [email protected] (845) 642-1298 www.yveras.com

Contact
Categories
Arts & Entertainment
Books
Business
Publishing
Society
Women in Business
Women's Interest
>>> Read full article>>>
Copyright for syndicated content belongs to the linked Source : PR.com – https://www.pr.com/press-release/897165