Russian President Vladimir Putin has called for a boost in the country's aviation on the same day as the latest emergency landing by a domestic passenger plane.
While Russia has a high standard of aeronautical engineering, sanctions imposed because of the war in Ukraine has led to a lack of spare parts for Russian airlines which have Airbus or Boeing planes. There have been several emergency landings in recent months.
In the latest incident, a Ural Airlines Airbus 320 was flying from the Black Sea resort of Sochi to the city of Omsk in southwestern Siberia on Tuesday when the aircraft sounded an alarm, according to the Telegram channel Baza.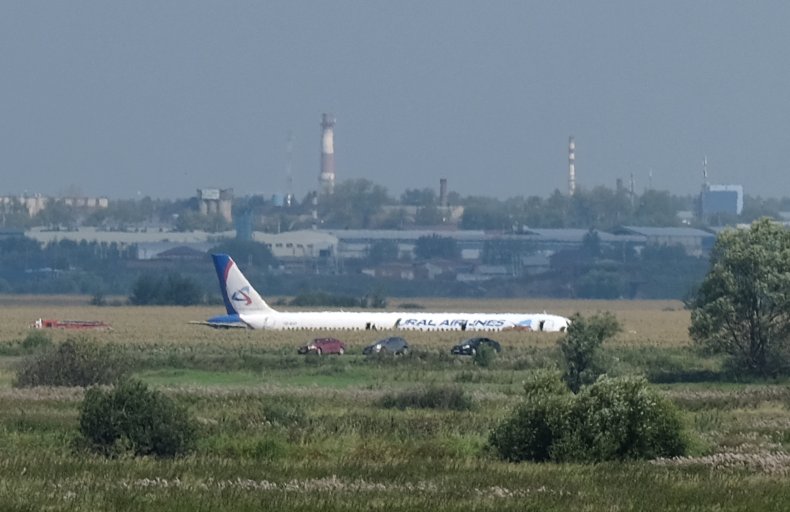 A Ural Airlines A321 plane after a hard landing in a cornfield near Moscow's Zhukovsky airport on August 15, 2019. Another plane used by the airline made an emergency landing on September 12, 2023, on a day when President Vladimir Putin called for a boost in domestic aviation.
The pilot had reportedly hoped to make an emergency landing at the airport in the city of Novosibirsk, but had to land the plane in open countryside.
Footage posted to social media showed signs of a fire on the aircraft's right wing, a deployed evacuation slide and people standing around the plane in a field.
Russia's aviation agency Rosaviatsia said the landing took place "on a site selected from the air" near the village of Kamenka, next to a forest in the Novosibirsk region. It said that none of the 159 people on board were injured and that the passengers were "being housed in the nearest village."
More than 3,500 miles away, in the port city of Vladivostok, Putin said that the Russian government had until March 1, 2024, to prepare a plan to develop and modernize aviation in Russia's far east.
Speaking at the Eastern Economic Forum, he said the plan would include building and modernizing new airports, improving standards for small aircraft and increasing the supply of domestic aircraft and helicopters. He also wants an increase in "the accessibility of air travel," state news agency Tass reported.
Putin announced a goal that by 2030 passenger traffic on domestic flights in the far east of the country will rise to 4 million people per year.
The president told the forum on September 12: "I think it would be right to set the bar so that by 2030, passenger traffic on domestic flights in the far east will increase to at least 4 million people a year."
Regarding the emergency landing on Tuesday, Russia's Investigative Committee, which examines major crimes, has opened a criminal probe into whether air traffic safety rules were violated.
Ural Airlines, which is based in the city of Yekaterinburg, approximately 1,000 miles east of Moscow, said that the plane's hydraulic system had failed, RIA Novosti reported. The aircraft had been leased by the airline since 2013 and been in service for 20 years, RBC reported.
Independent Russian news outlet Agentstvo said that the plane was among those that Russian airlines had refused to return to their owners after Putin's full-scale invasion of Ukraine.
In March 2023, video shows the dramatic moments when passengers on a Rossiya airlines flight from Sochi to Krasnoyarsk pulled on their oxygen masks during an emergency landing. The journalist Jason Corcoran posted the video on social media writing that: "Western jets seized by the Kremlin are deteriorating due to lack of servicing & parts"
On June 15, a Russian Sukhoi Superjet-100 (SS-100) plane with 54 passengers onboard made an emergency landing in Irkutsk after the air-conditioning system malfunctioned, Radio Free Europe reported.
Only two days before, another SS-100 jet flying from Moscow to Kazakhstan's Caspian port city of Aqtau made an emergency landing in the Russian city of Samara due to problems in one of its engines.
Newsweek has emailed the Kremlin for comment.
>>> Read full article>>>
Copyright for syndicated content belongs to the linked Source : Newsweek – https://www.newsweek.com/russia-putin-urals-aviation-planes-down-1826268