Ukraine is apparently heightening attacks inside Russia and on targets in Russian-occupied areas of Ukraine, according to the Institute for the Study of War (ISW).
During the early stages of the war that Russian President Vladimir Putin launched in February 2022, much of the conflict was confined to Ukraine's borders. That changed in late 2022, when Moscow blamed Kyiv for attacking two airbases inside Russia. By the spring of 2023, Moscow said Ukraine was behind strikes in border regions like Belgorod, and more recently, Kyiv has confirmed multiple attacks on Russian targets in various locations in Crimea.
In its Sunday assessment of the war, the ISW wrote about reports of Kyiv's increased attacks, which includes the frequent strikes on Crimea as well as other Moscow-occupied territories in eastern Ukraine.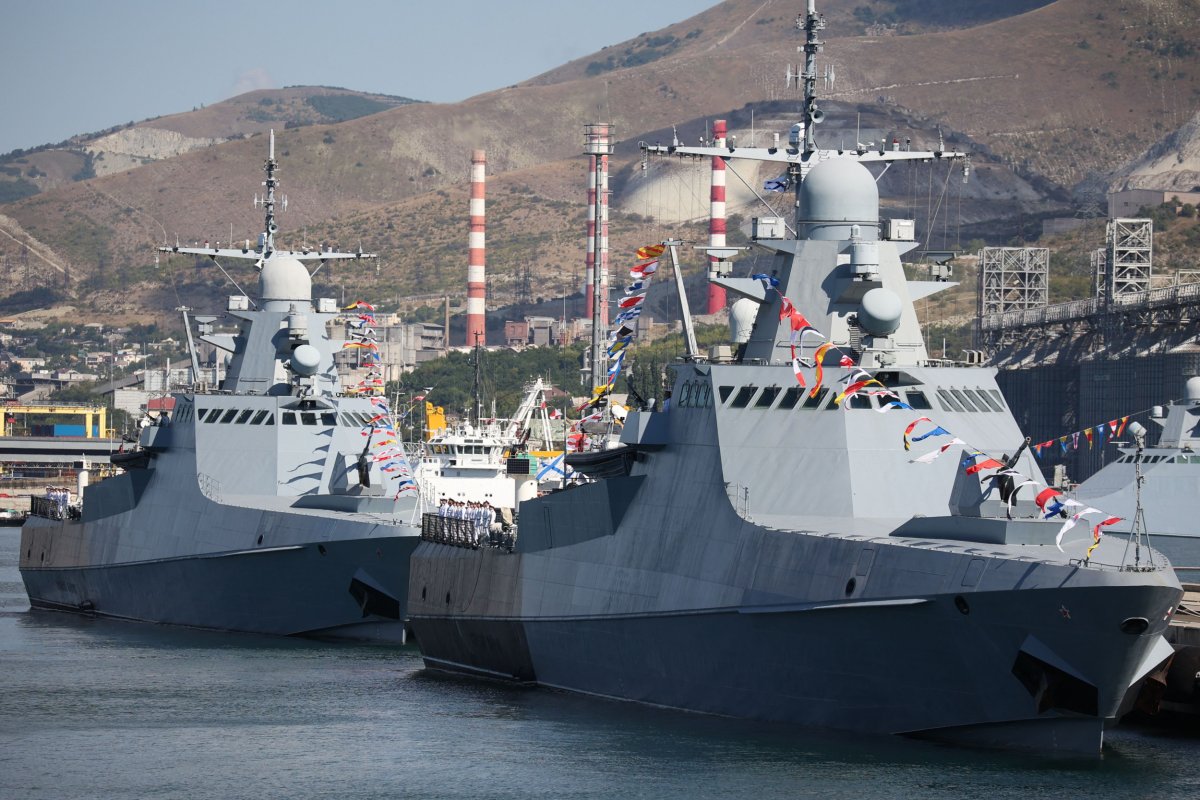 Russia's Black Sea Fleet warships are shown in the port city of Novorossiysk on July 30, 2023. Kyiv has stepped up its attacks against Russia in Moscow-occupied territory, increasingly targeting Russia's Black Sea Fleet, reported the Institute for the Study of War.
STRINGER/AFP via Getty Images
According to the ISW report, Ukrainian partisans attacked a Russian military headquarters in the occupied city of Melitopol in the Zaporizhzhia region of Ukraine on Saturday. The ISW said the Ukrainian Main Military Intelligence Directorate (GUR) reported at least three Russian Federal Security Service (FSB) and Rosgvardia officers were killed in the Melitopol attack.
The attack occurred only a few days after a Ukrainian partisan attacked the leader of a former Luhansk People's Republic People's Militia—a pro-Russian militia group in Russian-occupied eastern Ukraine—on November 8, according to the ISW. Kyiv also conducted strikes against Moscow's military bases in occupied Skadovsk—a port city along the Black Sea—as well as in the Kherson region on November 9.
Ukrainian President Volodymyr Zelensky has said that the war with Russia will not end until all occupied land is returned to Kyiv's control. Russia illegally annexed the Crimean Peninsula in 2014, and it has served as a strategic hub for Moscow since launching its invasion of Ukraine.
Kyiv's targeting of Crimea has relied on cruise missile and drone attacks, and has wounded a significant part of Russia's naval fleet stationed near the peninsula. Last week, Ukraine struck a newly constructed small warship, named the Askold, which was docked in the Black Sea. Since February 2022, Ukraine has hit at least 17 Russian vessels in its quest to neutralize Moscow's naval fleet, and all 17 warships have either been part of or functioning in cooperation with Moscow's Black Sea Fleet.
"Their goal is basically to suffocate us economically," Andriy Zagorodnyuk, Ukraine's former defense minister, previously told Newsweek. "The only way to get out of this situation is to destroy the Black Sea Fleet, to destroy their capability to pursue the occupation of the Black Sea and restore freedom of navigation. The only thing we can do is destroy the Black Sea Fleet and say that any new ship in the area will follow the previous ones."
Newsweek reached out to Russia's Defense Ministry for comment via email Monday.
Uncommon Knowledge
Newsweek is committed to challenging conventional wisdom and finding connections in the search for common ground.
Newsweek is committed to challenging conventional wisdom and finding connections in the search for common ground.
>>> Read full article>>>
Copyright for syndicated content belongs to the linked Source : Newsweek – https://www.newsweek.com/ukraine-ramps-attacks-inside-russia-isw-1843373