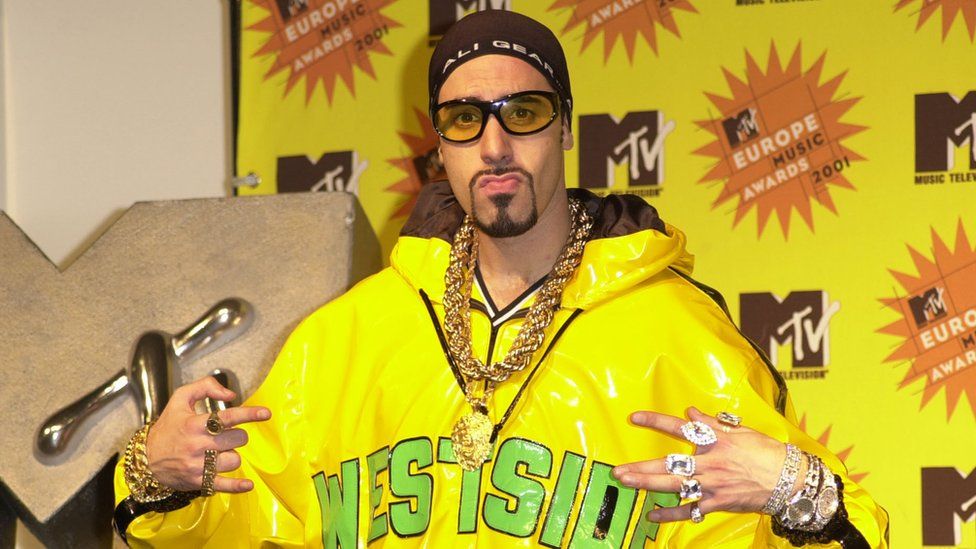 Image source, Getty Images
By Ian Youngs
Entertainment & arts reporter
Sacha Baron Cohen is planning to revive Ali G, the infamous spoof gangster who became a comedy star 25 years ago, for a new stand-up tour.
Ali G became a hit thanks to his prank interviews with unsuspecting experts on his TV show in the early 2000s.
He then starred in his own film, and has made occasional appearances in recent years.
Variety reported that Baron Cohen has been working on a stand-up tour in which Ali G will feature.
BBC News has confirmed the report, but there are no further details of the tour.
In 2021, Baron Cohen brought back Ali G for a sketch at the MTV Movie & TV Awards, and for a one-off routine at a Sydney comedy club.
"I just wanted to get on stage and muck around and see what Ali G would be like with a crowd," the comedian told GQ afterwards. "It was really good fun."
In the early days, Ali G got laughs by duping an array of interviewees into going along with his persona, while also lampooning white people from the suburbs who posed as the urban youth.
But the act was criticised by some, who saw it as adopting and ridiculing black street culture.
Baron Cohen, now 51, also found success by playing similar pranks as his Kazakh reporter Borat, and played flamboyant Austrian fashionista Bruno.
>>> Read full article>>>
Copyright for syndicated content belongs to the linked Source : BBC News – https://www.bbc.co.uk/news/entertainment-arts-66480594?at_medium=RSS&at_campaign=KARANGA