News
Entertainment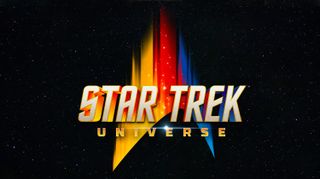 While there were very few appearances from our favorite stars, there was still news and announcements
(Image credit: Paramount Plus)
It seems like we've only just managed to get past the pandemic and yet now there's a whole heap of fresh problems facing the convention scene. We are of course talking about the WGA and SAG-AFTRA strikes, which are further compounded by the Streaming Wars™.
What does all of this boil down to? Well, San Diego Comic-Con 2023 (SDCC) was a significantly smaller-scale affair than previous years. No Marvel or DC or HBO, and Amazon Prime cancelled a whole bunch of events. Even William Shatner cancelled his Hall H talk. That said, nothing will ever beat the carnival atmosphere that takes over the whole of downtown San Diego and the Gaslamp District, and as the local press reported, every hotel was fully booked and the crowds still came.
Related: Star Trek streaming guide: Where to watch Star Trek movies and TV shows
Without a doubt, this year's "Star Trek" Universe panel was the biggest event at SDCC, which in of itself is a little bit of a shame, as it's always nice to have several panels competing for that coveted title. Regardless, here's a rundown of all the latest Trek-related news and announcements.
Star Trek: Discovery
Fans were treated to a set piece sneak peak rather than a trailer, complete with flamebursts even in space, 32nd century starships with separated nacelles and rotatable sections and all the things that we hate love about "Star Trek: Discovery." According to the official blurb accompanying that clip, "Captain Burnham (Sonequa Martin-Green) pursues Moll (Eve Harlow) and L'ak (Elias Toufexis) by holding onto their starship while it travels at warp speed.
This will be the fifth and final season of "Discovery" and is set to arrive in early 2024. Over the last seven and a half years, it's been a mixed bag to say the least. There were inspired episodes, missed opportunities, truly bizarre stories, some blatant plagiarism and even a nod to Scooby-Doo. Despite some very good standalone episodes, the show has however, steadily declined in story writing quality from the outset.
Will a strange anomaly threaten the entire galaxy? Will billions of lives be threatened? Will Starfleet and the crew of the USS Discovery have to unite and dig deep, facing their own mortality and risking their lives for the greater good … again? Because that old chestnut is wearing a bit thin now.
Star Trek: Lower Decks
The mad-cap antics continue with season 4 of "Star Trek: Lower Decks" that begins streaming on September 7. If you like your "Star Trek" Loud and like a sugar rush, then this is definitely for you. Plus of course there's a reference to the awesome crossover with "Strange New Worlds," the biggest Trek crossover event in the "Trek" universe since DS9 met The Original Series in "Trials and Tribble-ations" (S05, E06).
All the regulars are returned, including Tawny Newsome (Ensign Beckett Mariner), Jack Quaid (Ensign Brad Boimler), Noël Wells (Ensign D'Vana Tendi), Jerry O'Connell (Commander Jack Ransom), Eugene Cordero (Ensign Samanthan Rutherford), Dawnn Lewis (Captain Carol Freeman) and more.
Star Trek: Strange New Worlds
Fans were also treated to a sneak preview of a musical episode of "Strange New Worlds," an in-universe out-of-genre event popularized by the episode "Once More With Feeling" (S06, E07) of "Buffy the Vampire Slayer" back in November 2001. However, we're going to go out on a limb here and say that this might be one of the best episodes of 'Star Trek' ever made, or at the very least, it's in the top three.
"Strange New Worlds" is wrapping up its second season and while it's amazing that this show doesn't take itself too seriously — you know, like "Discovery" does — and it's happy to have a bit of fun very much in the vein of "The Original Series" — remember The Squire of Gothos" (S01, E07)? — it remains a curious decision to have quite so many fun episodes in a season so staggeringly short as just 10 episodes. Either the "Lower Decks" crossover or this musical escapade would've sufficed.
The annual Star Trek Las Vegas event is coming up very soon and so is New York Comic Con and without an end in sight to the WGA and SAG-AFTRA strikes, fans are going to suffer. Significantly less talent will be attending these events and even the guest stars will be severely limited in talking about "struck work" (a product which is produced by an employer during the period of a labor dispute with his employees). It's also highly likely that this year's Star Trek Day event will be impacted if not cancelled altogether.
"Strange New Worlds" and every episode of nearly every "Star Trek" show currently airing streams exclusively on Paramount Plus in the US. Internationally, the shows are available on Paramount Plus in Australia, Latin America, the UK and South Korea, as well as on Pluto TV in Austria, France, Germany, Italy, Spain and Switzerland on the Pluto TV Sci-Fi channel. They also stream exclusively on Paramount Plus in Italy, France, Germany, Switzerland and Austria. In Canada, they air on Bell Media's CTV Sci-Fi Channel and stream on Crave.
Join our Space Forums to keep talking space on the latest missions, night sky and more! And if you have a news tip, correction or comment, let us know at: [email protected].
Breaking space news, the latest updates on rocket launches, skywatching events and more!
When Scott's application to the NASA astronaut training program was turned down, he was naturally upset…as any 6-year-old boy would be. He chose instead to write as much as he possibly could about science, technology and space exploration. He graduated from The University of Coventry and received his training on Fleet Street in London. He still hopes to be the first journalist in space.
>>> Read full article>>>
Copyright for syndicated content belongs to the linked Source : Space.com – https://www.space.com/star-trek-comic-con-news-sdcc-2023