In gymnastics, Simone Biles stands as a monumental figure. Her impressive record of seven Olympic medals ties her with the legendary Shannon Miller, making her one of the most decorated American gymnasts in history. With 25 World Championship medals to her name, she reigns supreme in the gymnastics world championships and is widely regarded as the greatest gymnast of all time. Her journey continued to reach new heights in 2023 when she secured her eighth U.S. gymnastics title, surpassing the 90-year record previously held by Alfred Jochim.
America's Favorite Video Today
Biles' fascination with gymnastics began at the tender age of six during a day-care field trip. Her instructors recognized her potential and encouraged her to pursue the sport further. Subsequently, she enrolled in an optional training program at Bannon's Gymnastics, marking the beginning of her remarkable journey under the guidance of coach Aimee Boorman, who joined her at age eight. Now, in the world of gymnastics, a new sensation is making waves, capturing the hearts of enthusiasts around the world, and she is 17 years younger than Biles!
Gymnast who is 17 years younger than Simone Biles turns heads
ADVERTISEMENT
Article continues below this ad
Nyomi Darby, a budding gymnast hailing from Missouri City, defies expectations at just six years old. Gymnastics, a discipline where accuracy is crucial, calls for steadfast dedication and close attention to detail. Darby proudly shares to KHOU 11 saying, "I learned how to do a roundoff back handspring, back handspring back tuck, and a front flip". Her journey into gymnastics began early, at the age of 18 months, thanks to her mother, Jasmine Brooks. Jasmine Brooks, Nyomi's mother, observed her daughter's rapid development and unmatched skills, setting her apart from her peers.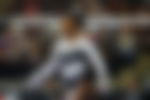 via Getty
It started as a means to channel Nyomi's boundless energy but swiftly transformed into a passion. Nyomi's progression was swift, performing skills that children twice her age could only dream of. Nyomi trains at Olympia Gymnastics and Tumbling under the guidance of coach Nichole Manolopoulos, who recognizes Nyomi's rare natural talent. Coach Manolopoulos highlights that while they encounter talented kids regularly, genuine natural talent is exceedingly rare and can transcend any specific sport. Nyomi's gift is perhaps unsurprising given her family's rich athletic heritage.
Rich family heritage and an NFL background
Jasmine Brooks, a former track athlete with a full scholarship at Texas Southern University, and Nyomi's father, an NFL football player, are just the beginning. Nyomi's aunt is a USA team member who recently competed in the women's heptathlon at the World Championships in Budapest, Hungary, and holds multiple records at the University of Arkansas. Even Nyomi's younger sister excels, serving as the women's head associate coach at Texas Southern University. The family's sporting legacy extends further with Nyomi's father playing professional football, her uncle boxing alongside the legendary Muhammad Ali, and even playing at Madison Square Garden.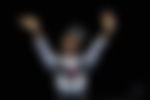 via Getty
Nyomi's journey has only just begun, marked by her entry into a few competitions. Despite her young age, she faces competitors several years older than her. Her motivation is simple yet inspiring – she seeks medals, a testament to her love for gymnastics. How far can Nyomi Darby go? Her coach believes the sky is the limit. "She is very capable of reaching all the limits in the world," Coach Manolopoulos states. Whether she chooses to pursue college gymnastics or dreams of standing on the Olympic podium, Nyomi possesses the potential according to her mother.
ADVERTISEMENT
Article continues below this ad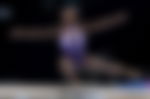 When, Where and How to Watch Simone Biles at U.S. Women's World Team Selection
Camp
Providing feedback will help us make your experience better.
Enjoyed Your Read? Let us know how likely you are to recommend EssentiallySports to your friends!
Nyomi's favourite gymnast is none other than Simone Biles, an inspiration she hopes to emulate. Perhaps one day, Nyomi Darby will stand on that same podium, just like her idol.
ADVERTISEMENT
Article continues below this ad
Watch this story: Simone Biles Relaxes Herself. Feeding Baby Biles After Visiting Her 'Dream Home With the Love of Her Life
>>> Read full article>>>
Copyright for syndicated content belongs to the linked Source : EssentiallySports – https://www.essentiallysports.com/us-sports-news-olympics-news-gymnastics-news-nfl-news-seventeen-years-younger-than-simone-biles-missouri-gymnast-belonging-to-nfl-family-disrupts-the-internet-with-her-skills/