Emma Pallant-Browne has been one of the consistent elite middle-distance athletes in the sport yet again this season, but it was not a campaign without challenges.
Pallant-Browne produced a string of terrific performances, notably at the PTO Tour European Open and IRONMAN 70.3 World Championship, a testament to her ongoing improvement.
The PTO World #8 was forced to make a tough call at the end of last month though and withdraw from Challenge Barcelona and Challenge Mallorca after a demanding summer schedule which ended with illness.
Navigating her way through some health problems and persistent sickness this season, Emma says while things didn't always go to plan in 2023, she is happy with her season and even more excited for 2024.
Swings and roundabouts
Reflecting on her year so far, the South African-based professional was critical about her own self-assessment, but expressed a massive amount of gratitude for her coaches and their work after a challenging season that produced a fair share of obstacles.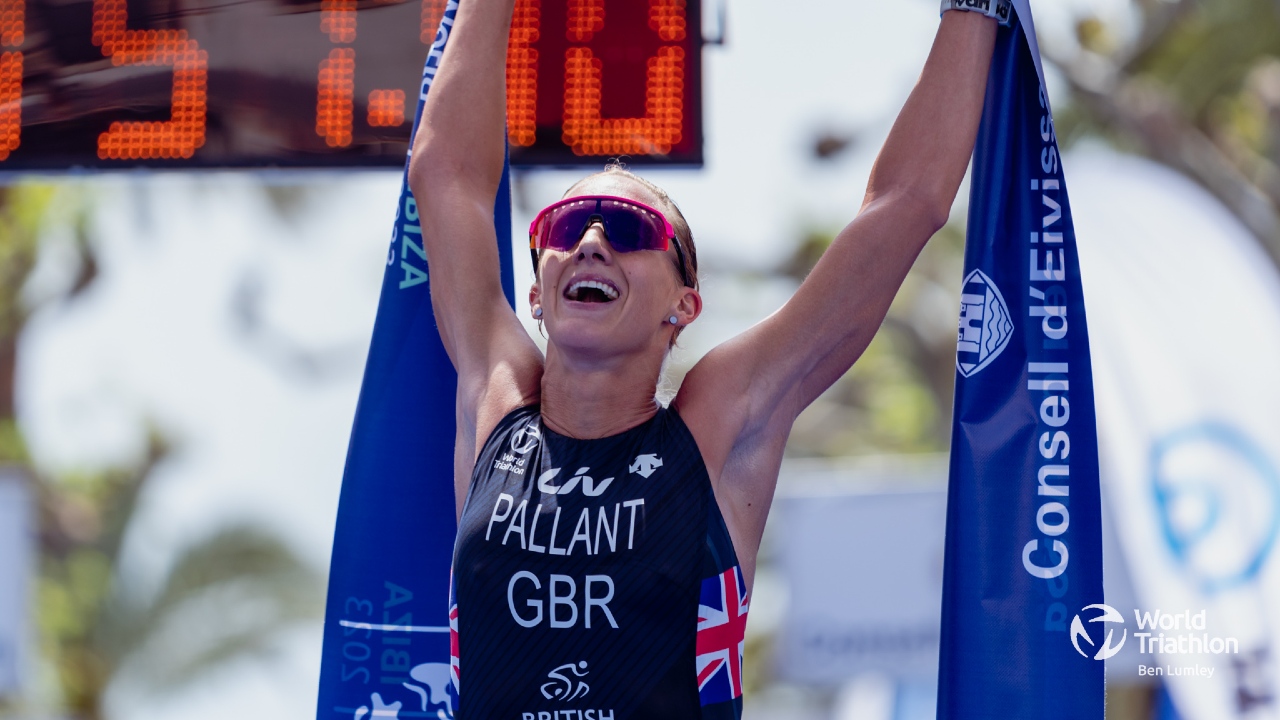 Emma Pallant-Browne World Duathlon champion 2023 photo credit Ben Lumley / World Triathlon
She told TRI247: "I think results wise I would rate my year a 6/10, but for Tim's [Don] coaching, with all I've thrown at him this year it's a 10/10 for sure! Going into the year I highlighted three big goals: World Duathlon, PTO European Open and the World 70.3 Champs. I won the World Duathlon but was fourth in both of the other two.
"It didn't turn out to be the year we had planned on paper, but I think that's the case for most athletes, you go into the year with a plan but always have to be flexible when things change. I am super fortunate that with a great strength training program from Erin Carson and coaching from Tim to be pretty robust on the injury front, but my health has let me down a bit."
The mystery illness for Pallant-Browne
Going into detail on the health problems she has faced, Pallant-Browne battled with sickness on multiple occasions, which forced her out of races such as IRONMAN 70.3 Lanzarote and eventually led to her seeking professional counsel after a string of post-race vomiting instances.
"The first half of the year went as planned, I raced some half marathons here in Johannesburg, won the provincial cycling champs, flew to London for the Hoka 10km got a PB there, which shaped up for a nice first 70.3 race in March in Lanzarote, but unfortunately I got sick there so had to pull out. I flew home and got back some shape winning the Two Oceans half marathon, but then was really sick after that race.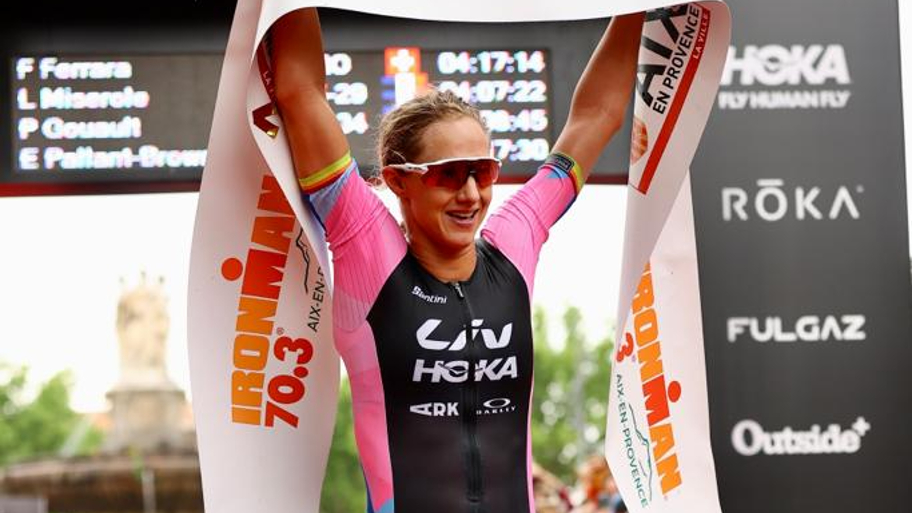 [Photo credit: ACTIV IMAGES / IRONMAN]
"I was throwing up a lot and just assumed it was because I had pushed so hard and went into World Duathlon Champs confident with my run shape and had a good race there. At the European PTO race I knew I then had work to do on my bike, which became the goal for June's training block and so all was still pretty much to plan. I then raced IRONMAN 70.3 Pays D'Aix before going home and again I was really ill after that race.
"I then got a bit greedy because I felt in good run form, so added the South African half marathon champs into the plan, where I ran a PB but then again kept throwing up after the race and was really ill. I ended up in hospital for an endoscopy because I was throwing up what they call coffee ground vomit. I had a tear in my gut lining and got put on some medication."
Emma P-B searching for answers
After her trip to the hospital, Pallant-Browne trained through two middle-distance races in Andorra and Swansea in order to keep up the work on her bike strength, but was again knocked back by stomach problems in Wales, which led to her searching for more answers.
"I was really not well after [IRONMAN 70.3] Swansea, so with the help of Precision Fuel and Hydration who have been amazing, we tried to find ways to still get the calories in but being more gentle on the gut. This led into The IRONMAN 70.3 European Champs where I was a lot more happy with my bike and didn't have a gut issue, but then a few weeks later at World Champs my stomach didn't want to play ball."
After racing at Challenge Samarkand in Uzbekistan, where she finished second behind Ellie Salthouse, Pallant-Browne was forced to go on antibiotics due to illness, something she is only just recovering from now. Still wanting to make the most of the season, the Brit plans to squeeze in one more race at IRONMAN 70.3 Mossel Bay before taking a break.
The podium presentation [Photo credit: Challenge Family]
"The idea was to keep going with another four races at least in Mallorca, Barcelona, Mossel Bay and Bahrain, which I think would have been a pretty normal year of racing, but then it hasn't gone quite to plan! I traveled home [from Samarkand] feeling super sick again, went to the doctors, she put me straight on antibiotics and told me to stop training. Now it's two weeks on and I have started gently moving again and I am feeling better, but I know my body definitely needs to ease back in otherwise I will just end up back sick in bed again.
"I really want to make the most of the last few months of the year and then have a proper build into next year. I will pick the training back up and get into the best possible shape for Mossel Bay, then the week after will race the Double Century bike race and then take my off season two week break which means I can then start building up for next year before Christmas and that excites me for 2024."
Home comforts and silver linings
With races so infrequently in South Africa, being based there permanently does come with its challenges for Pallant-Browne, as the long-haul flights required for most races takes its toll on the body. However Emma says the extra travel is a price worth paying for happiness.
"I really do feel like I train so much better when I am at home, where our dogs are, our friends are and where we are at altitude. I have my Wahoo Kickr, my treadmill, my own food, my own bed and my swim partner Matt.
"It means more travel, but I feel like it also means less stress for me and I am just so happy here and I feel like I get so much great work done. I am getting more used to the 11-hour flights and the plan this year was to do big blocks of training here, then fly to some back-to-back races, then big blocks of training but the timings didn't quite work out.
"It's still something I want to keep trying where the race dates work and plan the year properly, even if it means racing less so I can race better and get in the proper preparation. I think I have progressed this year by respecting my body a bit more, when things go wrong with it, you realise just how important it is to look after your health when you are pushing your body to the limit and not to push it if you aren't well, as it's better to sort the problem, then move on stronger."
Asked about her best moments of the season, Pallant-Browne took a lot of confidence from her single-discipline performances and hopes that it is just a matter of time before she can string her best swim, bike and run form together on race day.
"Because of the calibre of opponents, I think that Two Oceans half marathon was probably my proudest achievement this year along with the World Duathlon Championships, because the last two times I won it was an Olympic distance and the sprint is a whole new kind of game!
"I think running PBs in the 10km and half marathon gave me some really good confidence that as a heavier triathlete, I can run faster now than back when I was a pure runner. My swims in Ibiza and IM 70.3 races were good confidence builders, as was my ride at the European Champs, so now I just need to put them all together in a race!"
>>> Read full article>>>
Copyright for syndicated content belongs to the linked Source : Tri247 – https://www.tri247.com/triathlon-news/elite/emma-pallant-browne-2023-season-debrief-analysis-interview?utm_source=rss&utm_medium=rss&utm_campaign=emma-pallant-browne-2023-season-debrief-analysis-interview